USB vs Serial vs Parallel
Bare Feats speed test on all three interfaces of
the Epson Stylus Color 740 ink jet printer.
(first posted in April 1999)
© 1999 Rob Art Morgan, editor of BARE FEATS
rob-art@barefeats.com
Macintosh printing isn't as simple as it used to be. These days, choosing the right printer is mind boggling. Epson has no less than 6 models on my local dealer's shelf. Some of them come with three different interfaces. My Mac works with all three. Which interface do I use for best performance?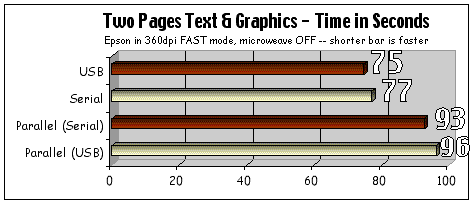 Conclusions: On this preliminary test, USB narrowly beats out Serial, even though its theoretical transfer rate is much higher than serial. The print head speed may be a factor. You only can move it so fast no matter how big the printer buffer is or how fast you fill it.

Parallel was significantly slower than pure USB or Serial. I'm not sure what to blame for that. Maybe the drivers have to worker harder when converting from Serial/USB to Parallel.

Test Configurations
INTERFACES

Cable

Software

USB

USB

Epson SC 740 5.54Es

Serial

Serial

Epson SC 740 5.54Es

Parallel (Serial)

Strydent
Serial to Parallel

PowerPrint 4.5.1
(Epson Stylus Color)

Parallel (USB)

Strydent
USB to Parallel

PowerPrint 4.5.1
(Epson Stylus Color)
The test computer was a Power Mac 7500 with PowerLogix G3/275/275 1M daughterboard running at 292MHz. Since the 7500 doesn't come standard with USB ports, the Interex dual USB port card was added to a slot in the PCI bus.
The two test pages were mixed color graphics and text (Page 2 of Nanosaur instructions and Page 1 of PowerPrint marketing brochure).
All tests were run with background printing OFF.
Epson amazes me with their software driver prowess. One copy of the driver is able to talk to both serial and USB ports. It will even show you a graphic display of how much ink is left in the ink cartridges.
Strydent's PowerPrint product provides an important service by allowing Macintosh owners to choose printers with parallel interfaces. Whether you have a serial or USB (or both) interface, they can provide cables and drivers. I tested both Serial to Parallel and USB to Parallel cable & drivers.
As I stated earlier, the Epson 740 comes with all three types of interfaces (USB, Serial & Parallel). Ditto for the new Epson Sylus 900. The new HP 895Cse comes two (USB and Parallel). I'll be testing the HP through both interfaces soon to see which is faster but I suspect the USB port is the preferred.
A big THANK YOU to...

...Interex for the use of the USB PCI card

...Strydent for the USB to Parallel & Serial adapters and drivers
See MORE SPEED tests
RETURN to bare feats main page
© 1999 Rob Art Morgan, editor of BARE FEATS
Gotta Question? Comment? Want to advertise?
Email Rob Art