Posted Thursday, October 14th, 2010, by rob-ART morgan, mad scientist
We ordered the Apple 27" LED Cinema Display the day it appeared on the Apple Store website (Sept 17th). We've had the 27" LED Cinema in our lab since Sept 24th. We haven't done an extensive, scientific comparison with a host of other displays. If you want that kind of analysis, I recommend an article on Anandtech.com. We can share some subjective impressions.
NEWS FLASH: Radeon HD 5870 kit status became "Ships: Within 24hrs" on November 12th, 2010, on Apple Store USA.
IT'S A KEEPER
We like the 27" LED so much, we bought a second one. Besides being great desk sculpture and eye candy, we like the features that the 27" LED Cinema brings to the party such as...
SOLUTION TO DOWNSIDE #1: Making the cables longer
For the 24" LED displays, we obtained a 2 meter Mini DisplayPort extension cable from PowerMax, bringing the total length to 3 meters. We already had a USB cable extension. They also have a MDP/USB combo cable.
For the 27" LED Cinema, we ordered two 15 ft (4.6 meter) combo MDP/USB cables from Gefen. This gives us maximum flexibility on the location of the displays in relation to the Mac Pro test units. Apple states that you can daisy chain multiple extension cables up to 19.6 ft (or 6 meters) but we like the single extension solution better -- especially since the MDP and USB cables are fused together.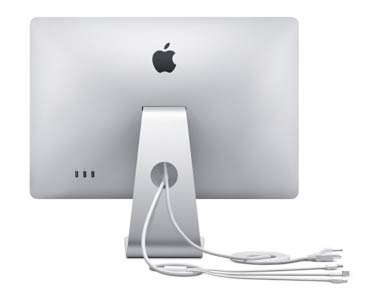 SOLUTION TO DOWNSIDE #2: Using it with a GPU that has a standard DVI port
If you have a graphics display adapter with standard DVI ports, to use the 27" LED display, you need a dual-link DVI to Mini DisplayPort converter box like Atlona makes (model AT-DP400). At first I thought, "At $200, you might as well pop for the Radeon HD 5770 at $249." But then we found it for $119 on Amazon.com
.
ANANDTECH's BIGGEST BEEF
Anandtech criticized the color reproduction of the 27" LED Cinema, but admitted it can be calibrated (which we have done with the Pantone Huey.) They felt RGB LEDs would have prevented the loss of some of the Adobe RGB 1998 color gamut, but acknowledged those LEDs are power hungry and would make the display more costly. (See "Final Words" in their review.)
ALTERNATIVE DISPLAYS
Some Mac owners clearly prefer third party displays to those made by Apple. Dell's newest 27" LCD display (model U2711) boasts factory-tuned AdobeRGB and sRGB modes, 6ms response time, and a variety of connections (DVI-D, HDMI, VGA, Component Video, Composite Video, 4 USB, 8-in-1 media slot). But it does lack LED backlighting.
Others swear by displays like the EZIO ColorEdge CG303W with wide color gamut, hardware calibration, hood, flexible positioning (landscape + portrait), and dual DVI-D inputs.
For bargain seekers, one alternative to the $999 27" LED Cinema is the factory refurbished 24" LED Cinema (12 month warranty) for $599. We decided to replace two of our 23" Cinema displays with two refurbished 24" LED Cinema displays. But when we checked the Special Deals section of the Apple Store, they were out of stock. So we kept checking every day for two weeks and finally they appeared. We ordered them and the next day they were gone again.
So if you are in the market for a refurbished 24" LED Cinema or refurbished 30" Cinema display, put a bookmark on your Safari Bookmark Bar and keep checking each day.
MULTI-DISPLAY SUPPORT
We currently have a 30" Cinema connected to the DVI port on the 6-core Mac Pro with Radeon HD 5870 GPU. The two 27" LED Cinemas connected to the two Mini DisplayPorts. Works like a champ. Apple posted Tech Note HT4279 that seeks to guide you though the multi-display gotchas.
Comments? Suggestions? Email , mad scientist.
Follow me on Twitter @barefeats
WHERE TO BUY NEWEST MAC GPUs with dual Mini DisplayPorts
Click on THIS LINK when you order the 5870 kit so we can earn our commission. And click THIS LINK to order the 5770 kit.
WHERE TO BUY APPLE 27" LED CINEMA DISPLAY
Order direct from the Apple Store. (Check also with Apple resellers listed below.)
WHERE TO BUY REFURBISHED 24" LED CINEMA DISPLAY
Check the Special Deals section for factory refurbished 24" LED Cinema display. Ditto for the 30" Cinema display. They are in and out of stock so keep checking.
WHERE TO BUY A MAC or any other APPLE PRODUCTS
When you purchase products at Apple USA, please CLICK THIS LINK or any APPLE BANNERS. It's a great way to support Bare Feats since we earn a commission on each click-through that results in a sale.