Posted Friday, September 10th, 2010, by rob-ART morgan, mad scientist
The question I get over and over these days: "Is the Radeon HD 5870 worth the money? Is is the Radeon HD 5770 fast enough?" I've answered the question to some extent in previous articles but I'm going to give it another shot.
NEWS FLASH: Radeon HD 5870 kit status became "Ships: Within 24hrs" on November 12th, 2010, on Apple Store USA.
In this article, I'm featuring three "serious" apps and four games (including Starcraft II) running on five different Mac Pros. Games were tested at 1920x1200 at High Quality settings.
Fastest result is in RED.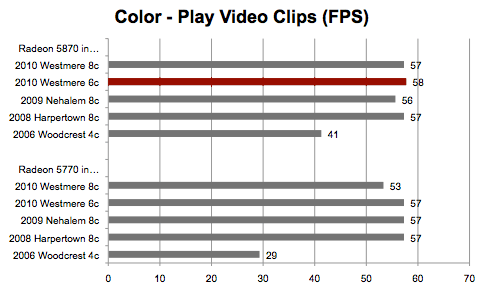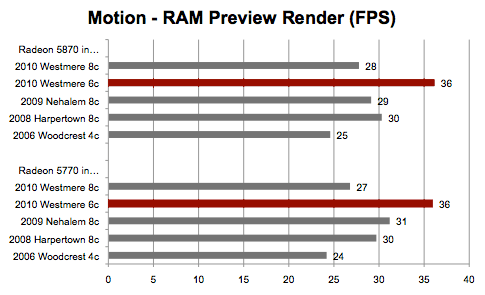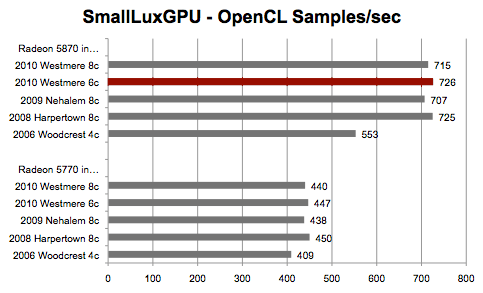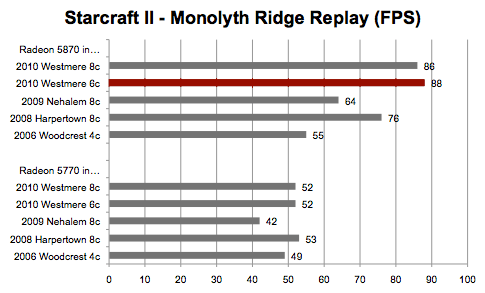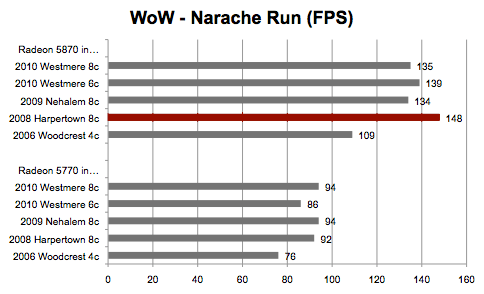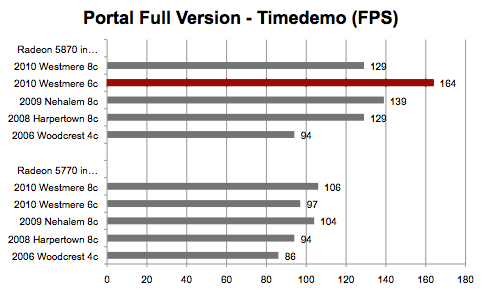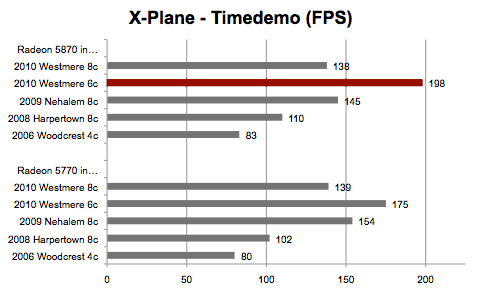 LEGEND:
2010 Westmere 8c = 2010 Mac Pro 8-core 2.4GHz
2010 Westmere 6c = 2010 Mac Pro 6-core 3.33GHz
2009 Nehalem 8c = 2009 Mac Pro 8-core 2.93GHz
2008 Harpertown 8c = 2008 Mac Pro 8-core 3.2GHz
2006 Woodcrest 4c = 2006 Mac Pro 4-core 2.66GHz
INSIGHTS
If Motion and Color are representative of pro apps, then it is likely that the Radeon HD 5870 is not going to give you a big advantage over the Radeon HD 5770. But the SmallLux OpenCL test shows the potential of the 5870 for pro apps that utilize OpenCL. And for most 3D apps and games, the 5870 presents a clear advantage over the 5770.
My advice to buyers of 2010 Mac Pros? Pay the extra $200 for the 5870. For all those planning to order the kits, it depends on what you run.
As you can also see from the graphs, certain models of Mac Pro make better use of the both the 5870 and 5770. There appears to be a correlation between CPU clock speed and relative performance. That is born out by the fact that the 3.33GHz 6-core Mac Pro leads the pack in 6 out of 7 tests. And since most GPU intensive apps use one or two cores, having an 8-core or 12-core Mac Pro will seldom provide an advantage for graphic intensive apps.
COMING NEXT
Just because an app deals with graphics does not mean that it utilizes the graphics card for all functions. When Aperture exports JPEG, when HandBrake converts video formats, andwhen Photoshop rotates an image or applies Smart Sharpen, those are all CPU intensive functions. On the other hand, when Color does the final rendering, I observed that the 2006 Mac Pro with the Radeon HD 5870 installed completed the job 30% faster than when the GeForce 8800 GT was installed.
What's also frustrating is the fact that those apps don't take full advantage of all available cores. Our next article will report on this.
MULTI-DISPLAY SUPPORT
We have had good success using two and three displays with the Radeon HD 5870 and 5770. On September 7th, Apple posted Tech Note HT4279 that seeks to guide you though the gotchas.
Comments? Suggestions? Email , mad scientist.
Follow me on Twitter @barefeats
WHERE TO BUY NEWEST MAC GPUs
Click on THIS LINK when you order the 5870 kit so we can earn our commission. And click THIS LINK to order the 5770 kit.
WHERE TO BUY A MAC or any other APPLE PRODUCTS
When you purchase products at Apple USA, please CLICK THIS LINK or any APPLE BANNERS. It's a great way to support Bare Feats since we earn a commission on each click-through that results in a sale.