Posted Friday, September 3rd, 2010, by rob-ART morgan, mad scientist
Updated Sept. 6th with GTX 285 and Radeon 3870 results
and with info on getting 3 displays to work on the Radeon 5870.
Though we reported that the Radeon HD 5870 runs fine in the 2008 Mac Pro, we wanted to go back and see how it compared to the Radeon HD 5770 as well as other popular GPUs readers have in their 2008 Mac Pro.
NEWS FLASH: Radeon HD 5870 kit status became "Ships: Within 24hrs" on November 12th, 2010, on Apple Store USA.
Fastest result is in RED.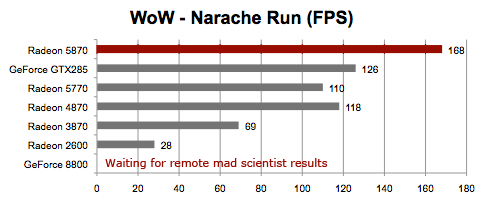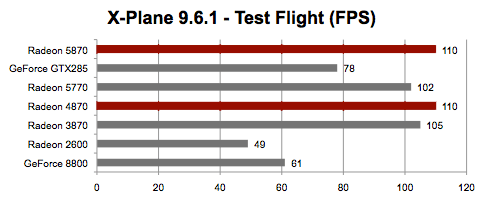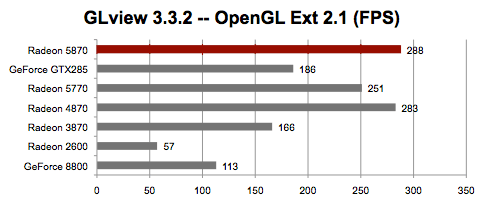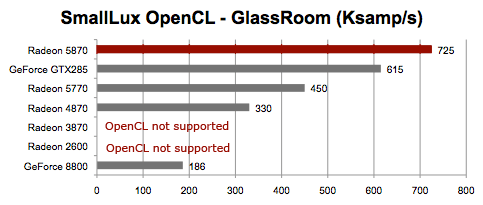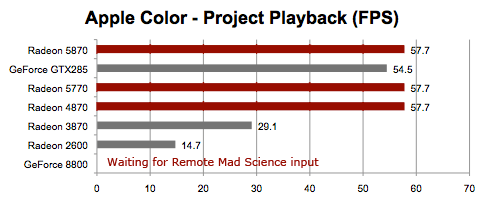 NOTE: Test "mule" was a 3.2GHz Mac Pro "Harpertown" with 16G of RAM.
INSIGHTS
I think the Radeon HD 5870 in a 2008 Mac Pro is a compelling option for owners who want more GPU power without buying a whole new Mac. In the four apps featured above, the Radeon HD 5770 can't keep up with the 5870. But there are three graphics intensive apps that we have not posted yet as we wait for remote results. They will show a smaller gap.
Also, when you compare the 5870's numbers installed in the 2008 Harpertown with the same card installed in the 2010 6-core Westmere, with the exception of GLview, the results match.
Both cards make the GeForce 8800 GT and Radeon HD 2600 XT look sickly by comparison. Now if we could just get Apple to change the status of the 5870 kit "currently unavailable" to "ships in 3 to 5 days." At least you can order the 5770 kit but you have to wait 2 to 4 weeks.
The GeForce 8800 GT results came from remote mad scientists (RMS) since we don't have one in the lab. We need help with obtaining WoW, CoD4, ET:QW, and Portal (full version) results for the 8800. Also if you have ideas for benchmarking Starcraft 2, we want to hear from you. Email , mad scientist.
Follow me on Twitter @barefeats
SPECIAL UPDATE ON MULTI-DISPLAY SUPPORT
The Radeon 5770 and 5870 support three displays on all models of Mac Pro from 2006-2010. Through experimentation and advice from "Pegasusrjf," I got three displays to work simultaneously with this setup:
1. 23" Cinema or 30" Cinema on the DVI port
2. 23" Cinema with MDP to dual-link DVI adapter* to first MDP port
3. 24" LED Cinema with direct MDP connection to second MDP port

On some occasions after power up, only one display would light up. But when I would pull out one of the Mini DisplayPort cables, then two would light up. Plug it back in and now three were lit. So there is still some "ooga booga" with multi-display support.

(* The "plain" DVI to MDP adapter is adequate if only two displays are connected. For more on this issue, see Apple Tech Note HT4279.)

WHERE TO BUY NEWEST MAC GPUs
Click on THIS LINK when you order the 5870 kit so we can earn our commission. And click THIS LINK to order the 5770 kit.
WHERE TO BUY A MAC or any other APPLE PRODUCTS
When you purchase products at Apple USA, please CLICK THIS LINK or any APPLE BANNERS. It's a great way to support Bare Feats since we earn a commission on each click-through that results in a sale.