Posted Friday, March 2nd, 2012 by rob-ART morgan, mad scientist
Updated Monday, March 5th, 2012 with GeForce GTX 580 results
Updated Thursday, March 7th, 2013 with info on the Radeon HD 7950 Mac Edition
Does Apple's delay of the next Mac Pro portend its impending doom? Will it go the way of the Xserve? As of this writing, it's been 584 days since the Mac Pro was updated. We remain hopeful. If there is to be a 2012 Mac Pro, it is likely that the new AMD Radeon HD 7970 will be offered as a CTO. This 'smoking' GPU comes with 3GB of GDDR5 video memory, two Mini DisplayPorts, one HDMI port, and one Dual-Link DVI port.
With that in mind, we installed one in our Mac Pro "lab rat" and booted up using Windows 7 (Boot Camp partition). We wanted to see what we owners of the 2010 Mac Pro are missing.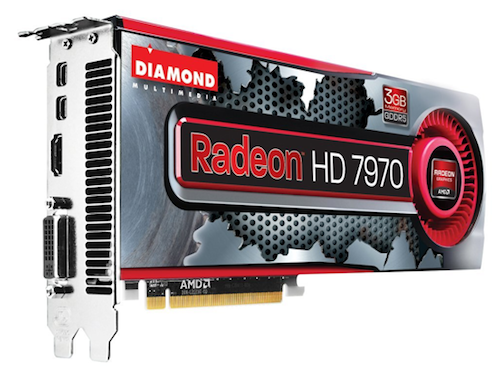 First we tried a cross-platform OpenCL benchmark called LuxMark 2.0. It allows you to render a scene using either GPUs only, CPUs only, or both. We rendered the most complex scene, the Room (2016K triangles). The graph below shows the average samples per second with GPUs only render mode. (Red bar = fastest Mac OS X compatible GPU; Blue bar = "Windows only" GPU)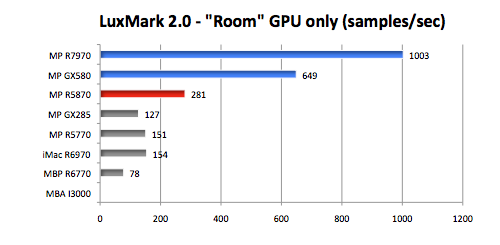 Notice there is no score above for the MacBook Air. That's because the Intel HD 3000 isn't recognized by LuxMark as an OpenCL device. Ditto for the Quadro 4000 for Mac.
LEGEND of GRAPHS
MP R7970 = Mac Pro 3.33GHz 6-core Westmere + Radeon HD 7970 (3G GDDR5)
MP GX580 = Mac Pro 3.33GHz 6-core Westmere + GeForce GTX 580 (3G GDDR3)
MP R5870 = Mac Pro 3.33GHz 6-core Westmere + Radeon HD 5870 (1G GDDR5)
MP GX285 = Mac Pro 3.33GHz 6-core Westmere + GeForce GTX 285 (1G GDDR3)
MP R5770 = Mac Pro3.33GHz 6-core Westmere + Radeon HD 5770 (1G GDDR5)
iMac R6970 = iMac 3.4GHz quad-core i7 + Radeon HD 6970M (2G GDDR5)
MBP R6770 = MacBook Pro 2.5GHz quad-core i7 + Radeon HD 6770M (1G GDDR5)
MBA I3000 = MacBook Air 1.8GHz dual-core i7 + Intel HD 3000 (384M shared)
All Macs were connected to either a 27" Cinema or a 27" Thunderbolt display. Lids were closed on the laptops.

Then we switched to a cross-platform OpenGL test, our World of Warcraft Cataclysm Narache Village "totem to tree to totem" run. Settings were "High" preset at 2560x1440 with msaa=1. (Red bar = fastest Mac OS X compatible GPU; Blue bar = "Windows only" GPU)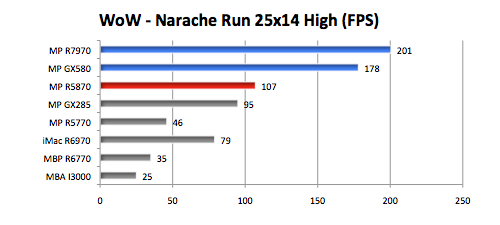 The MacBook Air's Intel HD 3000 GPU "cheats" on this test. When you select "High" preset in WoW, you get "Low" shadow quality and Liquid Detail instead of "High" plus Sunshafts are disabled. There was no "cheating" when we ran Starcraft 2 (below).
For a second OpenGL test, we ran our Starcraft 2 Roundabout War test using the "Ultra" Texture Quality and "Extreme" Graphics Quality presets at 2560x1440. (Red bar = fastest Mac OS X compatible GPU; Blue bar = "Windows only" GPU)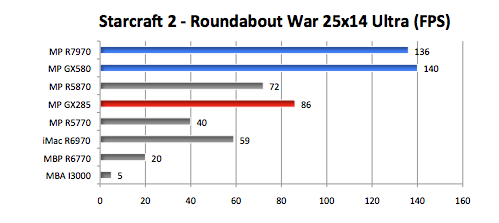 ANALYSIS
Now that you've seen how fast the Radeon HD 7970 (and GeForce GTX 580) performs compared to the Mac OS X compatible GPUs, aren't you "speed freaks" feeling a bit jealous of the Windows PC users? Are you feeling a little neglected by Apple? Couldn't they at least release a new GPU kit while we are waiting for the next Mac Pro?
These GPU test results highlight why we power users want a Mac tower product. The Mac Pro may not sell as many units as the MacBook Pro, MacBook Air, iPad, and iPhone -- mobile devices that now provide the bulk of Apple's revenue (and profit) -- but it still plays an important role for the Mac faithful who want and/or need maximum performance.
The 2011 Quad-Core i7 iMac is the best all-in-one Mac ever, but the Mac Pro with its up to eight memory slots, four drive bays, two optical bays, and four PCIe slots is much more upgradeable.
Now I can appreciate the effort required to update the Mac Pro. Adding support for such things as Thunderbolt is not trivial, but I figure, with 100 billion in cash, Apple can afford the engineering resources required to "git 'er done."
One industry observer calls the Mac Pro the SUV of Macs. (A MINI Cooper or Toyota Prius doesn't meet everyone's needs.) I like to think of the Mac Pro as the Bonneville Salt Flats Land Speed Record Vehicle of Macs -- a super fast machine with no limits on upgrade options. May it continue and get even better.
UPDATE on March 7th, 2013
Sapphire is showing a Radeon HD 7950 at the CeBit show in Germany. We've confirmed that it is a real product compatible with all 2008-2013 Mac Pros. Stay tuned for details on where to buy it and how much it will cost.