Posted Friday, July 1st, 2011 by rob-ART morgan, mad scientist
Appended July 13th with two MacBook Pro results
Apple is recommending a graphics card (GPU) for Apple Motion 5 that supports OpenCL and has at least 256MB of video memory (VRAM). We decided to use a sample project that Apple provides to compare the various GPUs available to the 2010 Mac Pro. Do they affect performance? How much VRAM is used? What other system resources are in play? Also, how do the top iMac and MacBook Pro models compare with their mobile GPUs?
PLAYBACK - NO PRE-RENDER (average frames per second)
When you are editing a project, it's nice to be able to play the animation without having to render it first. So we opened the Atmospheric sample project and hit the "play" button. Though the fastest GPUs would often spike to 60 fps during playback, we timed the playback of all 600 frames and calculated the average fps. As you can see from the graph, not every GPU could average the 24 fps target speed. (Longer bar means faster frames per second.)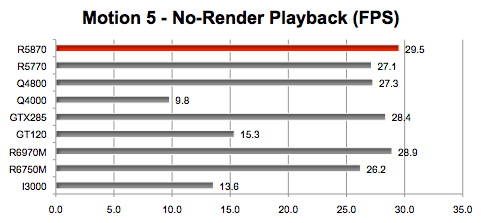 RENDER RAM PREVIEW (rendered frames per second)
Motion can render the project for purposes of previewing without jerkiness. If you have enough RAM, you can render all 600 frames of the Atmospheric project so you can do playback at the 24 fps target rate. So how long does it take to render the preview into RAM? (Because some of the Macs could not store all 600 frames in main memory, we divided the frames rendered by the time it took in seconds. Longer bar means more frames rendered per second.)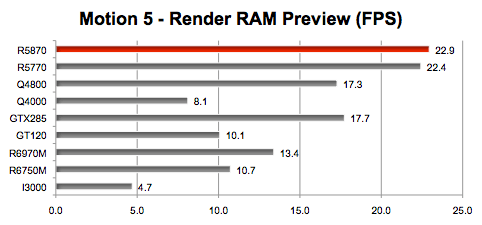 LEGEND of GRAPHS
R5870 = AMD Radeon HD 5870 (1G GDDR5 VRAM)*
R5770 = AMD Radeon HD 5770 (1G GDDR5 VRAM)*
Q4800 = NVIDIA Quadro FX 4800 (1.5G GDDR3 VRAM)*
Q4000 = NVIDIA Quadro 4000 for Mac (2G GDDR5 VRAM)*
GTX285 = NVIDIA GeForce GTX 285 (1G GDDR3 VRAM)*
GT120 = NVIDIA GeForce GT120 (512M GDDR3 VRAM)*
R6970M = AMD Radeon HD 6970M (2G GDDR5 VRAM) -- iMac 3.4GHz Core i7
R6750M = AMD Radeon HD 6750M (1G GDDR5 VRAM) -- 2011 (17") MacBook Pro Core i7
I3000 = Intel HD 3000 integrated (384M DDR3 shared) -- 2011 (13") MacBook Pro Core i7

*The 2010 Mac Pro 3.33GHz 6-core Westmere was used as the test mule for the PCIe GPUs.
SYSTEM RESOURCES USED
1. REAL MEMORY - When we launched Motion 5 and opened the Atmospheric sample project, only 153MB of real memory was in use. When the RAM Preview of all 600 frames was complete, the real memory it used by Motion had climbed to 9.36GB -- 12G total for all processes). If you have less real memory than that, it won't render all 600 frames.
2. VRAM - Using OpenGL Driver Monitor from the Apple Developer Tools, we were able to observe how much VRAM was in use. Both the iMac's Radeon 6970 and the Mac Pro's Quadro 4000 used over a gigabyte out of 2G VRAM available. I guess the other GPUs must resort to paging.
3. CPU USE - Motion 4 never used more than one CPU core. We observed Motion 5 using as many as three cores (or 254% CPU load) on both the Mac Pro and iMac.
4. STORAGE EFFECT - Because Motion 5 uses RAM and VRAM, there was no disk activity during out testing. In other words, booting from an SSD or RAID set will not affect the results we posted.
FINAL THOUGHTS
If these tests are predictive, the AMD Radeon HD 5870 and 5770 are the best GPUs for running Motion 5 on a Mac Pro. And if you prefer an iMac, the top Core i7 model with the Radeon HD 6970M will perform as well or better. I predict the same is true for Final Cut Pro X and Compressor 4. (It has been confirmed with our tests with Final Cut Pro X and Compresor 4.)
Though the NVIDIA Quadro 4000 for Mac is *NOT* on Apple's list of GPUs that do not meet the requirements for Final Cut Pro X, Motion 5, and Compressor 4, it performed very poorly -- even with the latest OS X 10.6.8 driver (256.02.25f01 dated June 24th, 2011). Oddly, the lowly GeForce GT120 was faster!
RELATED ARTICLES
I recommend Silverado's White Paper on Final Cut Pro X explaining how it utilizes memory, CPU cores, and OpenCL GPUs.
We compare four different Macs running Final Cut Pro and Compressor.
Comments? Questions? Email , mad scientist.
Follow me on Twitter @barefeats
WHERE TO BUY FASTER GPUs FOR YOUR MAC PRO
For GPU upgrade kits (Radeon HD 5870, etc.) or any other product sold on Apple USA, CLICK THIS LINK to help us earn our commission. Then use the "Search Store" box to find what you want.