February 15th, 2019 by rob-ART morgan, mad scientist
February 20th - Added RX Vega 56 results
The Radeon Vega VII is now shipping. It's expected to be fully supported in macOS 10.14.4. Meanwhile we fired up Windows OS on our Mac Pro tower to see how it compared to competing GPUs from AMD and NVIDIA.
GRAPH LEGEND
GTX 1080 Ti = NVIDIA GeForce GTX 1080 Ti
GTX 1080 = NVIDIA GeForce GTX 1080
RTX 2070 = NVIDIA GeForce RTX 2070
RTX 2060 = NVIDIA GeForce RTX 2060
Vega VII = AMD Radeon Vega VII
Vega Frontier = AMD Radeon Vega Frontier Edition
RX Vega 56 = AMD Radeon RX Vega

Test Mule was a 2010 Mac Pro 12-Core 3.33GHz Xeon X5680, 96GB of 1333MHz DDR3 memory, running Windows 7 Ultimate 64bit.
In this benchmark you are a bird flying through a forest-covered valley surrounded by vast mountains and is extremely detailed down to every leaf and flower petal. (HIGHER score = FASTER)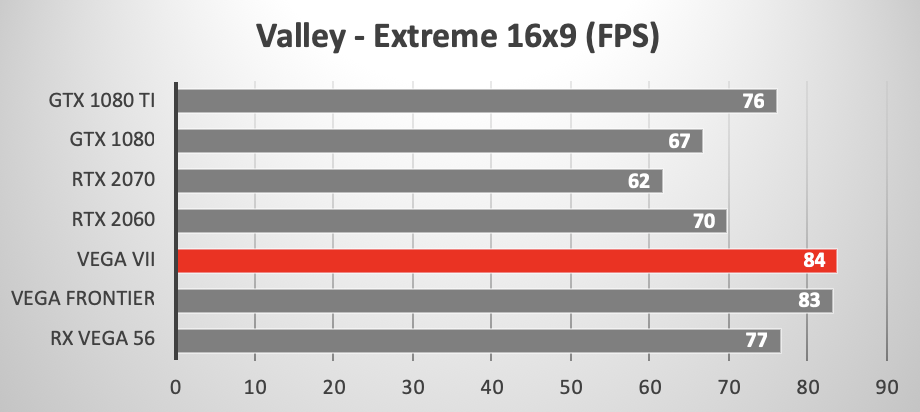 This is a looping playback of a 1080p clip (Candle project) with 1x noise reduction added and rendering on the fly. NVDIA GPUs rendered with CUDA. AMD GPUs rendered with OpenCL. (HIGHER frames per second = FASTER)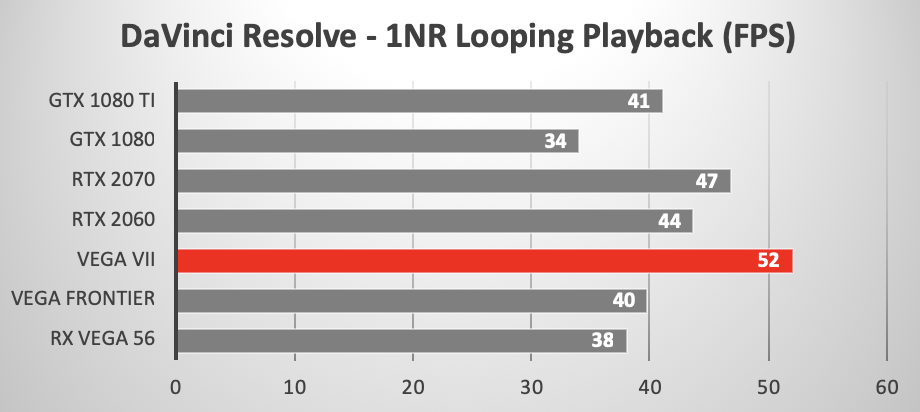 This "GPU burner" benchmark was run at 2560x1440 with no anti-aliasing. If your aren't feeding the GPU enough power, this will shutdown your Mac Pro tower. (HIGHER frames per second = FASTER)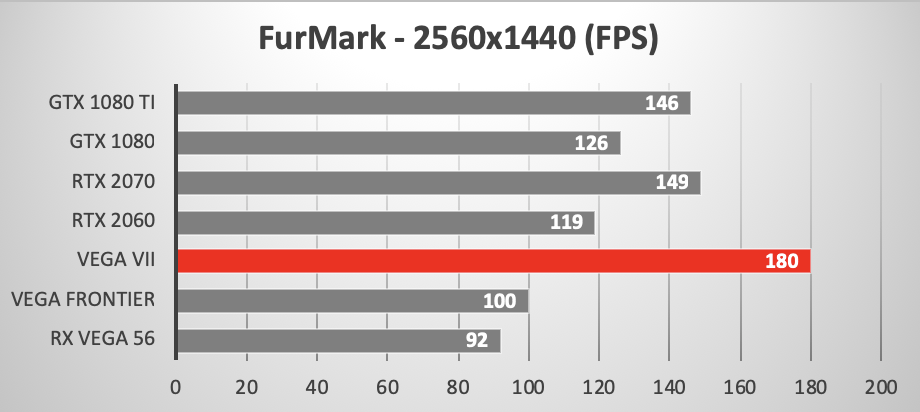 Using the three phase built-in benchmark, we ran at 2560x1440 resolution and HIGH preset. The graph shows the average of the three phases. (HIGHER Frames per Second = FASTER)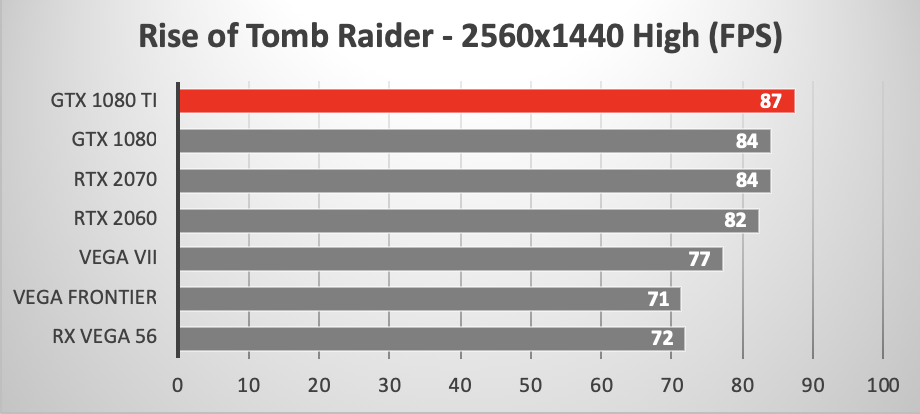 We ran the built-in "Skaven" benchmark using the Ultra preset at 3840x2160. (HIGHER Frames per Second = FASTER)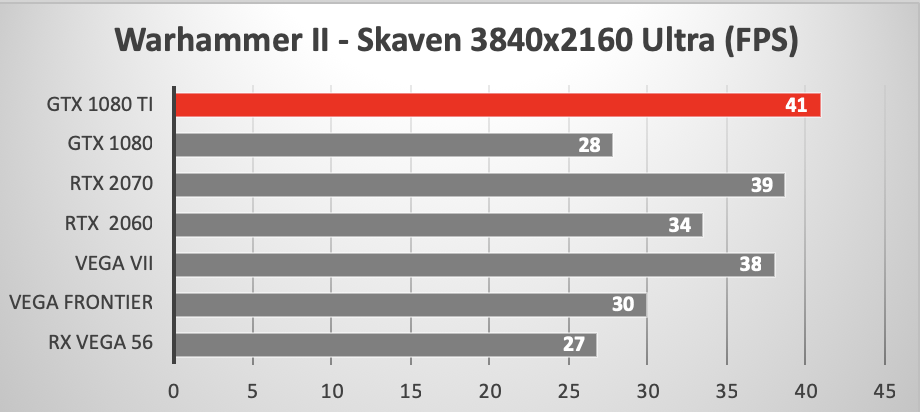 Power Draw Comparison
Here is how the test GPUs compare in maximum Thermal Design Power required (TDP). (LOWER wattage = BETTER)
Cost Comparison
In terms of MSRP, here's how the three GPUs compare. (LOWER price = BETTER)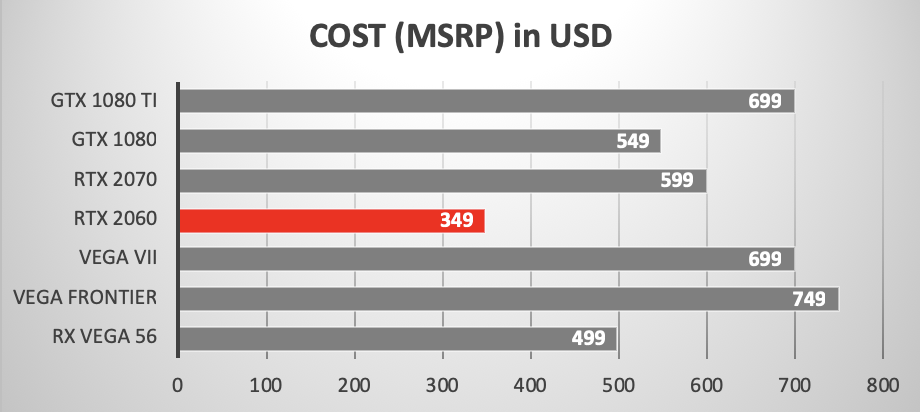 THOUGHTS
The Vega VII won the first three tests, but could not match the GTX 1080 Ti in the two game tests.
At this writing, only the Vega Frontier Edition, RX Vega 64, and RX Vega 56 run under macOS Mojave. Hopefully we'll soon get to test the Vega VII in an eGPU connected an iMac Pro or MacBook Pro running macOS Mojave 10.14.4. Based on our experience with the Vega Frontier in an eGPU, it would provide a welcome boost to DaVinci Resolve and other pro apps.
We used an external PSU to insure sufficient power was being feed to the Vega VII, Vega Frontier, and RX Vega 56.
We fervently hope that Apple and NVIDIA will come to a meeting of the minds and bring full support of the RTX 2060, 2070, and 2080 to macOS Mojave.
Comments? Suggestions? Feel free to email me,
Follow me on Twitter @barefeats
WHERE TO BUY AMD GPUS
B&H Photo Video has the RX Vega 56 and 64. They will soon have the Vega VII in stock.
WHERE TO BUY NVIDIA GPUS
B&H Photo Video has the RTX 2060, 2070, and 2080.
WHERE TO BUY APPLE products:
USA readers can help us earn a commission by clicking THIS TEXT LINK or on the Apple display ads at the top and on the sides this page. Then search for the product you seek.
You can also order Apple products from B&H Photo Video.
OUTSIDE USA?
Readers in Australia can support us by clicking our link to the Apple Store AU.

.