What graphics board goes best with a G3 upgrade in an old Power Mac 7500?
Posted 8/30/99.
© 1999 Rob Art Morgan, editor of BARE FEATS
rob-art@barefeats.com
First, some 2D tests...
(orange bar means fastest in each test)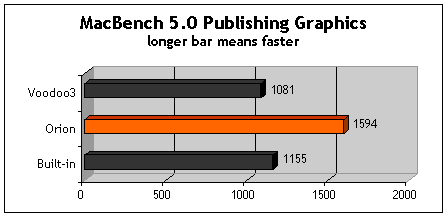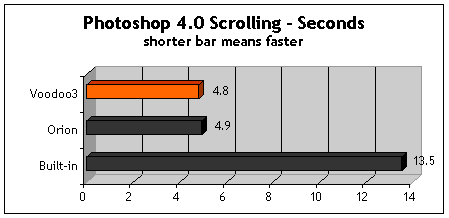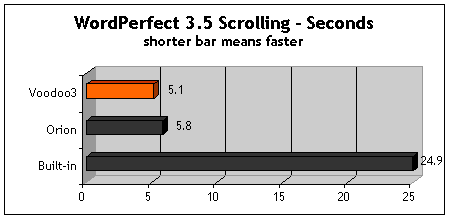 Next, some 3D tests...
(orange bar means fastest in each test)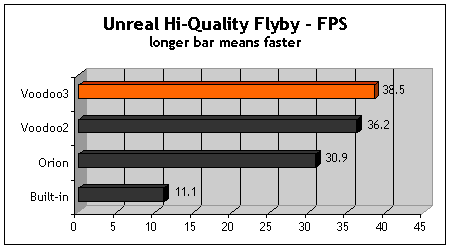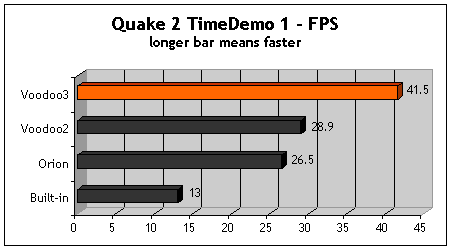 Conclusion: The 3Dfx Voodoo3 board beat the Orion RAGE 128 in all but one test. Pretty impressive for beta drivers and a board designed for the Wintel crowd.
Related Reviews
Test Configurations & Procedures
| | | |
| --- | --- | --- |
| GRAPHICS CONFIGURATIONS | interface | video memory |
| Built-in | Apple's "accelerated" 2D chip | 4 MB |
| ATI Orion | RAGE 128 | 16 MB |
| MicroConversions Game Wizard | 3Dfx Voodoo2 | 12 MB |
| 3Dfx 2000 PCI | 3Dfx Voodoo3 | 16 MB |
The test computer was a Power Mac 7500 with an Interex XLR8 CarrierZIF running 400MHz G3 ZIF.
MacBench 5.0 Publishing Graphics test was done with the display set to 1152 x 870 x millions. The MacBench 5.0 is one of the few benchmark applications that closely simulates "real world" usage. You need the CD-ROM to run the Graphics tests. It only costs $5 to order.
Adobe Photoshop scrolling test was run using 4.0.1 DEMO (120MB App size), a 30MB test document, and a stop watch. Results were rounded to the nearest half second. The scroll test was done at 400% zoom; scroll arrow held down while scrolling from top to bottom
For the WordPerfect 3.5.3 scrolling test, I created a 120 page document containing the sentence "The Quick Brown Fox Jumped Over The Lazy Dogs" repeated over and over in paragraphs of 8 sentences each in 14 point Times font. Using a stopwatch, I timed how long it took to scroll from the beginning to the end of the document while holding the mouse button down with cursor over the scrolling arrow. (Font smoothing was turned off. If it's on, it will take you 50% longer to scroll through a document!)
Unreal 3D tests were run with the display set to 640 x 480. I particularly enjoy using this application to test since it exercises all subsystems of the Macintosh. The test used was the Castle Flyby that comes up at startup. To get the average and minimum frames per second with version 2.x.x of Unreal, you press "~" and enter "TIMEDEMO 1." Then press "~" to open up the full screen again. It begins the fly sequence at the castle entrance. (Get the latest latest UNREAL Beta from Westlake's Site.)
Quake 2 was run in 800 x 600 mode. It requires a special version of the "ref_gl.lib" from Mesa3DGraphics website to work with the Voodoo3. It also requires a document called "Mesa3DGraphicsLibQuake2" (version 3.1b8 or later) to be placed in the Quake folder.
A big THANK YOU to...

...Interex for the use of the CarrierZIF G3/400.

...ATI Technology for the use of the Orion RAGE 128

...3Dfx for offering a $30 rebate on the 3Dfx Voodoo3 cards until September 18th. Net cost to average user: $85.
Consult my Hot Deals page
for best prices on these and other products.

Or go see more Speed Test Results

RETURN to bare feats main page

© 1999 Rob Art Morgan, editor of BARE FEATS
Gotta Question? Comment? Want to advertise?
Email Rob Art at mailto:rob-art@barefeats.com