Originally posted May 7th, 2004 by rob-ART morgan, mad scientist
Updated May 8th with info on USB 2.0 speeds of Windows PC
QUESTION #1: How Fast Does A USB 2.0 Drive Go On An eMac, PowerBook, and G5 Power Mac?
QUESTION #2: How Does Its Speed Compare To FireWire 400 and FireWire 800 Drives.
We used a Mercury Extreme Oxford 922 enclosure that supports USB 2.0, FireWire 400 and FireWire 800. We put a Hitachi 7K250 250GB 7200rpm 8MB buffer drive inside. This is what we measured: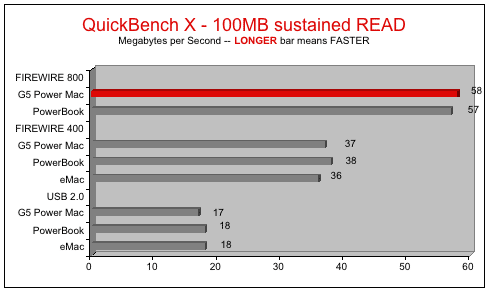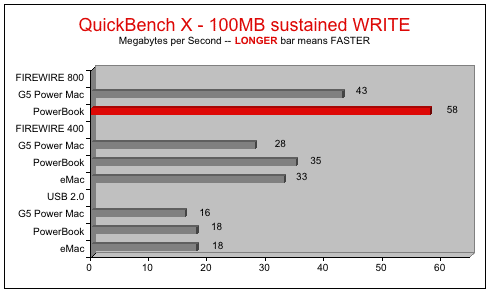 INSIGHTS:
1. USB 2.0 is much slower than FireWire 400 and 800. Apple states that the USB 2.0 ports on their Macs support transfer rates up to 480 megaBITS per second (Mbps), which translates to 60 megaBYTES per second (MB/s). The most we saw was 144 megaBITS per second or 18 megaBYTES per second.
Think about it. FireWire 400 is rated at 400 megaBITS per second (50 megaBYTES per second) -- 80 megaBITS slower rating than USB 2.0 -- yet when exact same drive/enclosure is plugged into the FireWire 400 port, it goes almost twice as fast!
You can't blame it on the drive, because, as you can see from the FireWire 800 tests, the drive is capable of transfer rates much higher. Some blame it on Apple's USB 2.0 drivers or the USB 2.0 bridge chips. I can't comment on that.
The Windows PC implementation of USB 2.0 puts the Mac to shame. Today we tested the same USB 2.0 drive/enclosure on a Windows PC (3GHz Pentium 4) with built-in USB 2.0 on the motherboard, similar to Apple's approach. We measured 33MB/s READ and 27MB/s WRITE.
NOTE: We formatted the test drive as "Mac OS Extended" or HFS+ when testing on the Mac. Then we reformatted the drive in NTFS when I moved the drive to the Windows PC.
2. The G5 posted sustained WRITE speeds SLOWER than the much cheaper eMac! Take a good look at the "WRITE" graph above. The G5 was slower than the eMac in the sustained WRITE speed tests -- that includes USB 2.0 and FireWire 400. And as we've seen before, the G5 was slower than the PowerBook in the FireWire 800 WRITE test. There's something seriously inefficient going on in the I/O "guts" of the G5! It's pretty sad when the "world's fastest personal computer" gets beat by the eMac running at a fraction of the clock speed and costing a fraction of the price.
3. There's some confusion about USB terminology. There are expressions tossed around like "Full Speed" and "High Speed" or "Hi-Speed." According to EveryThingUSB.com, some vendors who call their USB 1.1 products "Full Speed USB" to make them sound faster than 12 megaBITS per second -- but that's misleading at best. Apple's USB page adds to the confusion by calling USB 1.1 (12Mbps) "High Speed." Both are wrong. Apple does a better job on their FireWire page where they compare FireWire 800 to USB 2.0 as well as FireWire 400.
The official USB website states, "The USB-IF's recommended nomenclature for consumers is "USB" for slower speed products (1.5 Mb/s and 12Mb/s) and "Hi-Speed USB" for high-speed products (480Mb/s), as signified in the USB logos that were introduced in late 2000.  In short, consumers wishing to be certain they are getting the performance they paid for in their USB products can use the logo for clarification."
SOURCES OF TEST PRODUCTS
The eMac 1.25GHz was tested at the local Apple Retail Store. The G5/2.0GHz MP Power Mac and Aluminum G4/1.5GHz PowerBook were tested in the Bare Feats lab.
The combination USB 2.0, FireWire 400 and FireWire 800 drive enclosure and 7K250 PATA drive was provided courtesy of Other World Computing.
Test software (QuickBench X) was provided courtesy of Intech.
If you are shopping for USB 2.0 or FireWire enclosures or drive systems, check with the following online sources:
Has Bare Feats helped you? How about helping Bare Feats?