Originally posted in 2002 by Betty Morgan, special features editor
Updated on May 31st, 2009

Don't you just love all the choices for carrying Apple laptops? But those choices can be confusing and expensive if the wrong item is selected. I try to save my back as much as possible, yet look stylish! I know that our laptops are light, but with all my other STUFF the bag gets heavier and heavier. And of course, whatever one of us gets the other wants one too. "What about me?" can be heard echoing in our offices.
Besides the aesthetics of looking good and having a workable style, our computer cases have to match our outfits. Therefore, BLACK is the standard color for the Mac Guru, Rob-ART, and me. To tell the cases apart when we travel, I put a red silk ribbon on my gear.
My first purchase for a roller computer bag was a frugal $59 version that had to be pulled along with a great deal of effort because of the inferior wheels. Besides the handle retracting at will, it was also too short, causing the case to catch on my heel as I walked. Needless to say, this was a foolish purchase, but I felt it was all I could afford at the time.
After we purchased matching 15" Apple laptops, Rob-ART and I felt that it was time to invest in the RIGHT BAG. It was important not only for how efficient it would be, but also had to meet the same level of status as what was going into it... These mythical computer cases had to absorb impacts... tipping over, falling off the airline suitcase weigh-in counters or seats, etc. This is asking a lot from a computer bag, but there are degrees, RIGHT?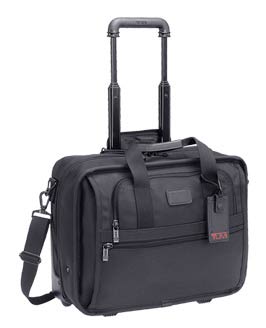 Of course Rob-ART knew exactly what brand of bag he wanted--Tumi! He had scoped out this luxury luggage line and, after showing it to me at a local store in Honolulu, our final choice was the 2201 Wheel-A-Way Computer Brief. We selected the Fusion Z(tm) nylon over the leather model because of the weight difference and the seasonal rain factor for Hawaii and California. The zippers are bold and have closure tags that are easily grasped. It has an adjustable Safecase Sling Suspension System that cradles the computers (this section is removable and is expandable by a zipper). There are slots for file folders, books and papers. An industrial detachable padded nylon, leather strap can be used for those times that the case needs to be carried.

The roomy front U-shaped zipper section provides enough interior zipper pockets for business cards, loops for pens, slot for an iPhone, space for Bose Silent Comfort headphones, and assorted items you might want to carry. This section is not padded. If this pocket is overstuffed, it will be a hard fit under the seat or in the overheads (airline carry on space is getting smaller and smaller), in that case, you may want to remove your computer and then shove the case into place. There is also a goodie zipper bag that is included for those small items that might need to be kept in one place... it's a great place for my folding headphones and laptop A/C adapter.

The entire interior of the Tumi Computer Case is lined in a designer black-on-black shiny-stripped taffeta fabric (finished like a fabulous designer purse I'd buy at Nordstroms). On the outside beneath the U-zipper section is another flat zipper section to place your airline ticket, CD's, DVD's, etc.

The Tumi handle is strong enough to attach my travel tripod across the top of the bag. Videography is my next interest, so I ordered two Tumi "fanny pack" bags.... One to put my Sony videocam and the other for my Nikon SLR digital camera gear. I tested the handle and it will be able to carry the added minimal weight and the camera bags can slip off and on with a quick latch release from the waistband cinched to the handle.

The wheels on the Tumi Computer Cases are the inline skate type and the cases can be pulled up and down stairs smoothly. The retractable handle is strong, adjustable for length, and retracts effortlessly. Although this bag is pricey, I can see that it will be my favorite for many years. (It's been 7+ years since we first posted this article and we still love our Tumis.)

The Tumi can fit almost anywhere, we pack them up and take them with us to even to local restaurants for romantic/business meetings. We can pull out our laptops as easily as we would a cell phone. Also I've used it as a purse too... lipstick, letter writing items, toiletries. Okay, so I'm weird, but if you spill something on your shirt at lunch, guess who has some spot remover to save the afternoon? Even my swimsuit, cover-up, visor and slippers can be found on afternoon getaways. We often rent a cabana on the beach at the Oriental Mandarin Hotel in Honolulu where we swim, lounge, sleep and enjoy our new bags with all the hi-tech goodies inside.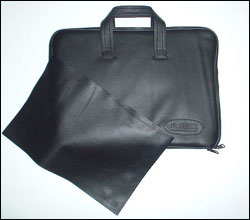 Now, a rolling computer case is too big for some shorter trips or confined areas... client meetings, church, etc. So we purchased the padded sleeve from J.R. Hill and Company. It is made of soft full-grain black leather and fits the Apple laptop like a glove. It's like butter. It has handles and will still fit into the Tumi Bag's padded laptop slot, giving another layer of protection. Whether storing it under my desk or from any nasty surfaces that may mar it's exterior
We purchased the optional leather screen protector to shield the screen from dirt and oils in the keyboard of the PowerBook.
When we need to take small connecting airline flights, often the computer cases will not fit in the overhead compartments or under the seat. This means that the airline attendant will insist on putting our Tumi cases in the cargo section. To prepare for that possibility, our laptops are in their sleeves, ready to be pulled out easily by the handle for safe keeping near us.
Now, I'm supposing you have spent between $2500 and $3000 on your beautiful new Apple "pro" laptop including extra memory and software. That being true, don't scrimp on the way you carry and protect it. And even if you sell and upgrade to the next really cool laptop, I'm confident it will fit your Tumi Wheel-A-Way that's just getting BROKE IN!
Ê
PRODUCT DETAILS
Tumi Wheel-A-Way Computer Brief*
lots of pockets with patented melted looper zippers
inside divided into three sections
adjustable padded Safecase Sling Suspension System for laptops
patented aircraft-grade aluminum telescoping handle
in-line skate wheels
*Since we wrote this article, the 2201 model has been discontinued. The closest thing to it now sold by Tumi is the Alpha Wheeled Compact Computer Brief (Style: 26102). Tumi has other styles of wheeled computer briefs.
TUMI is the leading brand of prestige luggage, business cases and accessories in the U.S. The company was founded in 1975 by ex-Peace Corp volunteer, Charlie Clifford. Named after a Peruvian god, TUMI began as an importer of leather duffel bags from Colombia.
TUMI ALSO MAKES VARIOUS STYLES of BACKPACKS FOR LAPTOPS

The example pictured features...

Fully padded, adjustable laptop sleeve
Interior zipper pockets
Retractable key leash
Padded back
Padded ergonomic backpack straps
Padded top carry handle
Fabric: High-performance, water and abrasion-resistant hybrid nylon fabric with high-tenacity backing and protective PVC trim.

© 2005-2009 Rob ART Morgan
"BARE facts on Macintosh speed FEATS"
Email , the webmaster and mad scientist