Posted Tuesday, April 8th, 2014 by rob-ART morgan, mad scientist
Last week we had the opportunity to road test a 128GB memory kit for the 2013 Mac Pro. That's double the capacity of the top Apple factory 64GB DDR3 option. The catch is that the 128GB kit is clocked at 1066MHz instead of the factory kit's 1866MHz. Will that slow down the Mac Pro? Or will the extra capacity compensate and speed things up?
GRAPH LEGEND
128GB = 2013 Mac Pro 3.0GHz 8-core, 128GB 1066MHz memory (4x32GB), 512G flash storage, dual FirePro D700 GPUs
64GB = 2013 Mac Pro 3.0GHz 8-core, 64GB 1866MHz memory (4x16GB), 512G flash storage, dual FirePro D700 GPUs.
The Geekbench 3 Memory Stream Copy Multi-core test indicates 22% loss of performance with the 128G upgrade. It could be worse since the clock speed is 75% lower. But do these numbers translate into big losses in the real world? (RED bar means FASTEST.)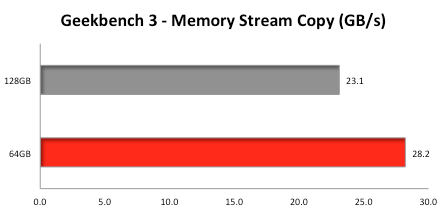 Here's a few examples of real world applications exhibiting only a slight loss in performance with the slower clocked 128GB kit. (RED bar means FASTEST.)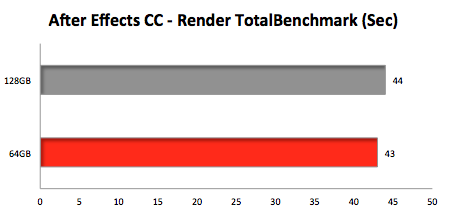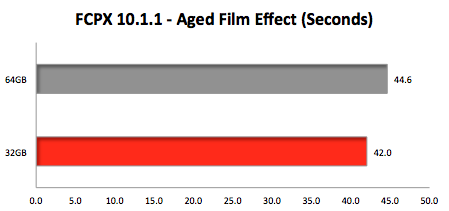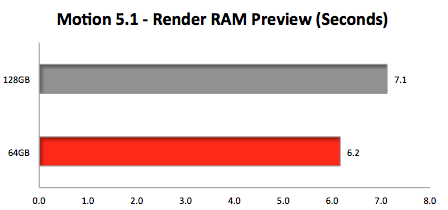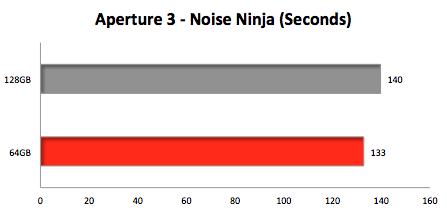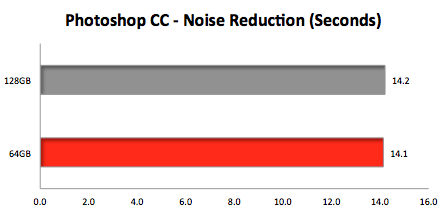 So memory clock speed doesn't translate to a big hit in performance, but when total real memory used for one app exceeds 64GB, the big hit is taken by the Mac Pro with the 64GB (and 32GB) kits. The PhotoShop diglloydHuge action file performs various functions including resize, convert, and rotate. With the 128GB memory kit installed, Activity Monitor reported real memory use of 61GB by Photoshop itself and 69GB total real memory use including OS X and its minions. (RED bar means FASTEST.)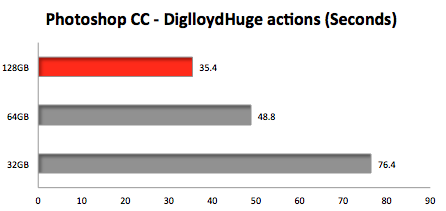 Another example of the need for more than 64GB of DDR3 came from a reader who was putting together sixteen 2K video clips with Final Cut Pro X. He was also running Motion and Lightroom. Of the 96GB of real memory installed in his Mac Pro tower, 95.6GB was in use. An examination of the Memory Stress panel in Activity Monitor revealed 72.5GB being used as File Cache.
INSIGHTS
1. Just because a memory kit has a 75% lower clock speed than the factory memory doesn't mean your Mac will run 75% slower running most pro apps using average requirements.
2. However, if your workflow gobbles up all the real memory, the 'slower, higher capacity' 128GB memory kit will boost performance dramatically.
CONCLUSION: Not every 2013 Mac Pro owner needs more than 64GB of DDR3 memory, but it's nice to know that a 128GB kit is available (and easy to install) if and when you need it.
Comments? Suggestions? Email , mad scientist.
Follow me on Twitter @barefeats
WHERE TO BUY MEMORY UPGRADES FOR THE 2013 MAC PRO