Posted Friday, March 7th, 2014 by rob-ART morgan, mad scientist
March 24th, 2014, clarified the topic of number of CPU cores in use during flight.
After consulting with X-Plane fans and experts, we have put together a comprehensive mix of framerate tests of X-Plane 10 running on the 2013 Mac Pro versus other fast Macs. Fasten your seat belts and put your trays in the upright position.

GRAPH LEGEND
RED graph bar means fastest frame rate

iMac 4c G780M = 2013 iMac 3.5GHz 4-core i7 with single GeForce GTX 780M GPU
nMP 8c D700s = 2013 Mac Pro 3.0GHz 8-core with dual FirePro D700 GPUs
nMP 4c D300s = 2013 Mac Pro 3.7GHz 4-core with dual FirePro D300 GPUs
MPt 6c 780 Ti = 2010 Mac Pro 3.33GHz 6-core with single GeForce GTX 780 Ti GPU (courtesy of MacVidCards)
X-Plane 10 comes with two standard replays in the Output folder that you can use to run a TimeDemo FrameRate test in a Terminal command line: "test_flight_c4.fdr" which is a flight of the Cirrus Vision SF50 Personal Jet and "test_flight_747.fdr" the flight of a Boeing 747-400 Jetliner. Of the five 'canned' tests, we are featuring Test 2 and 3.
Test 2
It includes Special Effects like 3-D bump-maps, gritty detail features, draw per pixel lighting, and 4x anisotropic filtering. Anti-aliasing was disabled. Draw settings include "very high" world detail distance, "populated" number of trees, "tons" number of objects, "tons" number of roads, and "overlay" shadow detail.
The first two graphs are chase view of the Cirrus Vision SF50 running Test 2 in both the default 1024x768 viewport and fullscreen 2560x1440.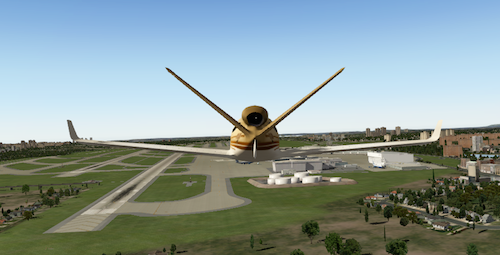 The next two graphs are the results from the cockpit view of the Boeing 747-400 running Test 2 in both the default 1024x768 viewport and fullscreen 2560x1440.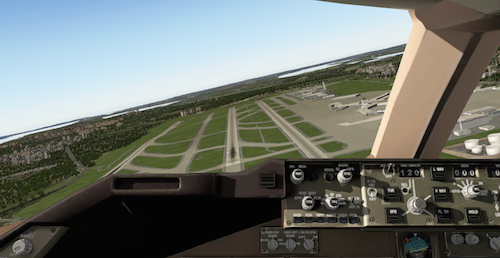 Test 3
Tougher Special Effects include HDR rendering, FXAA HDR anti-aliasing, and atmospheric scattering. Tougher Draw settings include "filled in" number of trees, "extreme" number of objects, "extreme" number of roads, and "global (melt your GPU)" shadow detail.




INSIGHTS
FIRST: The top 2013 iMac 3.5GHz Quad-Core i7 with GeForce GTX 780M smoked the 2013 Mac Pros and the 2010 Mac Pro tower with an even faster GTX 780.
How is that possible? (Clarified) During the startup of X-Plane, it used all cores to render the flight model and the scenery, but once the flight began (and the Framerate recording begins), the CPU load dropped to less than 200% (or less than 2 cores).
There are scenarios where the CPU load can remain high. For example, with an AI flight where scenery is being rendered "on-the-fly," you would see more than two CPU cores active. It is rare that you would see all cores maxed out during flight, according to the developer of X-Plane.
As for the GPU, the load maxed out at 58% and VRAM used never exceeded 330MB (as reported by OpenGL Driver Monitor).
SECOND: The 2013 Mac Pro 8-core with FirePro D700s was only slightly faster than the 2013 Mac Pro 4-core with FirePro D300s. Why? See the previous paragraph. Plus, even though the new Mac Pro sports dual GPUs, only one is used by X-Plane.
THIRD: The GeForce GTX 780 Ti is one of the strongest GPUs you can run in a Mac Pro tower. We tested it in both the 2009 Mac Pro 8-core (2.93GHz) and the 2010 Mac Pro 6-core (3.33GHz). The 6-core produced higher framerates so we included those results in the graphs.
We tried the Radeon HD 7950 "Mac Edition" but produced slower framerates than the GTX 780 Ti. In the next few days we will test with a flashed Radeon R9 280X to see what it can do. We will add those results to this page.
WINDOWS? Yes, we tested the 2013 Mac Pro 8-core under Windows 8.1. It ran all the X-Plane tests slower than under OS X Mavericks 10.9.2. CrossFire mode won't help since X-Plane does not support it at this time.
FINALLY, what's the best Mac to run X-Plane 10? At this point it appears to be the top iMac. If you own or plan to buy a 2013 Mac Pro, at least you can be assured it will beat the older Mac Pro towers.
Comments? Suggestions? Email , mad scientist.
Follow me on Twitter @barefeats
WHERE TO BUY A MAC or other APPLE products:
USA readers can help us earn a commission by using this Apple Store USA link or by clicking on any Apple display ad. Or if you are buying a new Mac Pro or iMac, you can choose GPU options when you configure your order.
WHERE TO BUY NVIDIA GPUs for your MAC PRO tower