Originally posted Tuesday, December 31st, 2013, by rob-ART morgan, mad scientist
Thanks to the Other World Computing's test lab, we have some preliminary benchmarks on the entry level 'late 2013' Mac Pro 3.7GHz Quad-Core. Some of you have asked how it compares in performance to the fastest 'late 2013' iMac (3.5GHz Core i7). We have a partial answer.
GRAPH LEGEND
2013 MP 4c 3.7GHz = 'late 2013' Mac Pro Xeon E5-1620v2 3.7GHz Quad-Core with 32G of 1866MHz DDR3, Dual FirePro D300s, and 256G PCIe flash storage
2013 iMac 4c 3.5GHz = 'late 2013' iMac 3.5GHz Quad-Core i7 with 32G of 1600MHz DDR3, GeForce GTX 780M, and 512G PCIe flash storage

Both were running OS X Mavericks 10.9.1.
CPU CRUNCH TESTS
Cinebench R15 -- Render 3D Model using all cores. (LARGER number means FASTER CB Rating)

Geekbench 3 -- Here is the overall score for 64-bit performance of Integer, Floating Point, and Memory (HIGHER score means FASTER.)


PCIE FLASH STORAGE TESTS
LARGE SEQUENTIAL TRANSFERS
We used AJA System Test to test file level, large sequential transfer speed using a 16GB test document that simulates a video whose frame size is 4096x2160. (HIGHEST number means FASTEST.)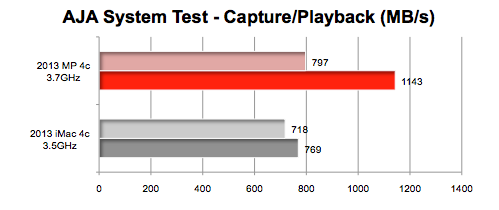 SMALL RANDOM TRANSFERS
We use the Standard Random test in QuickBench as a predictor boot volume performance and a simulation of an application that does multiple small random transfers. (HIGHEST number means FASTEST.)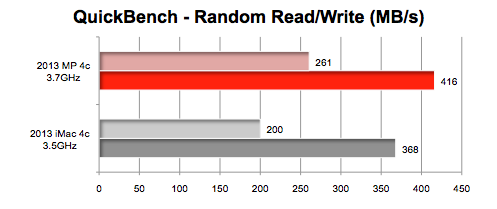 OPENCL GRAPHICS TEST
LuxMark 2.1 is an OpenCL benchmark that renders scenes of various complexity. For this round we used the default Sala scene (488K Triangles) and rendered using GPUs only. (LARGER number means FASTER in Thousands of Samples per Second.)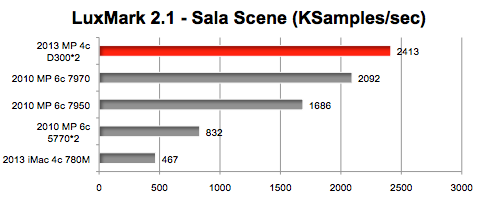 In the graph above we included the 'mid 2010' Mac Pro 6-core with various GPU scenarios running only on internal PCIe bay power leads.
LUXMARK GRAPH LEGEND
2013 MP 4c D300*2 = 'late 2013' Mac Pro 4-core with dual FirePro D300 GPUs
2010 MP 6c 7970 = 'mid 2010' Mac Pro 6-core with single Radeon HD 7970 GPU
2010 MP 6c 7950 = 'mid 2010' Mac Pro 6-core with single Radeon HD 7950 GPU
2010 MP 6c 7950 = 'mid 2010' Mac Pro 6-core with dual Radeon HD 5770 GPUs
2013 iMac 4c 780M = 'late 2013' iMac 4-Core i7 with single GeForce GTX 780M GPU
INSIGHTS
When it comes to CPU crunching, the 'late 2013' iMac Core i7 4-core matches or beats the 'late 2013' Mac Pro 4-core -- at leasts in the tests we used here.
Since the newest iMac and Mac Pro both have PCIe flash STORAGE, they are close in speed with the exception of large sequential reads (playback) where the Mac Pro excels. (Note that if you want those kind of speeds for your Mac Pro tower, there are PCIe flash products you can buy like the OWC Accelsior and Sonnet Tempo SSD Pro.)
LuxMark is one of the few OpenCL benchmarks that uses multiple GPUs. So we used it in our last graph to highlight the advantage of the 'late 2013' Mac Pro's slowest pair of GPUs (FirePro D300s). It obliterates the iMac's single GPU, but a 2010 Mac Pro tower with a really strong AMD GPU like the 7970 (running only on internal factory PCIe power feeds) comes close. I predict that the dual D700s in the top 2013 Mac Pro models will reach or exceed 4000KSamples/sec.
COST COMPARISON


We added the cost of the Thunderbolt display for the Mac Pro since the iMac comes with the equivalent of one. If you already own a Thunderbolt (or other) display, then the Mac Pro costs only $349 more than the top iMac. Besides those numbers, keep in mind the Mac Pro's dual D300 GPUs (versus one 780M), and six Thunderbolt 2.0 ports (versus two Thunderbolt 1.0 ports).
MORE TO COME
This is just an appetizer. As we gain access to other models of 'late 2013' Mac Pro, we will do more comparisons and include real world pro apps and games.
Feedback or comments? Contact me , mad scientist.
Also, you can follow me on Twitter @barefeats
SHOP APPLE STORE USA
Help support Bare Feats by clicking our Apple display ads or THIS Apple USA link when ordering any Apple product.
Twelve Core Mac Pro towers are still being sold by various parties on Amazon. For other models of Mac Pro tower, search on "Mac Pro desktop" on Amazon.
OTHER SOURCES FOR iMacs and Mac Pros