Originally posted Saturday, December 28th, 2013, by rob-ART morgan, mad scientist
Final Cut Pro X 10.1 features "optimized playback and rendering using dual GPUs in the new Mac Pro." That begs the question: "Will it optimize a Mac Pro tower with dual GPUs?" We happen to have two Radeon HD 7970s on loan from MacVidCards. They are 'kissing cousins' to the FirePro D700s offered as the top GPU option for the 2013 Mac Pro. So we did some quick testing.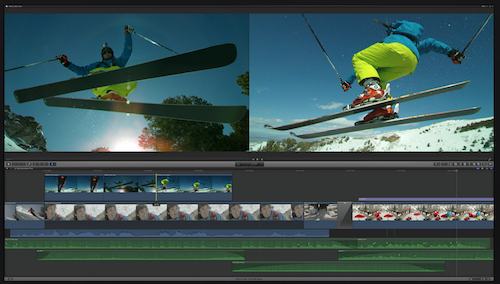 GRAPH LEGEND
10.1 Dual 7970 = Final Cut Pro X 10.1 with dual AMD Radeon HD 7970 GPUs
10.1 Single 7970 = Final Cut Pro X 10.1 with one AMD Radeon HD 7970 GPU
10.0.9 Dual 7970 = Final Cut Pro X 10.0.9 with dual AMD Radeon HD 7970 GPUs
10.0.9 Dual 7970 = Final Cut Pro X 10.0.9 with one AMD Radeon HD 7970 GPU

The 'test mule' was a 2010 Mac Pro 3.33GHz 6-core Westmere with 24G of RAM running OX X Mavericks 10.9.1. FCP Assets and Projects resided on a Sonnet Tempo SSD Pro PCIe card.
Gaussian Blur -- We applied this effect to our 1080p two minute sample video. (SMALLER number in Seconds is FASTER.)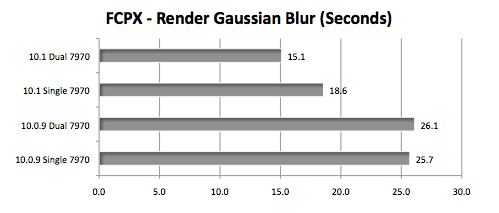 Triple Effect -- We added Directional Blur, Rain, and Underwater. Note how long it took to render all three simultaneously.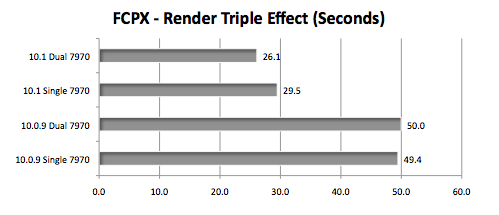 BONUS TEST -- We also wanted to measure performance of Motion 5.1 which features similar improvements. So we rendered the RAM Preview of Atmospheric - Open sample project.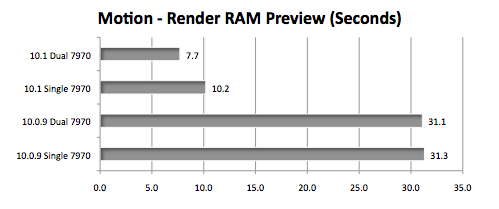 INSIGHTS
Though the optimizations in Final Cut Pro X 10.1 were targeted at the 2013 Mac Pro, the legacy Mac Pro towers will benefit as well. Though FPCX makes use of a matched pair of GPUs, the improvement in render speed can even be seen with only one GPU.
Motion 5.1 showed dramatic improvement with both single and dual AMD GPUs.
Though we don't have a matched pair of NVIDIA GPUs, we did see a marked improvement in render speed with one GTX 680 'Mac Edition' when going from FPCX 10.0.9 to 10.1 and from Motion 5.0 to 5.1.
Feedback or comments? Contact me , mad scientist.
Also, you can follow me on Twitter @barefeats
SHOP APPLE STORE USA
Support Bare Feats by clicking our Apple display ads or THIS Apple USA link when ordering any Apple product.
Twelve Core Mac Pro towers are still being sold by various parties on Amazon. For other models of Mac Pro tower, search on "Mac Pro desktop" on Amazon.
OTHER SOURCES FOR MAC PROs