Originally posted Thursday, December 19th, 2013, by rob-ART morgan, mad scientist
Thanks to the 'LEAK' of some Geekbench 3 results for the 2013 Mac Pro 12-core 2.7GHz, we are able to give you a 'PEEK' into how its multi-core integer, floating point, and memory performance compares to three examples of legacy Mac Pro 12-core towers.
GRAPH LEGEND
MP 2.7 12c = 'late 2013' Mac Pro Xeon E5-2697 2.7GHz 12 cores with 64G of 1866MHz DDR3
MP 3.46 12c = 'mid 2010' Mac Pro Xeon X5690 3.46GHz** 12 cores with 96G of 1333MHz DDR3
MP 3.06 12c = 'mid 2012' Mac Pro Xeon X5675 3.06GHz 12 cores with 64G of 1333MHz DDR3
MP 2.66 12c = 'mid 2010' Mac Pro Xeon X5650 2.93GHz 12 cores with 24G of 1333MHz DDR3

(** EditBuilder.com 'Hot Rod')
Geekbench 3 -- Here is the breakout of the 64-bit multi-core performance ratings for Integer, Floating Point, and Memory (HIGHER rating is FASTER.)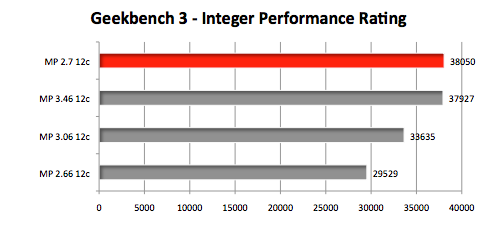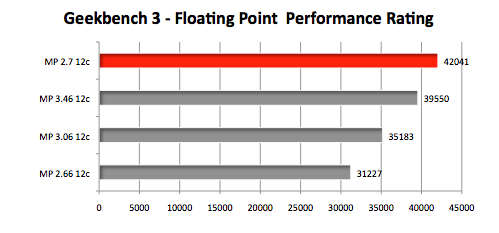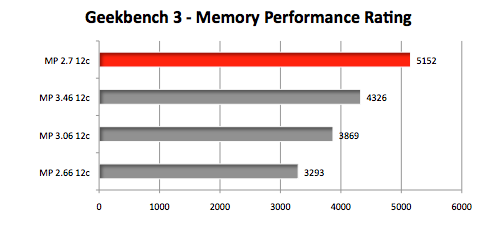 INSIGHTS
At least in terms of Geekbench 3's three performance tests, the top 'late 2013' Mac Pro 2.7GHz 12-core beats every legacy Mac Pro tower we have tested including the 12-core 'hot rod' from EditBuilder.com running a Xeon X5690 at 3.46GHz.
Note that we included the 'mid 2010' 12-core Mac Pro tower running at a similar clock speed as the 'late 2013' Mac Pro. The 2013 Mac Pro 12-core 2.7GHz is 28.9%, 34.6%, and 56.5% faster in the three Geekbench performance tests than the 2010 Mac Pro 12-core 2.66GHz -- similar core clock speeds, very different performance.
There are many more performance tests to be run and questions to be answered. How will the dual GPUs affects pro app performance? Will 'CUDA capable only' apps be modified to support OpenCL? Can Thunderbolt 2.0 devices and adapters match the performance of my existing devices and adapters? Is it worth the price? What do I do with all the addons to my tower? Will my desktop look like an octopus?
Feedback or comments? Contact me , mad scientist.
Also, you can follow me on Twitter @barefeats
SHOP APPLE STORE USA
Help support Bare Feats by clicking our Apple display ads or THIS Apple USA link when ordering any Apple product.
Twelve Core Mac Pro towers are still being sold by various parties on Amazon. For other models of Mac Pro tower, search on "Mac Pro desktop" on Amazon.
OTHER SOURCES FOR MAC PROs