Speedy Starter-Uppers
Bare Feats conducts a comparison between
Casady & Greene's Speed Startup and Marc Moini's Startup Doubler.
© 1999 Rob Art Morgan, editor of BARE FEATS
barefoot@hawaii.rr.com
With all the testing (and crashing) I do, Restarts are a way of MacLife. Therefore I was quite curious about the two Startup "speeder uppers."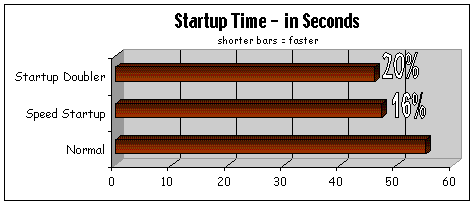 Conclusion: The time savings is significant.
Over a period of many restarts, the time savings really adds up.
Test Configuration & Comments
Testbed was a Power Mac 7500 with PowerLogix G3/275/275 Upgrade. Startup drive was an "old" Fireball 1 gig drive. MacOS was 8.6 with standard set of extensions.
Timing method: I used a stopwatch to clock from the appearance of the "little Mac" until the hard drive icon appeared on the desktop. (Speed Startup has a savings measuring option. It measured a 28 second savings but I don't see how it arrived at that figure.)
One "trick" used by Speed Startup is to bypass Apple's memory test at Startup. You can do this without special software by holding the Command and Option keys down when selecting the Memory Control Panel. A fourth memory option magically appears allowing you to turn memory startup test OFF.
For more information on these two products or to try them out, visit these web sites:
Casady & Greene's Speed Startup
Marc Moini's Startup Doubler

RETURN to bare feats main page
© 1999 Rob Art Morgan, editor of BARE FEATS
Gotta Question? Comment? Want to advertise?
Email Rob Art at barefoot@hawaii.rr.com