* Using the performance delta of the GTX 980 Ti under Windows versus macOS, we were able to extrapolate the expected performance of the GTX 1070 and 1080 under macOS Sierra. Of course, once NVIDIA macOS Sierra drivers are available for the 1070 and 1080, we will re-run the tests and post measured performance.
All GPUs were installed in the x16 slot #1 of a 2010 Mac Pro tower and connected to a Dell UltraSharp 27 Ultra HD 5K (UP2715K) display running at 3940x2160.
GPU INTENSIVE GAME BENCHMARKS
Tomb Raider
We ran the built-in benchmark set to 3840x2160 and "HIGH" preset. (HIGHEST average frames per second = FASTEST)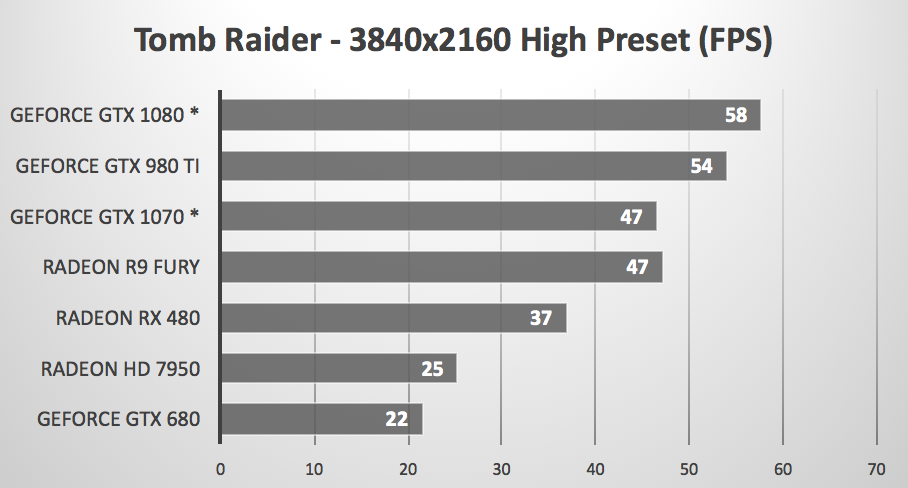 Diablo III
Our character in the Shattered Crown campaign searches for the Chancellor's Alther beneath the Cemetery of the Forsaken. Settings were 3840x2160, Quality: HIGH, V-Sync OFF, Anti-Aliasing OFF. (HIGHEST average frames per second = FASTEST)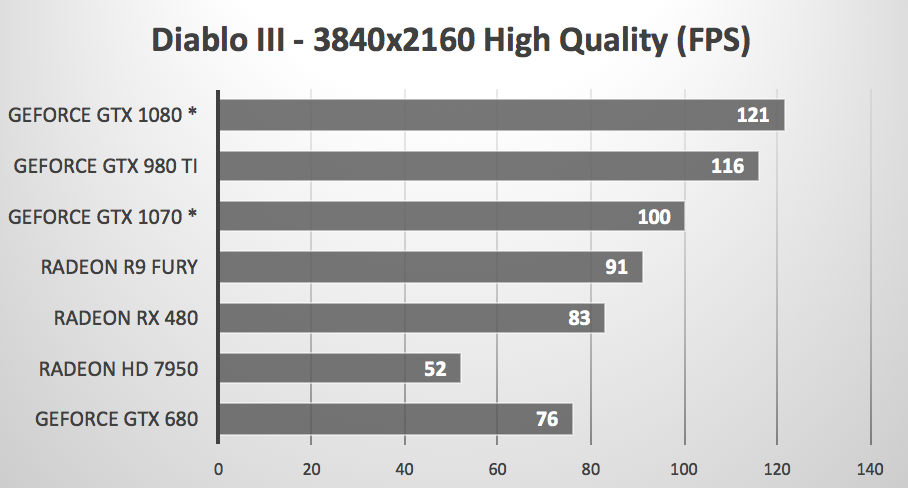 Left 4 Dead 2 (Steam)
Settings were 3840x2160, Fullscreen, no AA, Anisotropic 8X, Vsync Disabled, Shader Detail Very High, Effect Detail and Model/Texture Detail both High, Multicore Rendering Enabled. TimeDemo console command was used to playback a game session. (HIGHEST average frames per second = FASTEST)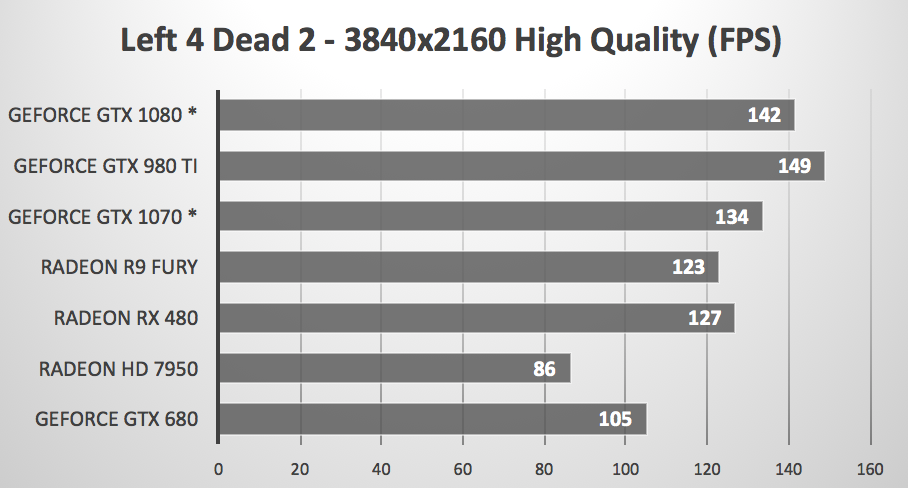 OTHER GPU INTENSIVE BENCHMARKS
PixMark Volplosion (OpenGL)
Included in the GpuTest suite, this is an OpenGL 2.1/3.2 heavy pixel shader test based on a GLSL Sandbox shader by Simon Green. (HIGHEST average frames per second = FASTEST)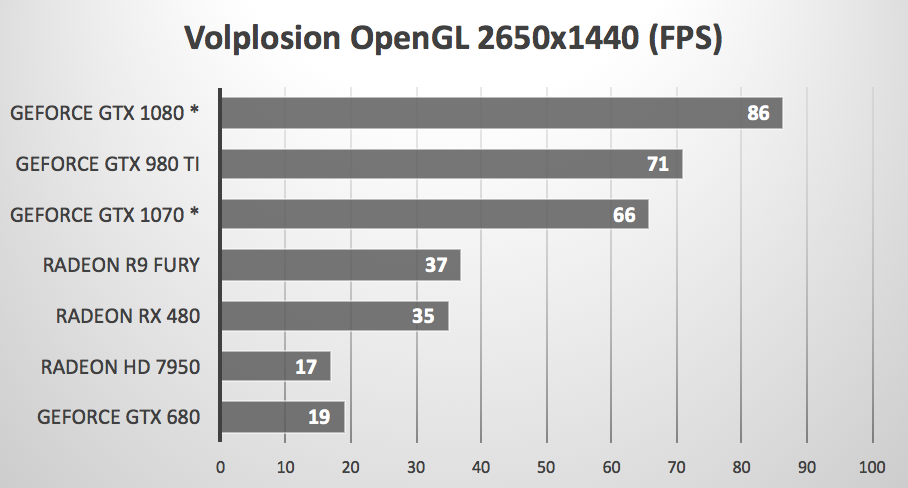 Unigine Valley OpenGL Benchmark
This is a non-synthetic benchmark that does a flyover of a forest covered valley surrounded by snow-capped peaks using advanced graphics technologies like dynamic sky, volumetric clouds, sun shafts, and ambient occlusion. (HIGHEST average frames per second = FASTEST)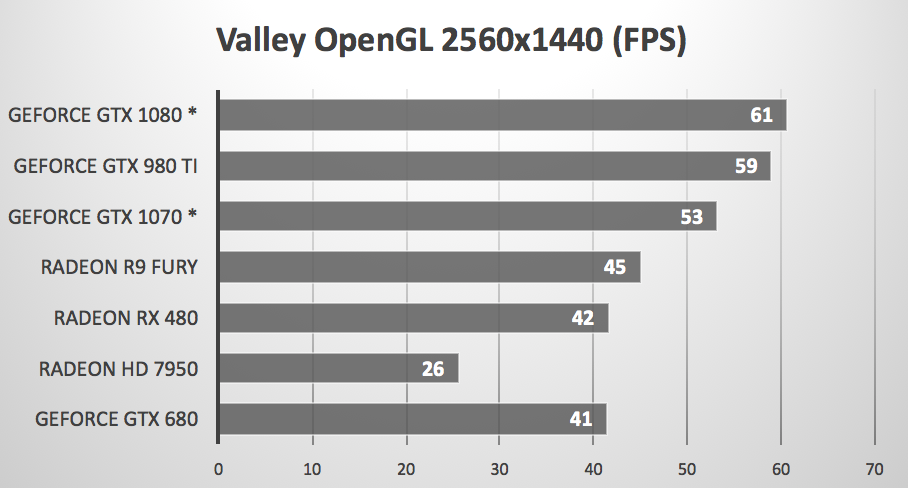 DaVinci Resolve (CUDA and OpenCL)
Noise Reduction is very GPU intensive. We used the often used Candle project "1NR" preset to measure the average framerate of playback while applying Noise Reduction on the fly. It lets you select either OpenCL or CUDA for rendering. Though NVIDIA GPUs support both, they run faster with CUDA selected in preferences. (HIGHEST average frames per second = FASTEST)
ANALYSIS
The AMD Radeon RX 480 is designed to provide more performance per watt than the competition. In other words, it may not be the fastest but it is supposed to be more efficient. Like the GTX 1070 and 1080, it only requires one power feed. However, when we computed FPS per WATT for the RX 480 versus the power greedy GTX 980, the RX 480 wasn't always more efficient:
Valley: RX 480 = 3.27 Watts/FPS; GTX 980 = 4.08 Watts/FPS
Tomb Raider: RX 480 = 2.07 Watts/FPS; GTX 980 = 2.10 Watts/FPS
Volplosion: RX 480 = 3.66 Watts/FPS; GTX 980 = 3.52 Watts/FPS
In pure performance, the RX 480 compared well with the more power hungry R9 Fury. However, it could not compete with the wattage sipping GTX 1070 and 1080. (Now if we could just get some Sierra drivers for those two!)
NOTE: The RX 480 and R9 Fury are not plug and play. You must add their device ID to the Baffin device list in the Info.plist of AMDRadeonX4100.kext driver in Sierra/System/Extensions. You will also need to boot into the Recovery Partition and use Terminal app to turn off System Integrity Protection before you try to insert the modified driver into System Extensions folder using Kext Drop or similar utility.
The RX 480 beat the 'Apple blessed' Radeon HD 7950 Mac Edition and GeForce GTX 680 Mac Edition but sometimes only barely. At least it requires less power. BTW, those two 'Mac Edition' GPUs are no longer in production. That's why we Mac Pro tower owners have to take GPU matters in our own hands (with some help from our 'friends.')
Until Sierra drivers to appear for the "Pascal" class GTX 1070 and 1080, we will continue to enjoy the muscle of the GTX 980 Ti. (NOTE: The GTX 980 Ti and other "Maxwell" class GPUs require the download, installation, and activation of the driver for the Quadro K5000 for Mac. Be sure to click "Show all Operating Systems" on the NVIDIA driver download page to find the driver compatible with your version of Mac OS X or macOS. The web driver must be installed and activated BEFORE you install the GTX 980 Ti or other non-standard Maxwell class NVIDIA GPU.)
Comments? Suggestions? Feel free to email me,
Follow me on Twitter @barefeats

Our NVIDIA GeForce GTX 980 Ti came from MacVidCards. Check out the services they offer.
WHERE TO BUY MACS and OTHER APPLE products:
USA readers can help us earn a commission by using this Apple Store USA link or by clicking on any Apple display ad.
Apple sells certified refurbished Macs and iPads with one year warranty.
Live outside the USA? No problem. We are affiliated with these Apple Stores: