Posted August 5th, 2016 by rob-ART morgan, mad scientist
When we heard that macOS Sierra beta had drivers that support the AMD Radeon R9 Fury GPU, we had to give it a try. It didn't work at first, but with some help from MacVidCards, it's now working. So how does it compare to the last best AMD "Mac Edition" GPU, the Radeon HD 7950? And what about NVIDIA GPUs?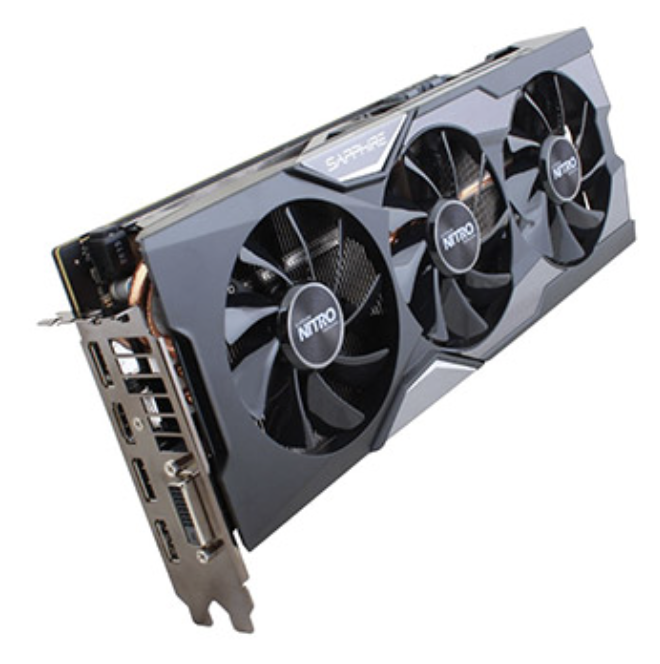 GPU GRAPH LEGEND
GeForce GTX 980 Ti = eVGA NVIDIA GeForce GTX 980 Ti running under OS X El Capitan (11.11.6)
Radeon R9 Fury = Sapphire Nitro Radeon R9 Fury running under macOS Sierra Beta
Radeon HD 7950 = Sapphire Radeon HD 7950 Mac Edition running under macOS Sierra Beta
All three GPUs were installed in the x16 slot #1 of a 2010 Mac Pro tower and connected to a Dell UltraSharp 27 Ultra HD 5K (UP2715K) display running at 3940x2160.
WE CHOSE THREE OF THE MOST GPU INTENSIVE GAME BENCHMARKS
Tomb Raider
We ran the built-in benchmark set to 3840x2160 and "HIGH" preset. (HIGHEST average frames per second = FASTEST)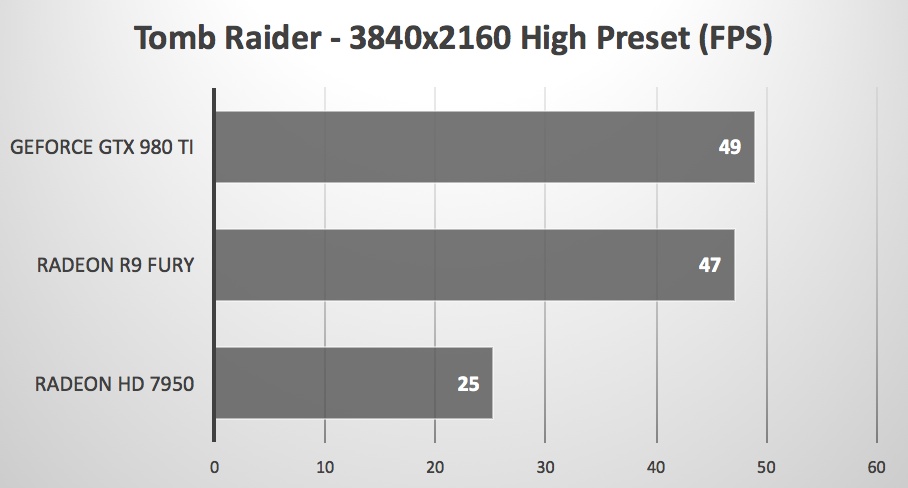 Diablo III
Our character in the Shattered Crown campaign searches for the Chancelor's Alther beneath the Cemetery of the Forsaken. Settings were 3840x2160, Quality: HIGH, V-Sync OFF, Anti-Aliasing OFF. (HIGHEST average frames per second = FASTEST)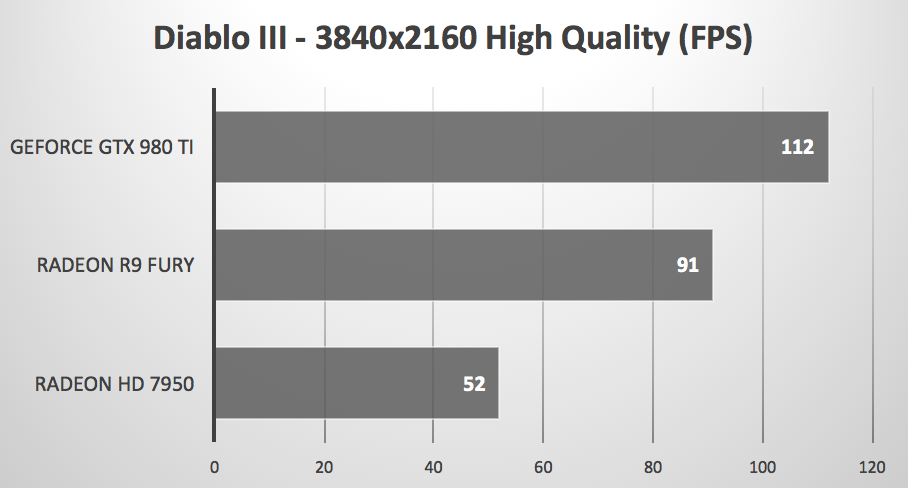 Left 4 Dead 2 (Steam)
Settings were 3840x2160, Fullscreen, no AA, Anisotropic 8X, Vsync Disabled, Shader Detail Very High, Effect Detail and Model/Texture Detail both High, Multicore Rendering Enabled. TimeDemo console command was used to playback a game session. (HIGHEST average frames per second = FASTEST)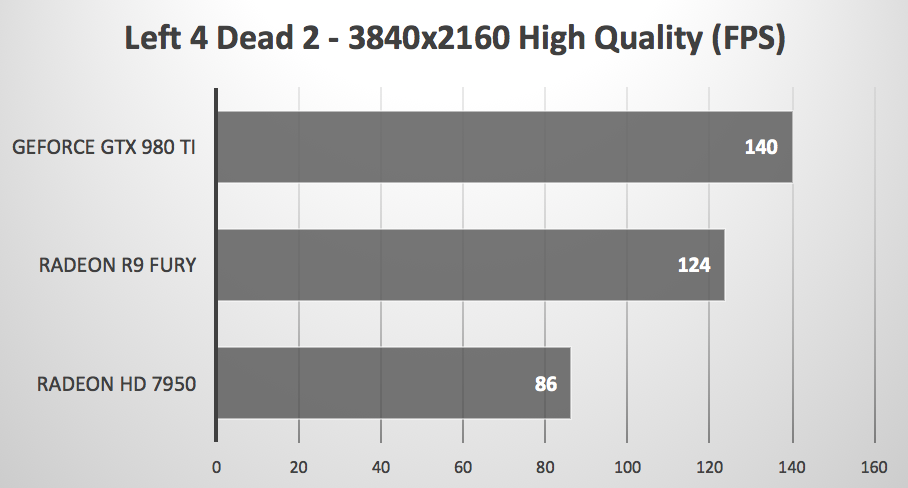 ANALYSIS
The Radeon R9 Fury promises to be a significant upgrade for AMD GPU fans. Its advantage over the best 'Apple blessed' Radeon HD 7950 Mac Edition ranged from 43% to 87% in the three benchmarks featured here.
However, the high-end NVIDIA GPUs (like the GTX 980 Ti) still dominate in gaming performance. And once we have Mac drivers for the GTX 1070 and 1080, that dominance will likely continue.
In case you missed it in the Graph Legend, the GTX 980 Ti was running OS X El Capitan. At this writing, there are no macOS Sierra compatible drivers for the Maxwell or Pascal family of NVIDIA GPUs.
BIG MAHALO to MacVidCards for helping us get the R9 Fury to run under macOS Sierra.
Comments? Suggestions? Feel free to email me,
Follow me on Twitter @barefeats

WHERE TO BUY MACS and OTHER APPLE products:
USA readers can help us earn a commission by using this Apple Store USA link or by clicking on any Apple display ad.
Apple sells certified refurbished Macs and iPads with one year warranty.
Live outside the USA? No problem. We are affiliated with these Apple Stores: