Posted Friday, July 26th, 2013 by rob-ART morgan, mad scientist
There are many stylus products for the iPad and Android tablets. But one truly unique product is the Sensu Brush. I have spent many months using various styluses or styli. I know you only need a finger to use an iPad, but as an amateur cartoonist, I feel more at home sketching out ideas on my iPad 4 with a stylus.

Though the iPad does not respond to pressure like the Wacom pen tablets for the Mac, certain iPad drawing apps have brush adjustments that can enable you to create a 'brush-like' variable thickness of stroke. These adjustments cause the drawing app to react to the speed of stroke in determining the width of the line. Other adjustments vary the beginning and ending thickness of line, simulating the dropping and lifting of a brush. The result resembles a brush stroke.
Now, you can use a normal stylus to effect this 'real brush stroke' look, but the Sensu Brush gives a much more natural feeling when you lay down your lines or fill in color.
I've tried the Sensu Brush with various iPad drawing apps recommended by Sensu as well as some they don't list. My two current favorites to use with it are Procreate and Sketchbook Ink. Other art apps work with the Sensu but not always as well. For example, Art Studio lagged behind the stroke noticeably. Others didn't offer brush adjustments the Sensu needs to function like a brush. It doesn't mean they are bad apps. Just not 'Sensu aware.'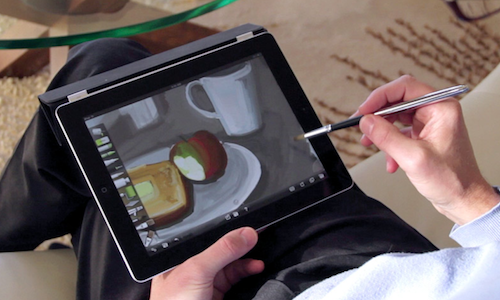 There are Bluetooth stylus products that create the pressure sensitivity aspect to certain Bluetooth 'aware' drawing apps like Procreate and Sketchbook Ink. I had a short 'visit' from a Pogo Connect. Not only was it fatter, shorter, and heavier than the Sensu Brush, but the response to the stroke was delayed.
The Sensu Brush simply feels and acts like a real art brush. No batteries or Bluetooth connection required. It remains one of my favorite iPad drawing tools.

When finished drawing with the Sensu Brush, you can protect the bristles by slipping them carefully back in the cover. Once in the cover, there is a 'normal' tip on the back end of the stylus that can be used for not-so-artful touch screen functions. Plus, once the brush is put away, the Sensu now slides easily into your pocket or in a pen slot of your backpack or messenger bag or brief.

Comments? Suggestions? Email , mad scientist.
Follow me on Twitter @barefeats
WHERE TO BUY THE SENSU BRUSH & STYLUS
Order the Sensu direct from SensuBrush.com (SKU: SEN001) in either Chrome or Black. Or order it on Amazon.
RELATED LINKS