Originally posted Friday, May 25th, 2012, by rob-ART morgan, mad scientist
ProMAX, a company in Southern California that specializes in turn key systems for professional video editing, has come up with a "fire breathing" tower called "The ONE." At the heart of the top model (Hero) is a 16-core Sandy Bridge Xeon processor with quad-channel 1600MHz memory.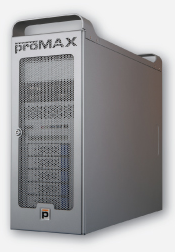 When it came to our attention, we thought, "Why isn't there a Mac Pro with this processor?" We decided it would be instructive to see how the ONE's performance stacked up against the current family of Mac Pros. We selected some tests that are cross-platform (since the ONE's only apparent "weakness" is that it runs Windows 7 instead of OS X). Check out the graphs and then we'll "talk."
REAL WORLD TEST

ADOBE AFTER EFFECTS CS5.5
We use a project called Total Benchmark that was created by Total Training to use as a way to measure the rendering power of After Effects on various Macs and PCs. We enabled multiprocessing and defined 1.5GB of RAM per virtual core. As you can see, the 16-core ONE completed the project render almost twice as fast as the 12-core Mac Pro.

GRAPH LEGEND
ProMAX 16-core = ProMAX ONE "Hero" with two Xeon E5-2687W CPUs running at 3.1GHz; 32GB quad-channel 1600MHz RDIMM DDR3
Mac Pro 12-core = Apple Mac Pro with two Xeon X5670 CPUs at 2.93GHz; 24G of triple-channel 1333MHz DDR3 ECC SDRAM
Mac Pro 8-core = Apple Mac Pro with two Xeon X5570 CPUs at 2.93GHz; 16G of dual-channel 1066MHz DDR3 ECC SDRAM
Mac Pro 6-core = Apple Mac Pro with one Xeon W3680 CPU at 3.33GHz, 24G of triple-channel 1333MHz DDR3 ECC SDRAM
ARTIFICIAL BENCHMARKS
MAXON CINEBENCH 11.5
Though it appears to be just another artificial benchmark, Cinebench uses code from a real world 3D modeling app, Cinema 4D. The other advantage is the ability to use all available cores (real and virtual) to render a 3D model. The numbers in the graph represent a rating that Cinebench gives. Higher number is better. The RED bar represents the fastest.

PRIMATE LABS GEEKBENCH 2.3.1
The overall rating combines the results from the integer, floating point, and two memory tests. Note we used the 64-bit version. Higher number is better. The RED bar represents the fastest.

INSIGHTS and ANALYSIS
The three speed tests we feature on this page show the ProMAX ONE 16-core to be significantly faster than the fastest 12-core Mac Pro. That's enough of an advantage to make a professional user contemplate switching from a Mac Pro running Final Cut Pro X to the ProMAX ONE running Adobe Premiere Pro -- especially if the death of the Mac Pro is imminent.
We are not trying to "fan the flames" of Mac faithful wondering why it's been 668 days (as of this writing) since the OS X tower was updated. The flames are already at full blaze. Many Mac Pro lovers have expressed to us through email their concern that Apple may be ready to "moth ball" the Mac Pro for the same reasons they dropped the Xserve. Some of the "nervous" are buying up the refurbished 12-core Mac Pro as soon as it shows up on the Apple Store Special Deals page. There is even a Facebook page that is campaigning for a new Mac Pro.
We are hopeful that rumors of the Mac Pro's demise are exaggerated. We would be thrilled to see a 16-core Sandy Bridge Xeon Mac Pro with a Radeon 7970 or GeForce GTX 690. And we hope it will include Thunderbolt, internal SATA III, and USB 3.0. Wouldn't professional life be glorious when it happens?
REALITY CHECK
Not all professional software uses all 16 cores of the Sandy Bridge Xeon -- much less 32 virtual cores. For example, when we ran an action file with Photoshop CS5.1 that included a combination of functions like Smart Sharpen, Rotate, Gaussian Blur, and Unsharp Mask, we observed the use of from 5 to 9 cores. As a result, the ProMAX ONE 16-core was only 18% faster than the Mac Pro 6-core. In other words, some pro apps don't justify the cost of the 12 or 16 core towers.
SCRATCHING THE SURFACE
Our CPU "crunch" tests do not showcase the full "power" of the ProMAX ONE. It is a truly professional workstation with
sixteen memory slots

four 6Gb/s internal 2.5" bays

six 6Gb/s internal 3.5" drive bays

six PCIe 3.0 slots (four running at 16x)

a Blu-Ray optical disc writer.
Are you drooling yet?
Feedback or comments? Email
Also, you can follow me on Twitter @barefeats