With the release of the "Santa Rosa" MacBook Pro, Apple added a configure-to-order option of the Seagate Momentus 7200.2 160GB 7200rpm internal notebook (2.5") drive. We ordered our 17" MacBook Pro with that drive. Since that rollout, Hitachi has started shipping its Travelstar 7K200 200GB 7200rpm notebook drive. We tested those two drives along with others to see what speed gains can be achieved if you select the CTO option or want to upgrade your existing MacBook Pro's internal drive -- or want to add an external notebook drive.
Since we didn't fancy cracking open our brand-new 17" MacBook Pro, we tested samples of each SATA notebook drive externally using...
a) the FirmTek SeriTek/2SM2-E SATA ExpressCard/34 using a notebook enclosure with an eSATA port, and
b) the built-in FW800 port connected to a notebook enclosure with FireWire 800 ports.
We also tested each drive on the 8-core Mac Pro only we used the FirmTek SeriTek/2SE2-E SATA PCIe host adapter for the SATA tests. As you can see in the graphs below, the numbers are very similar for both the Mac Pro and MacBook Pro.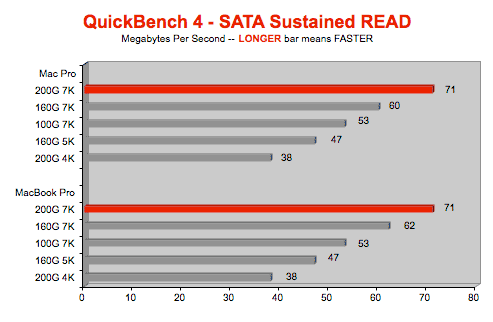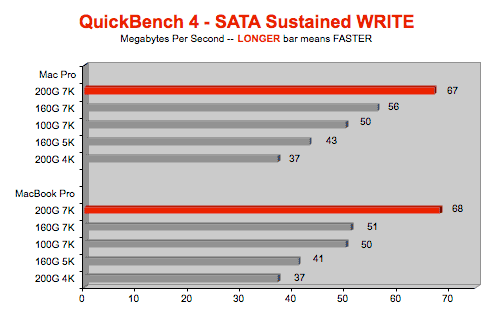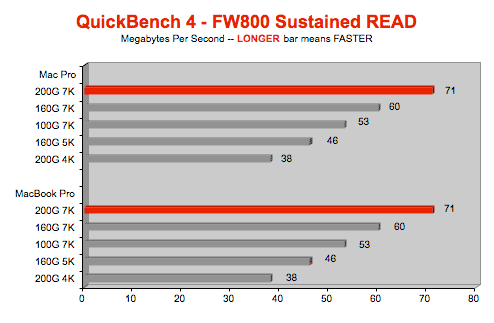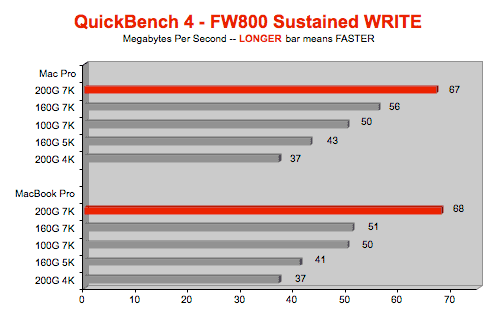 LEGEND FOR GRAPHS
QuickBench 4.01 Extended Test: Average of 20MB - 100MB Extended Test - 5 runs
Mac Pro = 8-Core Mac Pro 3GHz with SeriTek/2SE2-E SATA PCIe host adapter
MacBook Pro = 17" MacBook Pro 2.4GHz with SeriTek/2SM2-E SATA ExpressCard/34 host adapter
200G 7K = Hitachi Travelstar 7K200 200GB 7200rpm SATA notebook drive
160G 7K = Seagate Momentus 7200.2 160GB 7200rpm SATA notebook drive
100G 7K = Hitachi Travelstar 7K100 100GB 7200rpm SATA notebook drive
160G 5K = Hitachi Travelstar 5K160 160GB 5400rpm SATA notebook drive
200G 4K = Toshiba MK2035GSS 200GB 4200rpm SATA notebook drive

INSIGHTS
The Hitachi 7K200 is most impressive. Though we ordered our 17" MacBook Pro "Rosa" with the optional Seagate 7200.2 160G 7K drive, we are already feeling envious and obsolete. Those of you that "settled" for the stock 5400rpm drive or 4200rpm drive and are wishing for more speed without giving up capacity, your prayers are answered.
Some of you are frustated by the relative limited capacity of the 100GB 7200rpm notebook drives optional in the first rev of the MacBook Pro. Be frustrated no more.
We must warn you that the newest, fastest drives use more battery power. We'll report on those specifics in a subsequent article -- but suffice to say, "You can't have it both ways."
WON'T THE DRIVES PERFORM DIFFERENTLY INSIDE THE MACBOOK PRO?
Yes and no. We do have test results for three drives internal to the newest MacBook Pro including an aftermarket Samsung 250G 5400rpm. The transfer rates measured slower than our external tests but that's because internal drives had Mac OS X and various applications installed -- meaning the fastest portion of the drive was already in use and unavailable for benchmarking. You are aware that the drive slows down as it fills up?
The testing method we used in the graphs at the top of this page shows the maximum possible speed using a totally empty drive. No clutter. No fragmentation. Based on that, you can draw valid conclusions regarding the relative speed of each drive.
In other words, the 7200rpm 160GB drive was 28% faster overall compared to the 5400rpm 160GB drive whether empty outside or "cluttered" inside. For those still curious, here are results for three drives tested that were "un-empty" boot drives inside the MacBook Pro "Santa Rosa":



Note the READ speed for the "cluttered" internal drives was lower than that of the empty drives but the WRITE speed was about the same.
WHAT ABOUT SMALL RANDOM TRANSFERS?
We rushed to get these large block sustained transfer numbers to you. We'll add the small file random results in a few days.
RELATED ARTICLES
See the 3D Gaming Shootout we posted recently comparing the newest MacBook Pro "Santa Rosa" to other Macs. (We added the 17" results to this, too.)
See the 15" MacBook Pro (128M VRAM) vs 15" MacBook Pro (256M VRAM) "Santa Rosa" shootout. We included the 17" model, too.
See our "CPU Crunching" article comparing the "Santa Rosa" MacBook Pro to other Apple laptops running Photoshop CS3, After Effects CS3, Compressor 3, and Motion 3.