Originally posted Tuesday, September 18th, 2012, by rob-ART morgan, mad scientist
We have done two articles on Pro App advantages of 'alternative' GPUs for the Mac Pro. Another class of Mac Pro user is the hard core gamer. He (or she) is willing to take extreme measures to get better game performance. We present you with an OpenGL gaming benchmark and two games where a 'muscular' GPU makes a difference.
Unigine Heaven Benchmark 3.0 is a cross-platform DirectX and OpenGL test. It runs a fly/walk-through of 26 scenes that include day-night shift and changing light conditions. (Download the Basic Edition to test using Mac OS X or Windows.) There are advanced settings available including hardware tessellation and stereo 3D but for this test we used default settings which include Medium Shaders, High Textures, Trilinear Filter, Anti-aliasing OFF, 4x Anisotropy, Ambient Occlusion enabled, Refraction enabled, Volumetric Shadows enabled, Tessellation disabled. (HIGHEST number indicates the best average FPS.)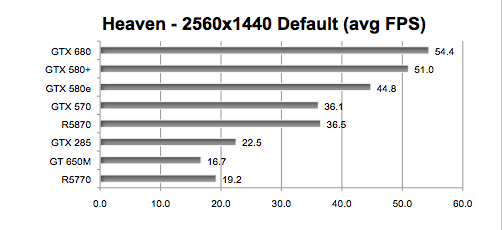 This is the first time we've tested using World of Warcraft - Mists of Pandaria. We did our "Narache Village Totem to Tree to Totem Run" which tests GPU performance and used the Titan Panel Performance Addon to compute average frames per second. Settings were "ULTRA" preset. (HIGHEST number indicates the best average FPS.)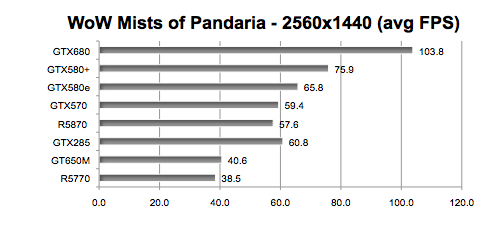 Feral Interactive Dirt 2 - We ran the built-in benchmark where Travis Pastrana races seven copies of himself. SETTINGS include multisampling OFF, graphics_detail level ULTRA, shadows enabled, tessellation TRUE, dynamic_ambient_occ enabled, vehicles characterQuality="4." (HIGHEST number equals the the best average FPS.)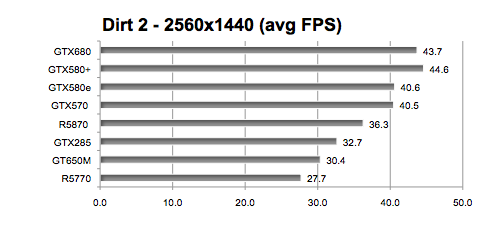 GRAPH LEGEND
GTX 680 = NVIDIA eVGA GeForce GTX 680 GPU (2 power feeds, 2G VRAM)
GTX 580+ = NVIDIA "Classified" GTX 580 GPU (3 power feeds, 3G VRAM) **
GTX 580e = NVIDIA eVGA GeForce GTX 580 GPU (2 power feeds, 3G VRAM) **
GTX 570 = NVIDIA GeForce GTX 570 GPU (2 power feeds, 2.5G VRAM) **
R5870 = AMD Radeon HD 5870 (2 power feeds, 1G VRAM)
GTX285 = NVIDIA GeForce GTX 285 GPU (2 power feeds, 1G VRAM)
GT650M = NVIDIA GeForce GT 650M GPU (built-in Retina MacBook Pro)
R5770 = AMD Radeon HD 5770 (1 power feed, 1G VRAM)

Six GPUs are installed in a 'mid 2010' Mac Pro 3.33GHz Hex-Core. The GeForce GT 650M is built into the 'mid 2012' Retina MacBook Pro 2.7GHz Quad-Core i7. Both Macs were running OS X Mountain Lion 10.8.1.

**Both GeForce GTX 580s, the GeForce GTX 570, and Quadro 6000 were loaned to us by MacVidCards. The GTX 680 and Radeon HD 6870 were unflashed "Windows only" GPUs.
INSIGHTS
The GeForce GTX 680 was as much as 2.8 times as fast as the 2010 Mac Pro's Radeon HD 5770 'entry' GPU running Heaven and as much as 1.8 times as fast as the Radeon HD 5870 CTO optional GPU running WoW.
But not all games get big gains from the GTX 580/680. For example, in the case of Dirt 2, the fastest GPU alternative (GTX 580+) was only 1.2 times as fast as the Radeon HD 5870. Both the Radeon HD 5770 and HD 5870 were faster than all the high-end GeForce GPUs running X-Plane 10.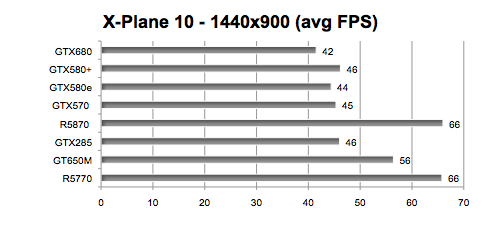 WHERE TO BUY MACS, GPUs, and other products on the APPLE STORE
USA readers can help us earn a commission by using this Apple Store USA link or by clicking on any Apple display ad on this page.

WHERE TO BUY ALTERNATIVE or REPLACEMENT GPUs for Mac Pro

WHERE TO BUY AN UP-CLOCKED 12-CORE MAC PRO TOWER
Visit EditBuilder.com's eBay Store. Or you can email them or call them (1-855-EDIT-BAY). They are offering both tray replacements as well as complete setups with 1-3 year warranties. They also offer up 128GB 1333MHZ RAM and graphics card upgrades for Mac Pro towers.
Also, check out Other World Computing's Processor Tray Upgrade Program.
Live in the UK? Visit ScrumpyMacs for 'fire breathing' Mac Pro options.