Posted Friday, August 23rd, 2013 by rob-ART morgan, mad scientist
Continuing our series of articles showing the effect of multiple GPUs on certain Pro Apps, we decided to take a side trip to test the ONE+ from ProMAX. Yes, it is a Windows/Linux tower, but it has four internal 16 lane PCIe 3.0 slots. One can only dream of a Mac Pro with four internal 16 lane PCIe 3.0 slots.
GRAPH LEGEND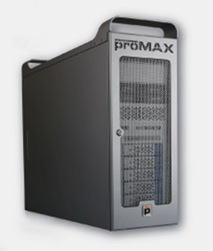 Four G770 = Two GeForce GTX 770s (1137MHz, 4G GDDR5) and two GeForce GTX 770 1085MHz, 2G GDDR5)
Three G770 = Two GeForce GTX 770s (1137MHz, 4G GDDR5) and one GeForce GTX 770 1085MHz, 2G GDDR5)
Two G770 = Two GeForce GTX 770s (1137MHz, 4G GDDR5)
One G770 = One GeForce GTX 770 (1137MHz, 4G GDDR5)
"TEST MULE" ProMAX ONE+
Two 3.1GHz GHz 8-Core Sandy Bridge-EP Xeons (E5-2687W, 32 total logical cores)
Intel W2600CR motherboard
64G 1600MHz RAM
Eight 3.5" Drive Bays, Four 2.5" Drive Bays
Windows 7 Professional x64
OctaneRender is a "GPU only" standalone renderer that can process scenes created in and exported from Maya, ArchiCAD, Cinema 4D, etc. -- and does so in a fraction of the time it takes with a CPU based renderer. However, currently it only works with CUDA capable NVIDIA graphics cards. The DEMO comes with a scene called octane_benchmark.ocs. For our test we selected RenderTarget PT (Path Tracing). The render time is tracked and displayed in total seconds.
You must "tell" Octane to render with multiple GPUs by going to Preferences > CUDA devices and putting a check mark next to all GPUs (CUDA devices) you want it to use. We selected all installed GPUs and confirmed that all were used in the rendering of the Benchmark scene. (FASTEST = the LOWEST time in minutes to the nearest hundredth.)
LuxMark OpenCL Benchmark
This is an OpenCL benchmark that renders with GPUs that support OpenCL. Furthermore, the latest version 2.1b2 supports multiple GPUs. We feature here the results from rendering the Room scene which is extremely complex (2,000,000+ triangles) and is available only on 64bit executables. (FASTEST = HIGHEST number in thousands of samples per second.)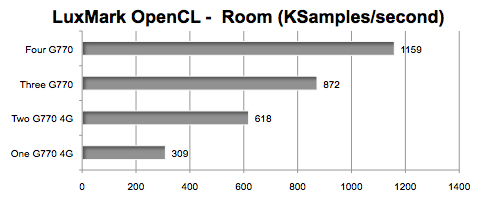 DaVinci Resolve 9.1.4 adds speed and power to color grading of HD video. It uses the GPU to render on-the-fly and playback using specified effects in real time -- no pre-rendering required. However, the more effect nodes created, the slower the playback. The full version supports noise reduction which can seriously slowdown playback unless you have multiple GPUs at work.
Our graph features a 1080p video project with an adjusted color curve node, a blur node, and two noise reduction nodes. Though the target speed of the 2 minute clip is 25 FPS, we set the maximum playback framerate to 500 fps to force fastest possible playback speed. Results are average frames per second. (FASTEST = HIGHEST frames per second.)

FINAL THOUGHTS
We used the word 'dream' at the top of this article. The ProMAX ONE+ represents one vision of the Mac Pro's future -- a super tower with more than two 16 lane internal PCIe slots. Though Apple has chosen a different path to the future, we think this exercise was instructive.
In the case of Octane Render and DaVinci Resolve, the advantage of up to four internal GPUs (over one or two) is clearly seen. If those pro apps are predictive of a future trend in Pro Apps, then top-tier Mac Pro consumers are going to want a way to add more GPUs to the new 'un-tower' -- like maybe a third party Thunderbolt 2.0 to PCIe 3.0 expansion chassis.
And even you stick with the 2009 - 2012 Mac Pro tower, it is nice to know there are existing expansion chassis options like the Cubix Xpander we tested recently.
MAHALO
Big thanks to ProMAX for loaning us the ONE+ and big thanks to MacVidCards for loaning us the four GTX 770s.
Comments? Suggestions? Email , mad scientist.
Follow me on Twitter @barefeats
WHERE TO BUY THE ProMAX ONE+
Contact ProMAX to discuss your desired configuration and then they will give you a quote.
WHERE TO BUY AN UP-CLOCKED 12-CORE MAC PRO TOWER
Visit EditBuilder.com's eBay Store. Or you can email them or call them (1-855-EDIT-BAY). They are offering both tray replacements as well as complete setups with 1-3 year warranties. They also offer up 128GB 1333MHZ RAM and graphics card upgrades for Mac Pro towers.
Also, check out Other World Computing's Processor Tray Upgrade Program.
Live in the UK? Visit ScrumpyMacs for 'fire breathing' Mac Pro options.
WHERE TO BUY CUDA CAPABLE NVIDIA GPUs that run under OS X and Windows