Originally posted 9/21/02 by rob-ART morgan, mad scientist
Updated 9/26/02 with Quake3 1280x1024 results
as well as Radeon 9000 numbers.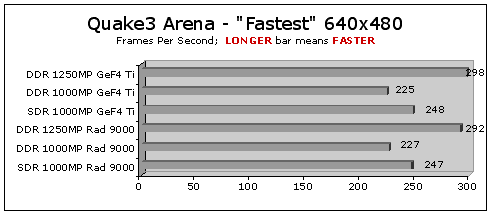 In the graph above, the CPU is more of a factor than the graphics card. Now watch what happens as we increase the resolution and texture quality...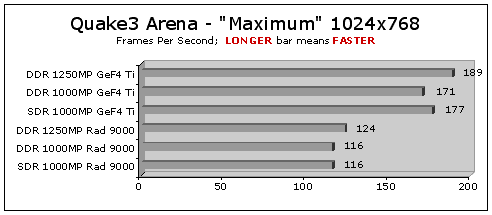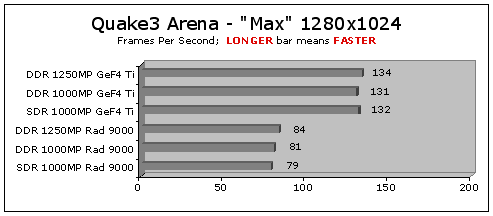 Note in the graph above at this very hi rez, hi texture quality setting, the "bottleneck" becomes the graphics card, not the CPU.


Unreal Tournament is typical of 3D games that do NOT take advantage of graphics cards or dual CPU's. That's why I didn't bother to show the results with the Radeon 9000. If your favorite game is in this category, don't expect Dual G4's or expensive graphics cards to help you.
(SEE
PAGE 3
FOR Filemaker, Bryce, Cinema 4D, and
Multi-Tasking
results)
or RETURN TO PAGE ONE and CONCLUSION
TEST NOTES
The "SDR" Power Mac 1GHz MP had 1GB of PC133 CL2 SDRAM.
The "DDR" Power Mac 1GHz MP had 1.25GB of PC2700 CL2.5 DDR RAM
The "DDR" Power Mac 1.25GHz MP had 1.5GB of PC2700 CL2.5 DDR RAM
All three were tested with the Radeon 9000 and GeForce4 Titanium Graphics Card.
All three were running from an IBM 120GXP drive.
For details on each real world test, read "HOW I TEST."