by rob-ART morgan, mad scientist
This second page was added to the original test page on 8/20/01 in response to reader suggestions for more tests that stress disk and graphics subsystems.
Updated 8/27/02 with expanded Quake 3 results using the same three graphics cards in both the DDR and SDR systems.
Mahalo to my remote mad scientist, Greg, for results from his new DDR Dual 1GHz.

(Note to skeptics that doubted Greg's DDR results: On 8/26/02 we re-ran every test in the Bare Feats local lab using a different DDR 1GHz/MP Power Mac with even more memory (1.25GB) and got the same results as he got. This report is not a mistake, not a fake, and not a fluke as some suggested.)
This first graph shows what happens when you run two "crunchers" simultaneously.
Next we tried running Cinema 4D while duplicating a large file folder to see if the disk subsystem would steal any cycles. And if it did, whether it would steal more from the SDR system than from the DDR system.

So far we haven't done anything to stress the Graphics subsystem. We decided to use Quake3 Arena as our "stressor." We put the same graphics cards in both machines and ran them with textures and geometrics set at maxiumum. Graph below shows average of 3 runs.
LEGEND:
GeF4 Ti = GeForce4 Titanium
Rad 9000 = Radeon 9000
GeF4 MX = GeForce4 MX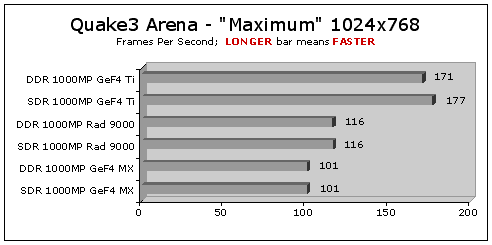 I'm not sure what this next graph proves but it certainly doesn't help the DDR Power Mac's case.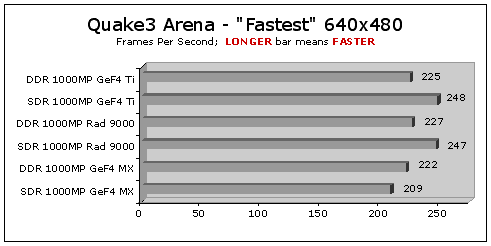 CONCLUSION
As we saw on PAGE ONE, the NEW DDR Power Mac has no performance advantage over the old SDR Power Mac running at the same clock speed.
I'm not saying that the DDR Power Mac is a dud. I would choose it over the older SDR Power Mac in a heart beat, what with 2GB memory max memory, four drive support, and extra optical drive bay. And the price is tempting... $2495... a big improvement over the price of the original dual 1GHz machine.
But the faster system bus and the DDR RAM don't add the performance increase we were all hoping for. See the FIRST PAGE for a list of theories on the performance bottleneck.
RELATED LINKS
Read about what Apple has to say about the nVIDIA GeForce4 Titanium on the GRAPHICS page of the Power Mac section. It includes an interesting graph showing the relative speed of the three DDR Power Macs running Quake3 Arena. (It looks like they were running at "High Quality" instead of "Max Quality" like I use. Regardless, the 1.25GHz DDR Power Mac is only 13% faster than the 1GHz DDR Power Mac!)
See nVIDIA's specs on the GeForce4 Titanium. (Apple's card is comparable to the 4600 chip set.)
ATI has a description page for the Radeon 8500 Mac Edition and Radeon 9000 Mac Edition on their site.
Anandtech compares the Radeon 9000 to the 8500, GeForce4 MX, and GeForce4 Titanium AGP cards for Windows PC's. They also compare the Geforce4 Go to the Radeon 9000 Mobility (both are NEW chips for laptops.)
Read about the new Radeon 9700 (Mac Edition coming in a few months), which, according to Anandtech.com's tests, is 30 to 50% faster than the GeForce4 Titanium... at least when run on a Windows PC.
TEST NOTES
The "SDR" Power Mac 1GHz MP had 1GB of PC133 CL2 SDRAM.
The "DDR" Power Mac 1GHz MP had 1.25GB of PC2700 CL2.5 DDR RAM
Both booted and ran apps from an IBM 120GXP drive with OS X "Jaguar" installed.
Graphics cards tested on both the DDR and SDR system were:
The 64MB GeForce4 MX (standard in the SDR Power Mac)
The 64MB Radeon 9000 (standard in the DDR Power Mac)
The 128MB GeForce4 Titanium (optional on both SDR and DDR Power Mac)
For details on each real world test, read "HOW I TEST."