Originally posted 04/23/04 by rob-ART morgan, mad scientist
Updated 4/28/04 with 12" PowerBook 1.33GHz "Extreme 3D" results
QUESTION OF THE DAY: "Do I really need a Power Mac or will a PowerBook do the job?"
Are you lusting over the newest 15" Aluminum PowerBooks? We are. But if you are planning to buy a PowerBook to use for running "Pro" Applications and/or for "Extreme" 3D Gaming, you might want to take a look at the graphs below.
"PRO" APPLICATIONS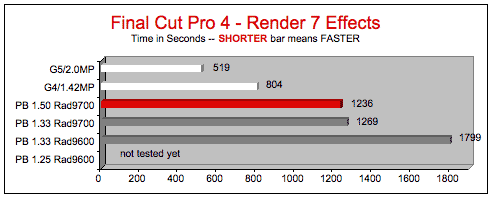 "EXTREME 3D SPORTS"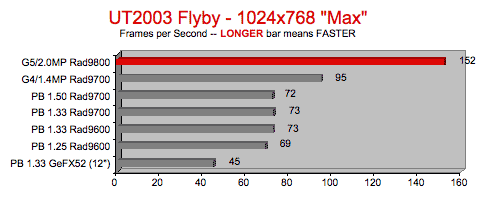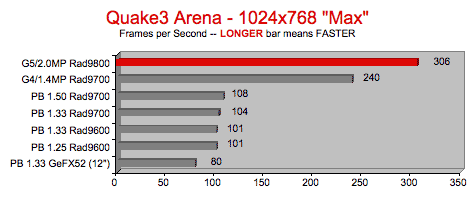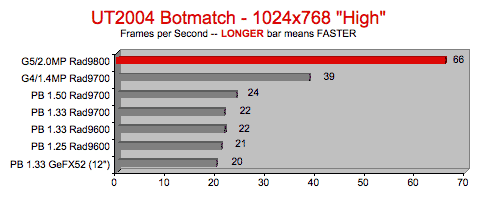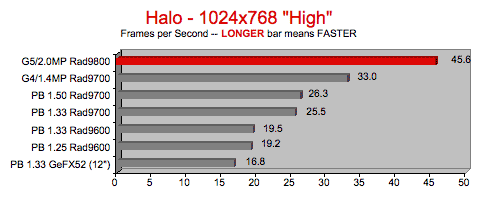 LEGEND: "Rad9800" = Radeon 9800 Pro
"Rad9700" = Radeon 9700 Pro or Mobility Radeon 9700
"Rad9600" = Mobility Radeon 9600
"GeFX52" = NVIDIA GeForce FX Go5200
"G5/2.0MP" = G5/2.0GHz MP Power Mac
"G4/1.42MP" = G4/1.42GHz MP Power Mac
"PB 1.5" (or 1.33 or 1.25) = Aluminum PowerBooks
INSIGHTS:
1. If you plan to use "MP-Aware PRO" applications and want serious speed, you should seriously consider a fast Power Mac... instead of a PowerBook. As you can see in the graphs above, the G4 Power Mac was 54%, 79%, and 64% faster than the fastest PowerBook when running Final Cut Pro, After Effects, and Photoshop, respectively. The G5 was even faster.
COUNTERPOINT: Not all "PRO" applications run faster on dual processor Power Macs. When we ran Bryce, the 1.5GHz PowerBook was 2.7% faster than the 1.42GHz MP Power Mac! Why? Because Bryce is NOT dual processor "aware." Ditto for FileMaker Pro. It ran 7.6% faster on the 1.5GHz PowerBook.

To put it another way, when we disabled the second processor in the G4/1.42GHz MP Power Mac and re-ran our Final Cut Pro test, the advantage over the G4/1.5GHz PowerBook dropped from 54% to 6%.

Of course, you would never want to disable the second processor in the real world. But don't expect your SINGLE processor Power Mac to overwhelm a PowerBook running at a similar clock speed.
2. If you plan to play "extreme" 3D games and want maximum frame rates, then you should consider a serious Power Mac with a serious graphics card. PowerBooks make a great "roadster," but fall short in 3D game performance.
When comparing PowerBook to PowerBook, we were particularly interested in what advantage the Mobility Radeon 9700 graphics processor would provide, especially since ATI claims it is 30% faster than the Mobility Radeon 9600. We did see a 20% gain with Halo, but little or none with other 3D games.
COUNTERPOINT: All PowerBooks tested had 64MB video memory while the graphics cards in the Power Macs had 128MB. We're not convinced that would have made much difference, since Quake3 Arena is dual processor aware and Unreal Tournament 2004 uses the second processor for sound. However, we will bring you test results on the 128MB version of the Mobility Radeon 9700 in a few days.

Also, keep in mind that the Mobility Radeon 9700 in the PowerBooks is NOT the equal of the Radeon 9700 Pro AGP card in the Power Mac. The first has 4 pipelines and 128bit memory bus. The second has 8 pipelines and 256bit memory bus.

April 27th, 2004 -- NEWS FLASH: UT2004 RETAIL runs faster on PowerBooks than the DEMO version! Although there isn't an automated benchmarking tool (yet) for the RETAIL version of UT2004, I was able to run the Antalus Botmatch benchmark from the Terminal app. I got 33 fps (average of 3 runs) on the PowerBook G4/1.5GHz compared to 24 fps with DEMO version. However, when I ran the RETAIL version benchmark on the G5/2.0GHz MP, the frame rate dropped from 66 to 58. This is good news for PowerBook owners and a bummer for Power Mac owners.

We will update our UT2004 graphs above as soon as we can test UT2004 RETAIL on all the models of Mac featured in this article.
WHAT ABOUT "MERE MORTAL" USE OF POWERBOOKS?
The graphs above can be misinterpreted. We are not implying that the newest PowerBooks are "dogs." Again, our emphasis was on "PRO" applications that utilize the second CPU in dual processor Power Macs. If you are running "mere mortal" applications on the PowerBook, the gap in performance compared the fastest G4 Power Mac narrows. Let me illustrate with a few examples:
1. When we ran our iMovie render test the G4/1.42MP Power Mac was only 2.6% faster than the 1.5GHz PowerBook.
2. When we ran our iTunes MP3 conversion test, the G4/1.42MP Power Mac was only 2.8% faster than the 1.5GHz PowerBook.
3. And let me repeat, Bryce and FileMaker Pro actually run faster on the single G4 PowerBook than on the dual G4 Power Mac.
3. The newest "Rev B" 15" Aluminum G4/1.5GHz PowerBook is a BETTER BUY than the "Rev B" 15" 1.33GHz version. If you "nicely" configure both with the same options (1GB memory, 80GB 5400rpm drive, SuperDrive, Backlit Keyboard), the difference is only $56 or 1.9%. Only the 1.5GHz model is available with 128MB video memory option ($50).
The 1.5GHz version is 7.6% faster than the 1.33GHz version on average when running "PRO" apps like Cinema 4D, Photoshop CS, After Effects, Final Cut Pro, FileMaker Pro and Bryce. So based on value (price vs speed), choosing the 1.5GHz model is a "no-brainer."
SOURCES FOR TEST PRODUCTS


The "speed bumped" Aluminum PowerBooks we tested are in stock at your local Apple Retail Store. They are currently offering discounts on memory and printers.
For noise suppression, nothing beats ear covering headphones like the Bose Quiet Comfort 2. For ear "fobs," we use the Bose In-Ear Headphones when listening to our iPod -- Help support Bare Feats by ordering your Bose headphones from Sharper Image.
Has BARE FEATS helped you? Then how about donating to my PowerBook fund?