Posted Tuesday, July 9th, 2002
Although Newer Technology sent me a pre-upgraded CPU daughtercard, the "real world" consumer must send their Pismo PowerBook to the vendor to be upgraded. That's because the original G3 chip must be removed from the CPU card and replaced with a G4. And then everything tested for operation.
So today I sent off the Pismo test unit to PowerLogix so they can upgrade the original 400MHz CPU card. Hopefully, in a few days, I can add the results from their upgrade to this page. I expect since both products are 500MHz G4's, the performance should be almost identical.
Yet I don't want to withhold what performance information I have collected thus far because I know many of you loyal Pismo owners are trying to make a buying decision. So here's what I observed while testing the Newer Technology Pismo G4/500 upgrade in a Pismo G3/400, courtesy of the PowerBook Guy.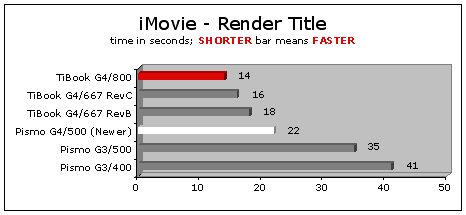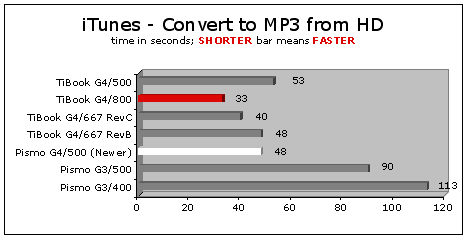 Now, not all applications gain from the presence of a G4. For example, take a look at these Bryce and Cinema 4D results: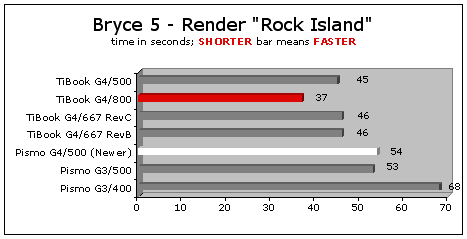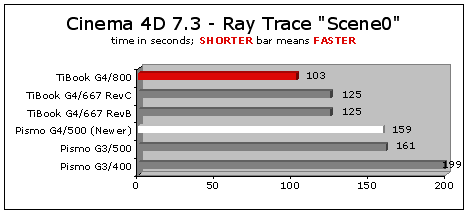 As you can see below, the Pismo lags way behind running Quake3 due to weak graphics processing unit (GPU). I couldn't even run a 1024x768 "Max" textures due to limited video memory. And there's no fix for this. You can't upgrade the GPU.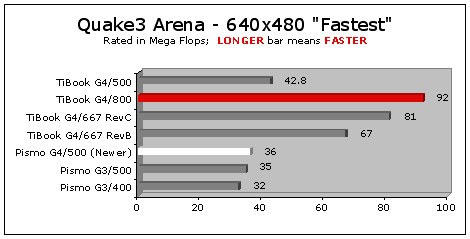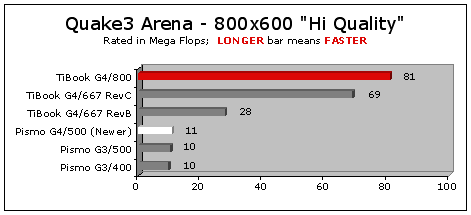 Unreal Tournament is CPU bound instead of GPU bound but without AltiVec optimizations in Unreal, the G4 CPU upgrade is of little help.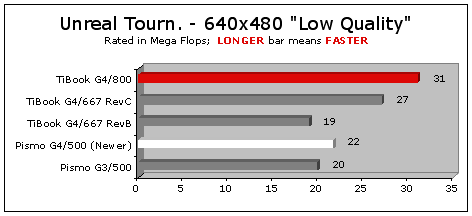 At $299, this upgrade is a "no-brainer" for Pismo-philes who want to extend the life of their "stealth-look-book."
But don't expect hardware accelerated 3D games to run faster. You are stuck with a lame GPU (graphics processing unit) in the Pismo with limited video RAM. And some games are CPU bound without AltiVec optimizations. Also, the new Quartz Extreme features will NOT work on the Pismo.
Also, don't expect FileMaker, Bryce, Explorer, MS Office, or any other non-AltiVec aware apps to run any faster than on a G3/500 Pismo. But if you have a G3/400 Pismo, I say go for the G4/500 if only for the clock speed gain.
WHERE TO BUY
The preliminary test results above were produced using a loaner CPU daughtercard from Newer Technology. Other World Computing will be selling the Newer Technology G4/500 cpu upgrade for $299. You have to send your Pismo in for the modification, an exercise, which I'm told by OWC, takes 10 days total.
PowerLogix, who makes the "BlueChip" G4 upgrade for the PowerBook Wallstreet and Lombard, now has one for the Pismo. It's also going for $299 (at least for now). You have to send your Pismo in for the modification. They are quoting 5 day turn around. The PowerLogix upgrade comes with a 2 year warranty and is fully compatible with OS X. They include a Cache Profiler that lets you play with L3 cache speeds.
Like I said above, if you love your Pismo, I think this upgrade is a "no-brainer." Don't have a Pismo? Get one from The PowerBook Guy or PowerMax.com.
The only other way to upgrade your Pismo is to add a faster, bigger hard drive. Trans International (TransIntl.com) has stock on the hot, new Travelstar 40GNX drive. It's the first thin (9.5mm) 2.5 inch drive to run at 5400 rpm. It uses less power and generates less heat in your PowerBook. Also it fits in the thin, portable FireWire/USB cases like the Cutie from FWDepot.com. (See speed test results.)
TEST NOTES
Tests were run using two Apple PowerBook G3 "Pismo" laptops (courtesy of The PowerBook Guy and a West Coast Bare Feats reader) using three different CPU daughtercards: G3/400, G3/500, G4/500. All tests were run under OS X (10.1.5) and with 512MB of RAM. The OS and apps were installed on external Firewire drives, since they ran twice as fast as the stock internal hard drives.
Though Apple sometimes offers discounts on memory upgrades, we found quality, low priced memory at TransIntl and Other World Computing (OWC). We recommend at least 1GB to avoid too much disk thrashing from virtual memory hits.
Seagate and Hitachi now have 100GB 7200rpm 2.5" hard drives if you are looking to upgrade. Check with MacGurus for Seagate drives. TransIntl and Other World Computing carry the Hitachi drives.
Notebook size external bus powered FireWire 800 enclosures from vendors like FWDepot, TransIntl, and Wiebetech.

JRHill & Company PowerBook G4 black leather Sleeve and Keyboard Protector (from cows who died of old age, of course)

Two Tumi Bags -- 9602 Small Expandable Computer Brief (which goes everywhere my PowerBook goes) and the 26002 Wheel-A-Way Brief (a must when traveling to MacWorld Expo)

Road Tools' Podium CoolPad (helps air circulate under the PowerBook, keeping it cool)

For noise suppression, nothing beats ear covering headphones like the Bose Quiet Comfort 2. For ear "fobs," we use the Bose In-Ear Headphones when listening to our iPod -- Help support Bare Feats by ordering your Bose headphones from Sharper Image.

(Read Bettay's articles on some of the above accessories.)