Posted Friday, September 4th, 2009, by rob-ART morgan, mad scientist
September 9th, 2009, updated Galaxies graph with 16K particle version
and added Displacement
One of the core technologies implemented in the Snow Leopard version of OS X (10.6) is OpenCL. Though we haven't identified any real world apps that utilize OpenCL, there are some interesting OpenCL demo apps floating around the net that we found to be interesting benchmarking tools. So to whet your appetite, here's the results for four different graphics cards running OpenCL apps on our Nehalem Mac Pro test mule.
Galaxies has five phases that report performance for CPU or GPU or "Hybrid" of both in operations per second and gigaflops. We chose the "GPU only" test and posted the gigaflops of each card once the animation stabilized. This latest graph update was done with a build that uses 16K particles instead of 4K.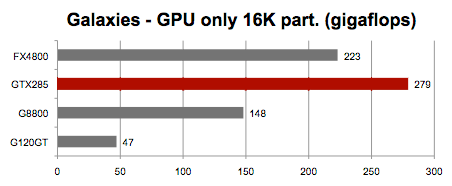 Procedural Geometric Displacement animates a blob. We used the second scene which incorporates transparency.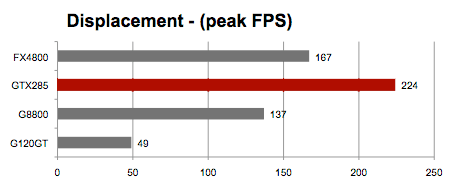 qJulia animates a blob. We ran the build that runs in a 1024x1024 window but did not press space bar to animated the blob but observed the stable FPS in static mode.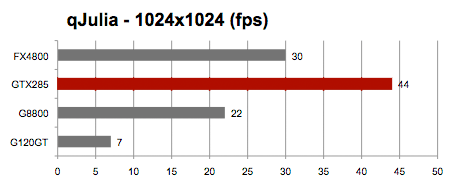 Grass simulates wind blowing across a field of (you guessed it) grass. It uses 4 Meg triangles + 170.000 Sticks.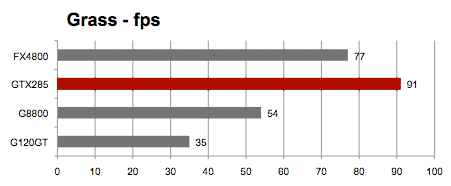 AObench is a small ambient occlusion renderer for benchmarking realworld floating point performance in various languages. We averaged 40 samples of GPU frame rate. (Download the Mac version.)
LEGEND OF GRAPHS
RED means fastest
FX4800 = nVidia Quadro FX 4800 (1.5G GDDR3)
GTX285 = nVidia GeForce GTX 285 (1G GDDR3)
G8800 = nVidia GeForce 8800 GT (512M GDDR3)
G120GT = nVidia GeForce GT 120 (512MB GDDR3)

Test "Mule" was the Nehalem Mac Pro 8-core running at 2.93GHz (12G of RAM).
ANALYSIS
The GeForce GTX 285 is clearly the strongest OpenCL "aware" GPU available on the Mac Pro Nehalem. As real world apps emerge under Snow Leopard that utilize the OpenCL technology, you may want to consider a GPU upgrade to the GeForce GTX 285 (or beyond when faster GPUs appear on the scene).
If you want to run some of the OpenCL benchmarks on your Mac (requires Snow Leopard), a good starting place for downloading them is the OpenCL thread started by mitch_de on InsanelyMac. Big thanks to him for his efforts to optimize the benchmark code.
For those of you with 2006-2007 Mac Pros, the fastest OpenCL "aware" choice is the Radeon HD 4870 whose test results we will add to this page in a few days. Though it is not officially supported by Apple for the older Mac Pros, we assure you it works just fine on 2006-2007 Mac Pros based on our own testing and testimony of our readers.
INTERESTING SNOW LEOPARD LINKS
Lloyd Chambers has posted some CPU intensive Snow Leopard performance tests.
For more info on the significance of OpenCL, start with Apple's Snow Leopard technology page.
WHERE TO BUY MAC PRO GRAPHICS CARD UPGRADES
Other World Computing has the GeForce GTX 285 Mac Edition as does Club Mac.
ClubMac has the ATI Radeon HD 4870 Graphics Upgrade Kit along with Apple Online Store USA.
WHERE TO BUY APPLE PRODUCTS
When you purchase products at Apple USA, please CLICK THIS LINK or any APPLE BANNERS at the top of our pages. It's a great way to support Bare Feats since we earn a commission on each click-through that results in a sale.