Originally posted July 9th, 2008, by rob-ART morgan, mad scientist
Some exciting new SATA notebook drives are now shipping. We benchmarked them against each other using a SATA notebook drive enclosure and SATA ExpressCard/34 on our MacBook Pro "Penryn" (to squeeze out maximum speed and simulate performance when installed inside your laptop).
Using QuickBench and Disktester, we tested both large sustained transfers and small random transfers.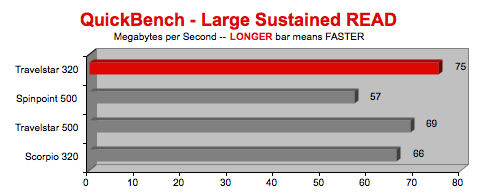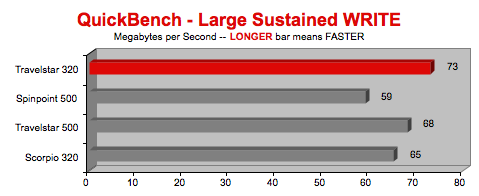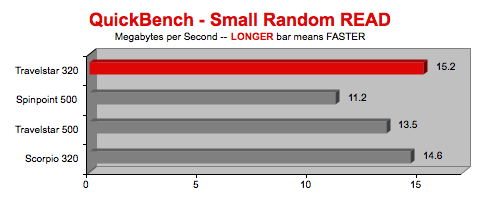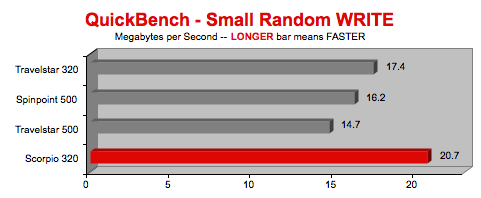 These next two graphs show how many 4K random transactions can occur per second on each drive.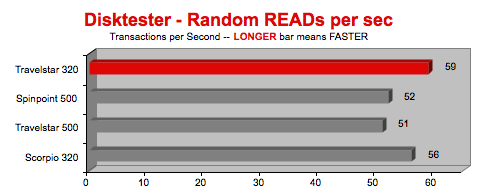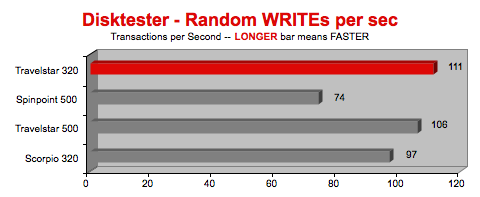 GRAPH LEGEND
Travelstar 320 = Hitachi Travelstar 7K320 320GB 7200rpm SATA notebook drive (HTS723232L9A360)
Spinpoint 500 = Samsung Spinpoint M6 500GB 5400rpm SATA notebook drive (HM500LI)
Travelstar 500 = Hitachi Travelstar 5K500 500GB 5400rpm SATA notebook drive (HTS545050KTA300)
Scorpio 320 = Western Digital Scorpio Blue 320GB 5400rpm SATA notebook drive (WD3200BEVT)
The Hitachi 7K320 has a 16MB data buffer. The rest have 8MB.
CONCLUSION
The Hitachi Travelstar 7K320 is the top performer and, with 320GB capacity, it is a welcome upgrade from the 7K200. Those of us wanting a 7200rpm notebook drive have always been frustrated by the relatively limited capacity in comparison to 5400rpm and 4200rpm choices. Though we haven't tested it yet, were confident that the WD Scorpio Black 320G 7K drive will also perform well.
If you need even more capacity and don't need maximum speed, the 5400rpm 500GB Samsung and Hitachi drives are also welcome new options. Though the Samsung 500G notebook drive is slower overall than the Hitachi 500G notebook drive, it has the advantage of being thinner (9.5 mm vs 12.5 mm). That means that the Samsung will fit *ALL* laptops and notebook enclosures while the Hitachi will only fit SOME. If you plan to use the Hitachi 5K500 as a replacement for your MacBook Pro drive, it will only fit the 17" model.