Originally posted May 2nd, 2008, by rob-ART morgan, mad scientist
Updated May 2nd, 2008, with info on another FW800 notebook RAID enclosure.
Some exciting options for notebook drives are appearing this spring. In this first installment, we tested samples in FireWire 800 bus powered enclosures.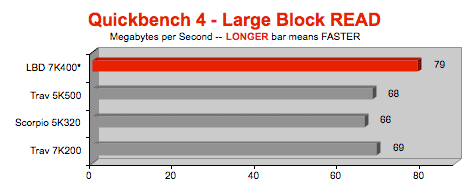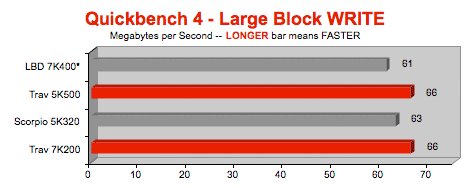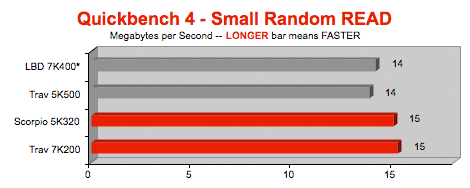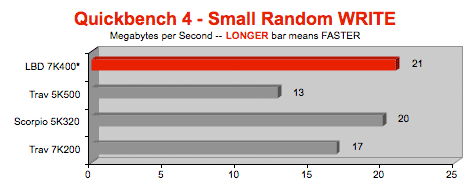 GRAPH LEGEND
LBD 7K400* = LaCie Little Big Disk Quadra RAID 0 enclosure
with dual 7200rpm 200GB notebook drives
Trav 5K500 = Hitachi Travelstar 5K500 5400rpm 500GB notebook drive
Scorpio 5K320 = WD Scorpio WD3200BEVT 5400rpm 320GB notebook drive
Trav 7K200 = Hitachi Travelstar 7K200 7200rpm 200GB notebook drive
The single Travelstar and Scorpio drives were tested inside the Wiebetech Quad Interface ToughTech XE mini enclosure.
BTW, the Hitachi 5K500 is 12.5mm thick. Most notebook drives are 9.5mm thick. The 5K500 does not fit inside the MacBook or MacBook Pro. It does not fit inside some notebook enclosures. When we tested it in the Wiebetech ToughTech XE, we had to leave the cover off. Check with your enclosure reseller as to whether their product can handle the 12.5mm thick drive if that's your choice. Samsung has announced a 500GB notebook drive that is 9.5mm thick. We'll test it as soon as we get our hands on one.
CONCLUSION
The new large capacity 5K notebook drives are just as fast as the "limited" capacity 7K notebook drives. There's something to be said for "density."
FireWire 800 is beautiful. We're a big fan of using FireWire notebook enclosures to expand the storage of our Mac. They require only bus power, can boot OS X, and fit in the side pocket of my notebook sleeve.
(Corrected) The LaCie Little Big Disk (LBD) Quadra is one of only two bus powered RAID 0 FireWire 800 enclosures we know about. (The other is the G-RAID mini.) The latest LBD includes eSATA and USB 2.0 ports but both require an AC adapter. Unless you need the speed of SATA, the FireWire 800 port is the way to go.
NOTEBOOK SATA RAID ENCLOSURES NEXT
Next week we will post an article comparing two notebook RAID enclosures. We will be comparing the LaCie Little Big Disk Quadra's SATA performance using the eSATA port to the Sonnet Fusion F2 SATA-only dual notebook drive RAID enclosure that garnered much attention at the recent NAB show.