Posted Friday, August 7th, 2009, by rob-ART morgan, mad scientist
New drivers have been released for the GeForce GTX 285 along with OS X 10.5.8 so we re-ran several of our GPU intensive tests to see what difference those changes made and how the GTX 285 compares to the Radeon HD 4870 and other Nehalem Mac Pro GPUs. Though we were most interested in test results at 2560x1600 with highest quality settings, we also ran at 1280x800 with some surprising results on which we will comment after you see the graphs.
Enemy Territory: Quake Wars (1.5) was run with 8x Anisotropy and 4X Anti Aliasing (aka Multi-Sampling). Starting with the "High Quality" preset, we set Lighting to "high" and enabled Soft Particles. We included some results running under Vista Ultimate (see blue bars).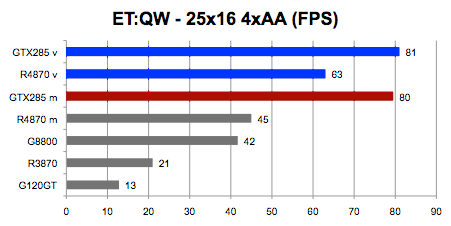 Call of Duty 4 (1.7.1) was run with 4X Multi-Sampling, Shadows set to "yes," Soften Smoke Edges set to "yes," Texture Filtering to "trilinear," Anisotropy slider set to maximum, and texture resolution to "extra." We included some results running under Vista Ultimate (see blue bars).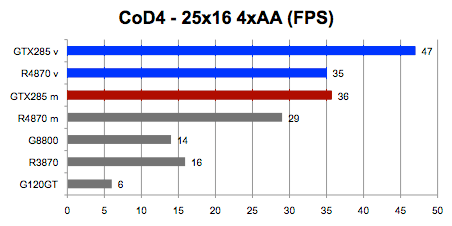 OpenGL Extensions Viewer has a Test Tab. We chose Standard Framebuffer, 4X Multisampling, 8X Anisotropy, Fog, Benchmark, and Transparency. The graph below shows the framerates of the OpenGL 2.0 extension.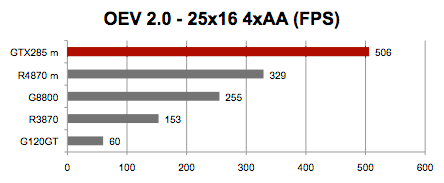 Motion 3 pioneered the concept of offloading Core Image effect rendering to the GPU as well as using more than 3G of RAM to cache the preview. We timed "RAM Preview - Play Range" of a 900 frame HD template called "Blocks-Detail.HD." We converted the result into frames per second.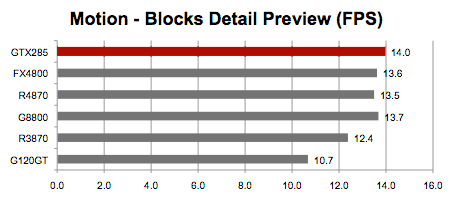 Imaginator takes one or more Core Image effects and applies them to a photograph. Our test applies a mixture of effects on the fly to a 1000 frame morph of one photograph to another.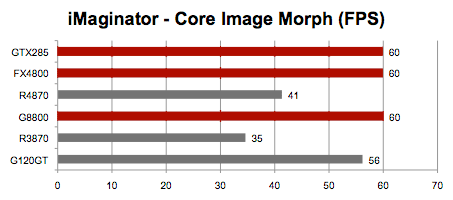 LEGEND OF GRAPHS
RED means fastest, BLUE means Vista Ultimate (a la Boot Camp)
GTX285 = nVidia GeForce GTX 285 (1G GDDR3) - 18.5.2f16 driver
FX4800 = nVidia Quadro FX 4800 (1.5G GDDR3)
R4870 = ATI Radeon HD 4870 (512M GDDR5)
G8800 = nVidia GeForce 8800 GT (512M GDDR3)
R3870 = ATI Radeon HD 3870 (512M GDDR4)
G120GT = nVidia GeForce GT 120 (512MB GDDR3)
m = Mac OS X, v = Vista Ultimate
Test "Mule" was the Nehalem Mac Pro 8-core running at 2.93GHz (12G of RAM).
ANALYSIS
Though the new driver and OS release doesn't make the GeForce GTX 285 go faster, it continues to dominate in our extreme 3D tests and competes well with the Radeon HD 4870 in all but one Pro App Core Image test we tried. Therefore it wins the "best all around performance" award.
If you choose the GTX 285, you better have a display with a standard DVI connector (like the Apple 30" Cinema or old 23" Cinema). If you have the Apple 24" Cinema with the mini displayport, there does not currently exist an adapter that will allow you to connect it to the standard DVI connectors of the GTX 285. The 24" Cinema does work with the Radeon HD 4870 because it has one mini displayport.
Wondering if the extra video memory gave it the edge over the Radeon HD 4870, we also tested a 1GB Radeon HD 4870 courtesy of AppleMacanix. It was only a few ticks faster than the Radeon HD 4870 with 512MB of GDDR5 which was due to the fact that it was clocked slightly higher.
What was most interesting was the results for CoD4 and ET:QW with max settings at 1280x800. For some reason, the Radeon HD 4870 was faster than the GTX 285 at that resolution under Mac OS X but remains slower under Vista Ultimate:


Lastly, keep in mind that both the GTX 285 and the HD 4870 require two power feeds, which precludes adding a second GPU or PCIe adapter that requires a power feed from the motherboard. There are only two PCIe power sources on the motherboard and the power limit of the PCIe bus is 300 watts.