Posted Monday, June 16th, 2009, by rob-ART morgan, mad scientist
Last week we posted results for the new GeForce GTX 285 running 3D apps at insane settings and 2560x1600 resolution. We've been trying to come up with some new and improved Pro App tests (Core Image) that stress the GPU. We're still experimenting with those tests but wanted to give you something in the interim.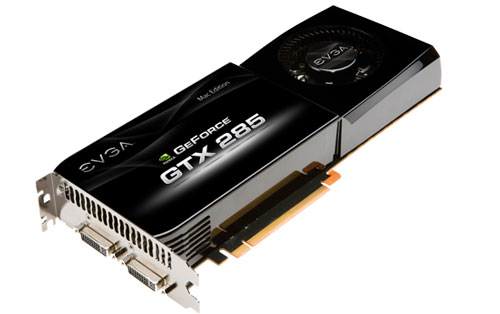 Motion 3 pioneered the concept of offloading Core Image effect rendering to the GPU. We timed "RAM Preview - Play Range" of a 900 frame HD template called "Blocks-Detail.HD." We converted the result into frames per second.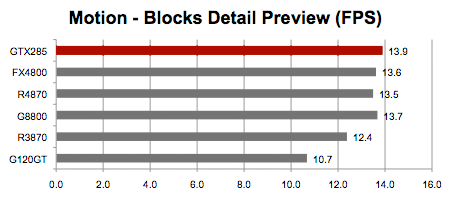 The second RAM Preview is the 300 frame "Fire-Mortise 2.NTSC."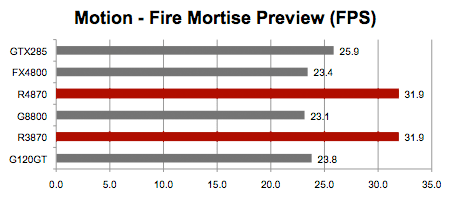 Imaginator takes one or more Core Image effects and applies them to a photograph. Our test applies a mixture of effects on the fly to a 1000 frame morph of one photograph to another.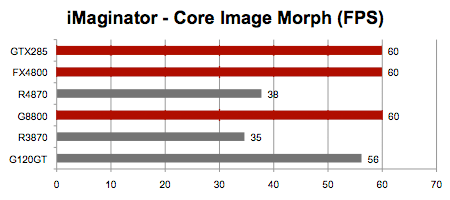 LEGEND OF GRAPHS
RED means fastest
GTX285 = nVidia GeForce GTX 285 (1G GDDR3)
FX4800 = nVidia Quadro FX 4800 (1.5G GDDR3)
R4870 = ATI Radeon HD 4870 (512M GDDR5)
G8800 = nVidia GeForce 8800 GT (512M GDDR3)
R3870 = ATI Radeon HD 3870 (512M GDDR4)
G120GT = nVidia GeForce GT 120 (512MB GDDR3)
Test "Mule" was the Nehalem Mac Pro 8-core running at 2.93GHz (12G of RAM).
ANALYSIS
Though the GeForce GTX 285 was dominating in our extreme 3D tests, it produced mixed results in the Core Image tests above. If the three graphs above are indicative of Core Image performance, it's hard to justify the upgrade on that basis alone.
I need to emphasize these results as interim as we are still trying to cook up some more stressful and sophisticated Pro App GPU stress tests involving Aperture, Photoshop, and After Effects. We have identified certain functions that are accelerated by the GPU. The trick is to create a scenario that's repeatable and quantifyable. Stay tuned.
WHERE TO BUY MAC PRO GRAPHICS CARDS
Other World Computing has the GeForce GTX 285 with 1 day shipping for $459.
ClubMac has the ATI Radeon HD 4870 Graphics Upgrade Kit for Mac Pro listed for $329. Compare that to the Apple Store USA price of $349.
ClubMac has the NVIDIA Quadro FX 4800 For Mac 1.5GB DDR3 PCIe Graphics Card listed for $1460. Other World Computing also has it listed on their site with same day shipping.
WHERE TO BUY APPLE PRODUCTS
When you purchase products at Apple USA, please CLICK THIS LINK or any APPLE BANNERS at the top of our pages. It's a great way to support Bare Feats since we earn a commission on each click-through that results in a sale.