Posted January 6th, 2017 by rob-ART morgan, mad scientist
January 7th, added 2010 'classic' Mac Pro 12-core tower
The debate is raging. "Where is the new Mac Pro?" Others are saying, "Why do we need a Mac Pro?" Let me offer you a few examples of when a Mac Pro is useful.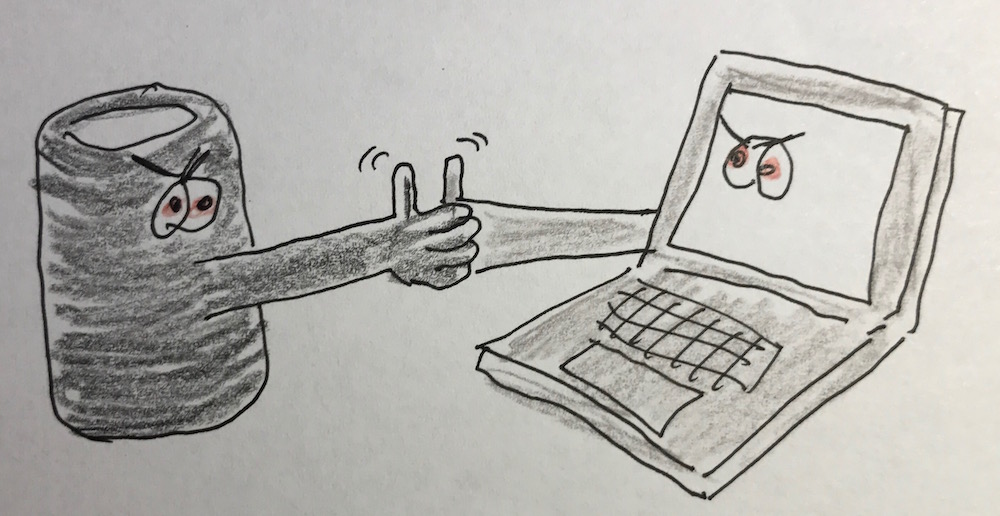 GRAPH LEGEND
M2010 cMP - 'mid 2010' Mac Pro 12-Core 3.33GHz Xeon X5680, 96G of 1066MHz ECC memory, Radeon RX 480 GPU, 512GB Samsung SM951 PCIe flash
L2013 nMP - 'late 2013' Mac Pro Eight-Core 3.0GHz Xeon E5-1680 v2, 64G of 1867MHz DDR3 memory, dual FirePro D700 GPUs, 1TB PCIe flash storage
L2015 iMac5K - "late 2015" iMac 5K Quad-Core 4.0GHz Core i7-6700K, 64G of 1867MHz DDR3 memory, Radeon R9 M395X (4G) GPU, 1TB PCIe flash storage
L2016 rMBP - 'late 2016' Retina MacBook Pro 15-inch, 2.9GHz Core i7-6920HQ, 16G of 2133MHz LPDDR3 memory, AMD Radeon Pro 460 (4G) GPU, 1TB PCIe flash storage
AFTER EFFECTS CC - Version 2014 allows you to specify in Preferences how many cores will do the rendering and how much RAM each gets. We used it to render the TotalBench project using all cores (real and virtual) with 3GB of RAM reserved for each.
(LOWER TIME IN SECONDS = FASTER)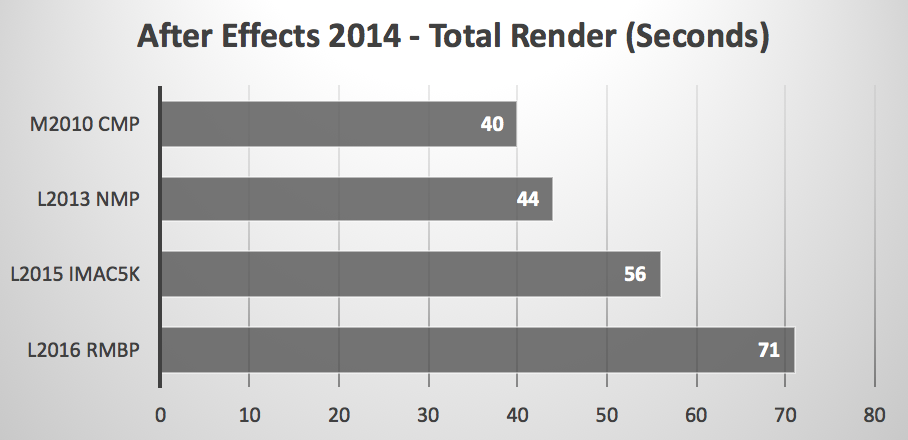 LOGIC PRO X - 'Evan' Logic Multicore Benchmark Test
(HIGHEST NUMBER OF TRACKS = FASTER)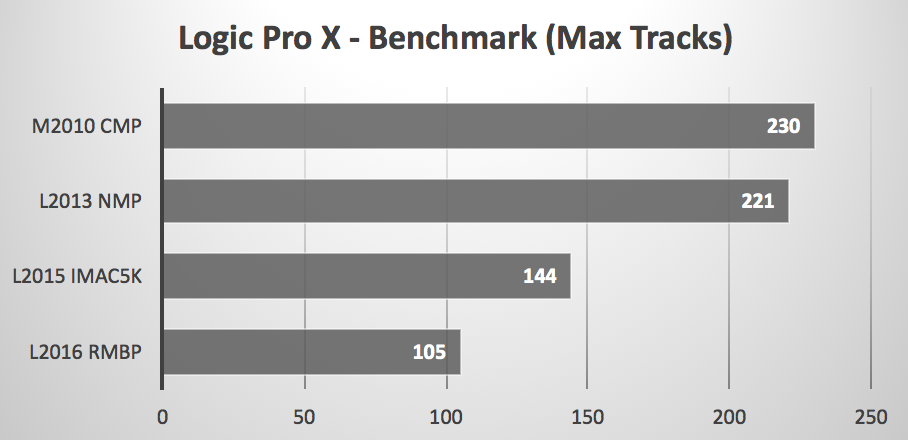 BLENDER - CPU 'only' RENDER of BMW Benchmark by Mike Pan
(LOWER TIME IN SECONDS = FASTER)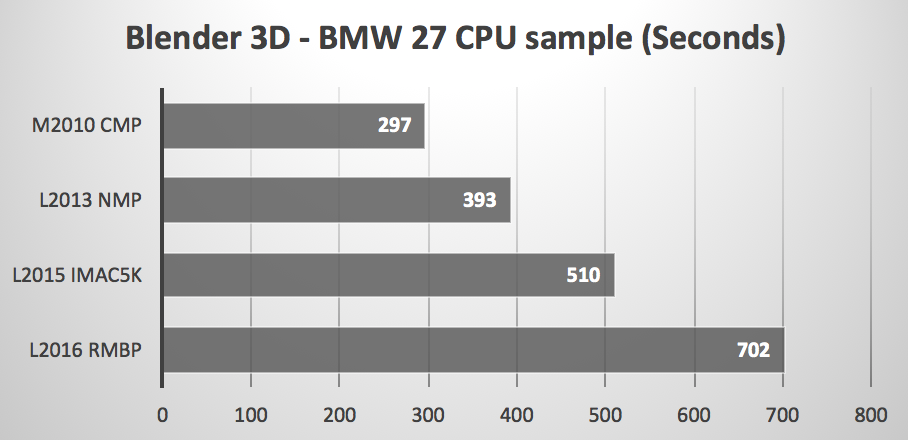 WHAT DID WE LEARN?
The quad-core iMac 5K and MacBook Pro are great 'semi-pro' machines but there are some jobs that beg for a serious Mac Pro with more than 4 cores.
The 2013 Mac Pro with 16 virtual cores, was able to reserve 3GB of RAM for each core (or 48GB total) when rendering with After Effects 2014. That was not an option for the MacBook Pro 8 virtual cores and only 16GB of memory. On the other hand, the larger amount of memory was of no advantage with Logic Pro X which only needed 3GB for itself.
With twice as many CPU cores, the 2013 Mac Pro was able to loop more than twice as many tracks (in Logic Multicore Benchmark Project) as the MacBook Pro. Although the iMac 5K had the same number of CPU cores as the MacBook Pro, it was able to loop 49% more tracks. Isn't it fitting that we use Apple's own pro app to demonstrate the superiority of the 2010 and 2013 Apple Mac Pro? (Heh heh heh.)
There are other factors to consider besides performance: Heat and Fan Speeds (aka Noise). When rendering the Blender sample 3D image, the MacBook Pro's CPU temps rose from 88F to 207F. The fan speeds rose from 1999 RPM to 5933 RPM. Noise level rose from 40 dBA to 55 dBA. By contrast, the 2013 Mac Pro's CPU temp rose from 103F to 165F. The single exhaust fan rose from 789 RPM to 791 RPM. Noise level never rose above the ambient 40 dBA.
FLASH: At your request, we added our 2010 'classic' Mac Pro 12-core tower to the graphs. Though the tests above are CPU intensive, we equipped it with the AMD Radeon RX 480 to 'sync' with the other three Macs with AMD GPUs. In an upcoming article, we will revisit the advantages of a high-end CUDA capable NVIDIA GPU running in the tower as well as connected externally to the other three Macs featured here.
Comments? Suggestions? Feel free to email me,
Follow me on Twitter @barefeats