July 2nd, 2019 by rob-ART morgan, mad scientist
July 15th replaced Vega Frontier with a second Radeon VII
The 2013 Mac Pro is often criticized for its lack of expansion. But the six Thunderbolt 2 array provides some interesting possibilities.
First, take a look at what you can do with eGPU boxes and fast GPUs.
D700s + Two VII = dual AMD FirePro D700 GPUs (6G each) and dual AMD Radeon VII GPUs (16G each)
Two VIIs = Two AMD Radeon VII GPUs (16G each)
D700s + One VII = dual AMD FirePro D700 GPUs (6G each) and AMD Radeon VII GPU (16G)
D700s + Two 580s = dual AMD FirePro D700 GPUs (6G each) and dual AMD Radeon RX 580 GPUs (8G each)
One VII = AMD Radeon VII GPU (16G)
Two 580s = dual AMD Radeon RX 5800 GPUs (8G each)
D700s Only = dual AMD FirePro D700 GPUs (6G each)


TEST MULE: 2013 Mac Pro 3.0MHz DDR4 ECC memory, dual AMD FirePro D700 (6G each) GPUs, 1TB PCIe-based flash storage, LG UltraFine 5K 27-inch display. Added GPUs were placed in an eGPU Box and plugged into one of the six Thunderbolt 2 ports.

LUXMARK
Render Hotel scene (4973K Triangles) with only GPU(s). (HIGHER time in Ksamples/sec = FASTER.)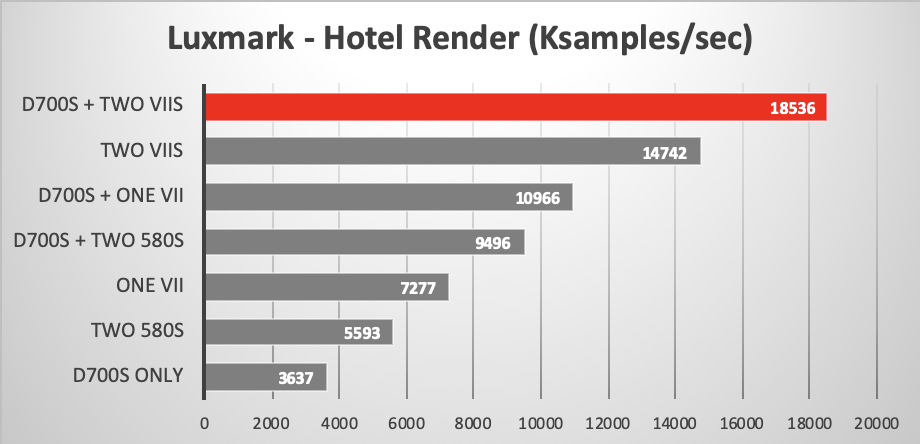 Rendered the BMW (bmw27_cpu.blend) demo scene using only GPU(s). (LOWER time in seconds = FASTER.)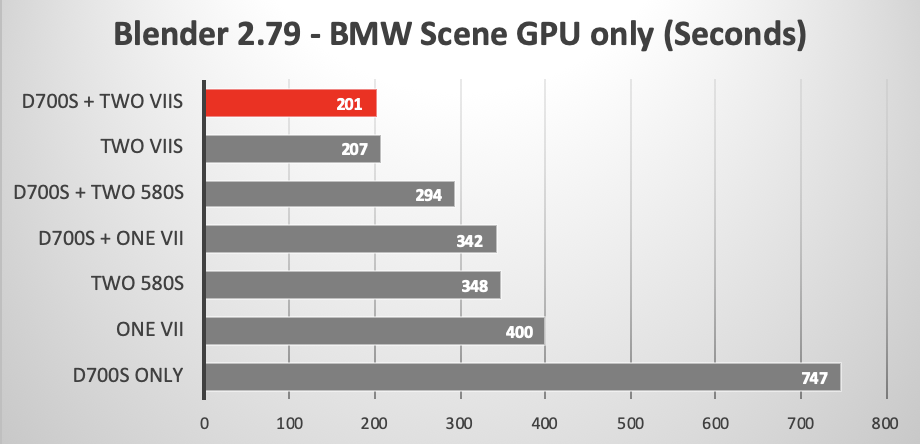 Three Nodes of Noise Reduction was applied to the Candle Project "Parrot" clip. The GPU intensive effect is rendered on the fly during looping playback. (HIGHER frames per second = FASTER.)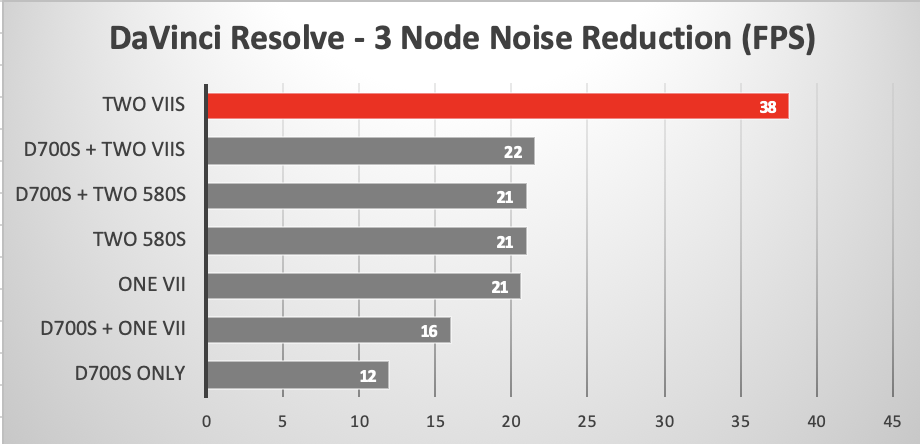 Next we will exploit the six port triple bus Thunderbolt 2 to create a very fast storage array.
Using Resolution of 3840x2160 4K RED HD, Test File Size of 16GB, and Codec Type 16bit RGB, measured the Large Sequential Transfer Speed. (HIGHER Megabytes Per Second = FASTER)


WHAT DID WE LEARN?
If you need more GPU speed, the internal dual proprietary FirePro GPUs can't be upgraded. However, they can be supplemented or bypassed using one or more eGPU box with a more powerful GPU. The Thunderbolt 2 connection is slower than the Thunderbolt 3 ports on more recent Macs, but unless the application is saturating the bandwidth, the performance will not suffer. We used various eGPU boxes including the AKiTiO Node Pro, Sonnet eGFX Breakaway, and OWC Mercury Helios FX.
NOTE: We ran the Purge Wrangler Master script in Terminal and Restarted the 2013 Mac Pro BEFORE connecting the eGPUs the first time. Each eGPU was connected directly to a TB2 port on a different TB2 bus. Thunderbolt 2 cables were used and a TB2>TB3 adapter at the eGPU end.
As far as speedy external storage, by using Thunderbolt 3 PCIe expansion boxes like the AKiTiO Node Lite or OWC Helios 3 with PCIe M.2 carrier boards populated by PCIe-based flash storage 'blades,' we were able to achieve over 3000 MB/s READ/WRITE. How? By bridging the triple Thunderbolt 2 controllers, giving each drive the full 20Gbps.
As you must know by now, the 2019 Mac Pro has been announced and can be ordered in the Fall of 2019. However, the base model starts at $6K. Add the new display with stand and you are up to $12K. Unless you are flush with that much cash (or credit card bandwidth) you may want to consider extending the life of your legacy Mac Pro with the help of upgrades.
The 2013 Mac Pro "Turbo Tube" (as I prefer to call it) is a solid performer. It runs cool and quiet. In addition to the upgrades featured in this article, you can upgrade the main processor, the memory, and internal PCIe-based flash storage.
The 'classic' 2009 - 2012 Mac Pro "Tower of Power" is still popular with many Mac users. It's impressive how many ways you can "hot rod" it with a faster processor tray, more memory, fast PCIe-based flash storage, and 'fire breathing' GPUs. You can also add a four port USB 3.1 Gen 2 PCIe card (20x faster than factory USB) and upgrade the Super (optical) Drive with a Blu-ray reader/player/burner.
A group on FaceBook (MacProUpgrade) shares ideas and advice on upgrades including one member who got Thunderbolt to work. A custom Mac Pro builder recently modified the original 2010 Mac Pro PSU to support dual 300W AMD Vega Frontier GPUs.
Instead of spending big buck$ on a new Mac, you might consider investing in a few key upgrades for your existing Mac Pro.
Comments? Suggestions? Feel free to email me, Follow me on Twitter @barefeats.
WHERE TO BUY APPLE products:
USA readers can help BareFeats earn a commission by clicking THIS TEXT LINK or on any of our Apple display ads when considering a purchase.
Readers in Australia can support us by clicking our link to the Apple Store AU.
OTHER GOOD SOURCES
Trans International sells various Mac upgrades
Other World Computing sells Mac upgrades and used Macs.
B&H Photo Video sells Apple products, GPUs, eGPUs, displays, storage, etc.
Has Bare Feats helped you? How about helping Bare Feats?
copyright 2019 Rob Art Morgan
"BARE facts on Macintosh speed FEATS"
FEEDBACK or QUESTIONS?