MAD SCIENCE:
a GeForce 7800 GTX PCIe card
for the Quad-Core G5 Power Mac
Originally posted May 12th, 2006, by rob-ART morgan, mad scientist
We G5 Power Mac owners are constantly looking over the fence at what the Windoze Pee Cee owners have for upgrade options. When I hear about "killer" graphics cards like the GeForce 7800 GTX with 512MB of GDDR3 running at 550Mhz or the 7900 GTX running at 650MHz or the Radeon X1900 XT running at xxx, I turn green with envy. Why can't we have those as options on the Dual-Core or Quad-Core or Single-Core Power Macs?
Thankfully, my mad scientist buddies never sleep. They have conjured up the "world's fastest Mac graphics card" and sent it to us for testing. It skareems! First look at the specs compared to the OEM cards:
| | | | | | |
| --- | --- | --- | --- | --- | --- |
| | GeForce 6800 Ultra | GeForce 6600 | GeForce 7800 GT | GeForce 7800 GTX | Quadro FX 4500 |
| Core Clock | 402MHz | 300MHz | 398MHz | 530MHz | 468Mhz |
| Memory Clock | 1097MHz | 501MHz | 1002MHz | 1656MHz | 1053MHz |
| Memory | 256MB GDDR3 | 256MB GDDR | 256MB GDDR3 | 512MB GDDR3 | 512MB GDDR3 |
| Dual-Link DVI Ports | Two | One | One | One | Two |
| Slots Consumed | Two | One | One | Two | Two |
Graph Legend:
Quadro FX 4500 = Quadro FX 4500 PCIe 16X (OEM CTO option)
GeForce 7800 GTX = GeForce 7800 GTX PCIe 16X (Experimental)
GeForce 7800 GT = GeForce 7800 GT PCIe 16X (OEM CTO option)
GeForce 6600 = GeForce 6600 PCIe 16X (OEM standard equipment on Quad-Core)
GeForce 6800 = GeForce 6800 Ultra AGP 8X (OEM CTO option -- no longer available)
All cards except the 6800 Ultra were tested on a Quad-Core G5/2.5 Power Mac (PCIe 16 lane slot). The GeForce 6800 Ultra was tested on a Single-Core Dual G5/2.5 Power Mac (AGP 8X slot). Both Power Macs had 8GB of main memory.
3D GAMING
As you can see, we pushed the cards to the limit by running at 2560x1600 resolution on a 30" Cinema LCD display.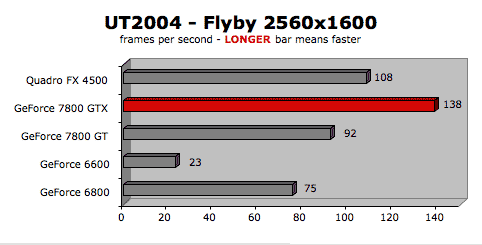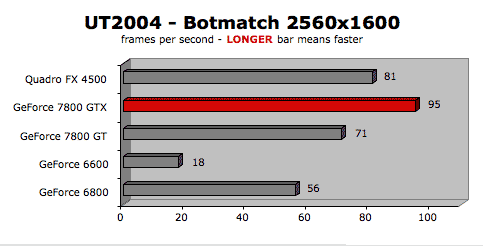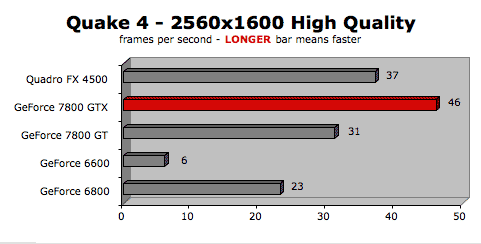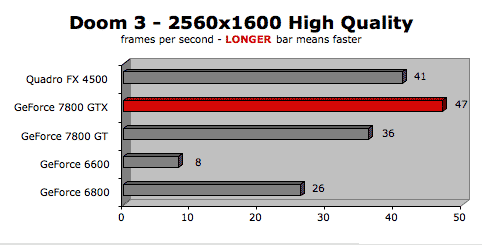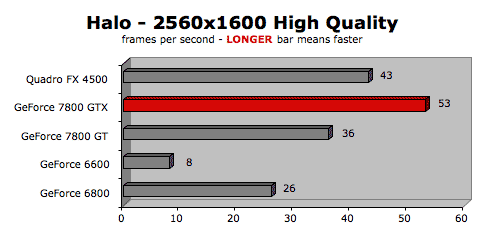 COMMENTARY
The 7800 GTX is an impressive experiment. It's a 3D gamer's dream come true for Dual-Core and Quad-Core G5 owners. Though we didn't graph it, the 7800 GTX ran our Motion 2 RAM Preview Render test 10% faster and the iMaginator Core Image test 17% faster than the top OEM card, the Quadro FX 4500.
With prices as low as $550, the 7800 GTX 512MB card is a compelling alternative to the $1650 Quadro FX 4500 -- which can only be purchased when you custom order your new Dual-Core or Quad-Core G5 tower. We've said before that if you are buying a new Dual-Core or Quad-Core G5 Power Mac, you should order the optional $350 GeForce 7800 GT. To us it's a "no-brainer." If you neglect to select that CTO option, you won't be able to buy the 7800 GT later. It's not available as an aftermarket upgrade. Some readers reported that their local dealer was willing to order the 7800 GT as "spare parts" but would have to charge them $650 to $700. You can get a 256MB 7800 GT or GTX (PC version) for under $300.
In defense of the Quadro's expense, it does support TWO 30" Cinema displays (versus one) and includes an integrated stereo 3D port for mad scientists with stereo goggles and stereo 3D applications. It's the only PCIe card "qualified" by Alias/AutoDesk for use with advanced functions of Maya 7 (like hardware support for anti-aliased points and lines, accelerated clip planes, and two-sided lighting).
Our 7800 GTX sample had the same heatsink/fan assembly as the Quadro FX, and therefore encroaches on the adjacent slot.
Like the Quadro FX and 7800 GT, the 7800 GTX requires its own power feed. You'll need a splitter connected to the SuperDrive along with a 4 pin to 6 pin adapter. That's because the custom power cable Apple includes with the GeForce 7800 and Quadro FX plugs into a special main logic board connector. That cable is proprietary and unavailable for purchase separately.
THE FLASH DEBATE
There is an ethical issue you must deal with when taking the ROM code from a Mac graphics card you DON'T own and flashing it into the ROM of a Windows PC graphics card. And it isn't that simple. Sometimes the ROM code must be modified before it will work in the PC card. Sometimes the ROM itself must be replaced with a bigger one. This really is rocket science. Do it wrong and you will end up with an expensive door stop.
There is a lot of frustration with the dirth of really fast aftermarket graphics cards for the various G4 and G5 Power Macs. And when a truly fast retail card appears, it's often much more costly than the PC equivalent.
We feel Apple Inc. has created a lot of frustration by either NOT offering aftermarket upgrades (like the GeForce 7800 GT) -- or -- by offering them at high prices and then pulling them off the market even before the current model goes out of production (like they did with the GeForce 6800 GT and Ultra). These practices have made many consumers feel justified in experimenting with the flashing of PC graphics cards.
I commend ATI Technology for their continued efforts and investment in providing aftermarket, affordable GPUs for the Mac community including the $199 Radeon 9600 PC and Mac Edition, the $299 Radeon 9800 Pro Mac Edition, and the $399 Radeon X800 XT. I hope they will soon release the Radeon X1800 PCIe card that they were demonstrating at MacWorld SF in January 2006. Better yet, make mine an X1900 XT.
Also encouraging was the announcement by XFX Graphics that they have signed a licensing agreement with Apple to develop and bring to market a range of NVIDIA GeForce-based Shader Model 3.0 graphics accelerators to for AGP Power Macs. The initial offering in June 2006 will be a GeForce 6600 GT, though more powerful, higher-end variants are planned.
RELATED ARTICLES
GeForce 7800 GS on a Single-Core G5/2.5MP Power Mac (AGP 8X)
GeForce 7800 GS on a QuickSilver G4/2.0GHz Power Mac (AGP 4X)
GeForce 6600 on a Dual G4/1.42GHz Power Mac (AGP 4X)
Geforce 6200 on a Dual G4/1.4Ghz Cube
WHERE TO ORDER YOUR MAC
When ordering products from Apple Store USA, please click THIS TEXT LINK or any Apple display ad as your "portal" to the online store. In so doing, you help to support Bare Feats.

WHERE TO BUY REFURBISHED or CLOSEOUT MACS (12 month warranty)
For refurbished, reconditioned, open box (as well as new) iMacs, check with Small Dog and Power Max. Also look for the "SPECIAL DEALS" link on Apple's online store.

WHERE TO BUY VARIOUS GRAPHICS CARDS FOR YOUR POWER MAC and MAC PRO
For your Mac Pro, you have the following 16X PCI Express (PCIe) options:
The GeForce 7300 GT (16X, 256MB, dual-link DVI + single-link DVI port) is the default. We recommend the Radeon X1900 XT (16X, 512MB, two dual-link DVI ports) as a CTO option. It's much faster than the GeForce 7300 GT and just as fast as the expensive Quadro FX 4500. According to Alias/Autodesk, the X1900 XT is the only graphics card without limitations when using Maya 8.5. To custom order your Mac Pro with the Radeon X1900 XT, go to the Apple Store and click on the Mac Pro graphic.
If you didn't order the Radeon X1900 XT with your Mac Pro, you can order the Radeon X1900 XT as an aftermarket kit for your Mac Pro, go to the Apple Store and click on DISPLAYS in the left margin or do a search on "X1900."
NOTE: Mac Pro PCIe graphics cards will not work in Power Mac G5s with PCIe slots -- and vice versa. Nor will Windows PC PCIe graphics cards work in the Mac Pro.
Graphics Card Options for the Dual-Core or Quad-Core G5 with 16X PCI Express slot:
The best option for your Dual-Core or Quad-Core G5 with PCIe slots is the ATI Radeon X1900 G5 Mac Edition released in November 2006. You can buy it directly from ATI's Online Store for $299 (with "trade up" allowance).
It's also sold by Small Dog Electronics and Other World Computing.
The following cards only work on a G5 Power Mac with 8X AGP slot:
The "G5 only" Radeon X800 XT Mac Edition (8X AGP, 256MB, ADC + Dual-Link DVI port) is available from ATI Online Store, Apple's Online Store, Buy.com, Other World Computing, and Small Dog Electronics. (The MSRP is $299)
Apple's Online Store is no longer selling the GeForce 6800 GT or Ultra, which had Dual-Dual-Link DVI ports (for two 30" Cinemas).
The "G5 only" Radeon 9800 Pro Mac Special Edition (8X AGP, 256MB, ADC + DVI port) is no longer made by ATI.
The following cards work on both the G5 Power Mac (8X AGP) and G4 Power Macs with 2X or 4X AGP:
Other World Computing has the new ATI Radeon 9800 Pro Mac (2X/4X AGP, 256MB, DVI + VGA ports) graphics card in stock for $259. ATI has it on their Online Store for $249. The SKU number is 100-435058, in case you want to make sure you are getting the right card.
Has Bare Feats helped you? How about helping Bare Feats?
© 2006 Rob Art Morgan
"BARE facts on Macintosh speed FEATS"
Email , the webmaster and mad scientist