Posted February 27th, 2015, by rob-ART morgan, mad scientist
Did you know that the Mac Pro tower with a NVIDIA GeForce GTX 980 can drive the Dell UltraSharp 27 Ultra HD 5K Monitor at 5120x2880 resolution and 60Hz? REVOLUTIONARY! RESOLUTIONARY! Mac Pro tower owners no longer have to endure iMac 5K envy.
GRAPH LEGEND
iMac 5K = 2014 iMac 5K Retina 4.0GHz Quad-Core i7 with AMD Radeon R9 M295X GPU
MPt6c 980 = 2010 Mac Pro 3.33GHz 6-core with NVIDIA GeForce GTX 980 GPU
Hack 980 = Hackintosh -- Gigabyte GA-Z97X-UD3H motherboard with 4.0GHz Quad-Core i7-4790K Processor and GeForce GTX 980 GPU running OS X

All three were running OS X 10.10.2 Yosemite. The Mac Pro and Hackintosh both used 343.02.02f02 version of the NVIDIA GPU web driver. Special nvram boot-args and startup procedures were required which are discussed at the end of this article.
Diablo III
Using the best settings with no vsync but with no anti-aliasing at 5120x2880, we entered the game at the same location and observed FPS (Control R). RED graph bar means FASTEST in FRAMES per SECOND.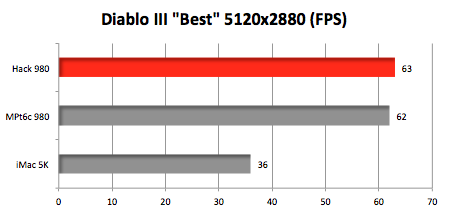 Batman Arkham City GOTY
We used the built-in benchmark with Resolution: 5120x2880, FSAA: None, Detail Level: High, all boxes checked except FXAA and V-Sync. RED graph bar means FASTEST in FRAMES per SECOND.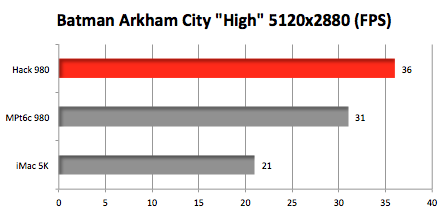 GPUtest - FurMark
This is a very intensive OpenGL benchmark that uses fur rendering algorithms to measure the performance of the graphics card. Fur rendering is especially adapted to overheat the GPU and that's why FurMark is also a perfect stability and stress test tool for the graphics card. We ran the test at 5120x2880 Windowed with anti-aliasing disabled. (RED graph bar means FASTEST in FRAMES per SECOND.)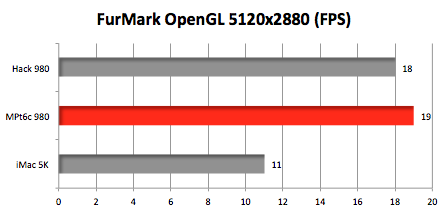 Valley OpenGL Benchmark "flies" through forest-covered valley surrounded by vast mountains. It amazes with its scale from a bird's-eye view of 64 million meters of extremely detailed terrain down to every leaf and flower petal. It features advanced visual technologies: dynamic sky, volumetric clouds, sun shafts, DOF, ambient occlusion.
We used Extreme preset customized to 5120x2880 windowed resolution with no Anti-aliasing, Ultra Quality for Shaders and Textures, and with Occlusion, Refraction, and Volumetric Shadows enabled. We posted AVERAGE frames per second. (RED graph bar means FASTEST in FRAMES per SECOND.)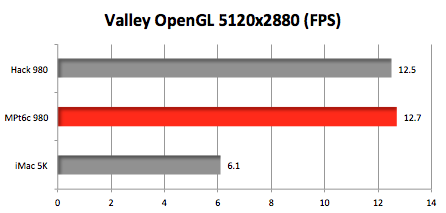 GFXBench - Manhattan On-Screen
The Manhattan scene is a true GPU-intensive test utilizing OpenGL features such as multiple render target for deferred rendering, geometry instancing, transform feedback and many more. We used Quartz Debug to disable beam sync. (RED graph bar means FASTEST in FRAMES per SECOND.)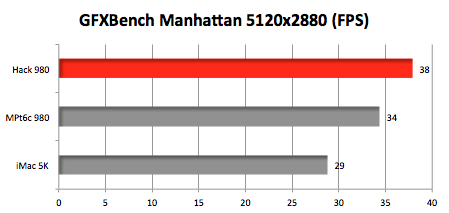 THOUGHTS
I don't know about you but I think this is a very exciting development. With a NVIDIA GeForce GTX 980 installed in a 2008-2012 Mac Pro tower, you have the capability of driving a 5120x2880 resolution display like the Dell UltraSharp 27 Ultra HD 5K Monitor. That setup actually trumps the iMac 5K in some ways since it is faster running GPU intensive apps that we featured here and it supports CUDA capable apps.
Like with the iMac 5K, most users will run their daily tasks scaled at either 2560x1440 or 3200x1800. And, as with the iMac 5K, the Dell 5K connected to the GTX 980 does those resolutions in HiDPI or 'Retina' scaling using all 14,745,600 pixels.
We successfully ran DaVinci Resolve 11.x and Octane Render 2.x. The only pro app not happy was After Effects CC's ray-trace 3D which gave an error when we loaded the Robot project. That appears to be an Optix issue, not a 5K issue.
We will share more details on the Hackintosh in a follow-up article, but suffice to say that if Apple offered a small tower with 4.0GHz Haswell Quad-Core i7 and the option of installing a GeForce GTX 980, you can see how it would perform graphics intensive tests compared to the iMac 5K.
DETAILS and CAVEATS
Besides the requirement of an NVIDIA Maxwell GPU like the GeForce GTX 980, you need the latest web based driver from NVIDIA for the Quadro K5000 for the Mac and the following boot-args in nvram: nv_spanmodepolicy=1 nvda_drv=1.
As for the Dell 5K, you must connect two DisplayPort cables to two of the DisplayPorts on the GTX 980. Also, after startup, you must power cycle the Dell 5K to jog it into 5K mode.
If you use a 'vanilla' GTX 980, there is no Apple boot screen. We got around that by installing the web driver and boot-args using a GeForce GTX 680 Mac Edition connected to an Apple Cinema Display. We rebooted to verify that the 680 was using the web driver. Then we installed the GeForce GTX 980 connected to the Dell 5K display.
Once you have gone through those hoops, the next time you power up. the only additional task is to power cycle the Dell 5K display after the Finder screen appears. Don't forget to Option+Click "Scaled" in the System Preferences > Displays tile to see all available resolution settings.
Some games we tested choked at 5120x2880 resolution. Left 4 Dead 2 (Steam) displayed the startup screen fine but when we began the TIMEDEMO run, it displayed the viewport in the upper left quarter of the screen with 'stretch marks' going to the rest of the screen. It runs normal fullscreen mode at 3940x2160 and 3200x1800. Tomb Raider either displayed crazy artifacts at startup or crashed when we tried to run at 5120x2880. It runs fine at 3940x2160 and 3200x1800. I trust those developers can easily fix these issues.
ADDENDUM
If you connect the single mini DisplayPort cable that comes with the Dell 5K to the Mac Pro tower with GTX 980, you get up to 3920x2160 HiDPI at 60Hz. You can go to even higher resolutions but they will be in 'LoDPI' mode without the 'retina' effect. Again, don't forget to Option+Click "Scaled" in the System Preferences > Displays tile to see all available resolution settings.
The 'Late 2013' Mac Pro 'turbo tube' *DOES* work with the Dell 5K -- but only in 4K mode at 60Hz. More on that in a future article where we will do a "4K shootout" between it and other Macs that are 4K aware.