Posted Tuesday, October 29th, 2013 by rob-ART morgan, mad scientist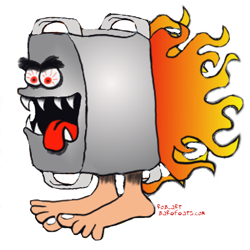 In previous articles, we've featured upgrades to the Mac Pro tower's GPUs and storage. It is time to take a look at ways to upgrade the main CPU of your Mac Pro tower. This is especially timely with the imminent release of the Mac Pro 'un-tower.'
EditBuilder.com loaned us a 'fire breathing' Mac Pro tower with a 3.46GHz 12-core CPU and 96GB of DDR3 memory. MacVidCards added to the fun by loaning us dual Radeon HD 7970s. (More on why later.) So how does this 'beast' stack up against factory Mac Pro towers when running CPU intensive benchmarks?
GRAPH LEGEND
MP 3.46 12c = Xeon X5690 3.46GHz 12 cores with 96G of 1333MHz DDR3
MP 3.08 12c = Xeon X5675 3.06GHz 12 cores with 64G of 1333MHz DDR3
MP 2.93 12c = Xeon X5670 2.93GHz 12 cores with 32G of 1333MHz DDR3
MP 2.93 8c = Xeon X5570 2.93GHz 8 cores with 64G of 1066MHz DDR3
MP 3.33 6c = Xeon W3680 3.33GHz 6 cores with 48G of 1333MHz DDR3
iMac i7 3.5 4c = 2013 iMac Core i7-4771 3.5GHz 4 core with 32G of 1600MHz DDR3
(All Macs were running Mt. Lion 10.8.5. Mavericks 10.9 wasn't final during our testing.)
Cinebench is the 'almost real world' test that uses code from the full version of Cinema 4D. Though there is a newer R15 version, but we used the 11.5 version. Cinebench uses all available CPU cores, real and virtual (Hyperthreading), when rendering its 3D model. (HIGHER rating is FASTER.)

Geekbench 3 includes integer, floating point, and memory performance tests. We focused on the 64-bit test set posting the Integer and Floating Point rating here. (HIGHER rating is FASTER.)


After Effects CC relies heavily on the CPU for rendering certain projects. You can choose the multiprocessing option in Preferences > Performance to define how many cores to use in rendering and how much memory to dedicate to each core. We specified all available cores and 2G of memory per core. (LOWER time in minutes is FASTER.)

LET's DISCUSS
Why go through this exercise when a new Mac Pro is imminent? Because many professionals are trying to decide whether to stick with their existing Mac Pro tower or replace it with the soon-to-be-released Mac Pro "un-tower." If you have a significant investment in internal and external addons that are not compatible with the new Mac Pro, you may hesitate to make the leap to the new form factor. In other words, the cost of switching can be much more than the cost of the new Mac Pro itself.
As you can see from the results, the current architecture, though bus speed limited, is still capable of being pushed to go faster. And based on Geekbench results which 'escaped' for the new Mac Pro, a pumped up 12-core Mac Pro tower should easily beat the top 2013 12-core Mac Pro "un-tower" when running CPU intensive pro apps.
WHAT ABOUT THE GPU?
The new trend of sharing render duties with the GPU will continue to grow. We've demonstrated that in previous articles using OctaneRender, DaVinci Resolve, and After Effects (Ray-traced 3D). In this test session, knowing that the new Mac Pro will sport dual AMD FirePros, we equipped our test unit with dual Radeon HD 7970s -- because, other than total VRAM, the performance specs match the FirePro D700 exactly. (Both OceanWave and OpenGL Extensions Viewer 'think' the 7970 is a FirePro D700.) HIGHER number equals FASTER.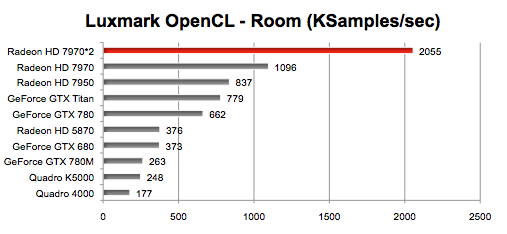 The point of the dual 7970s is to show another way to extend the life of the Mac Pro tower. Hopefully pro apps that accelerate only with CUDA capable GPUs (NVIDIA) will be modified to support OpenCL capable AMD GPUs like the FirePro and Radeon HD 7970. If that does NOT happen, you can always go with dual NVIDIA GPUs that are both OpenGL and OpenCL capable -- an option, BTW, only available with a 'traditional' Mac Pro tower.
FLASH: An even faster AMD GPU is coming, the R9 290X. According to a review by Anandtech, it rivals the speed of the NVIDIA GTX TITAN at a fraction of the price. MacVidCards is busy at work on a flashed version that's OS X compatible.
REALITY CHECK
Though the 2013 iMac we included was 'buried' by Mac Pro towers running multi-core CPU benchmarks featured above, in the 'real world,' a 12-core Mac Pro doesn't always have an advantage. A perfect example is Final Cut Pro X. When we rendered the Aged Film Effect on a 2 minute 1080p video, the newest iMac actually finished faster than the fastest 12-core Mac Pro featured above. How is that possible? One reason is that FCPX doesn't use more than 7 cores to render this video effect.

We can't complete the performance picture of old versus new Mac Pro until we actually test the 2013 model in our lab. Until then, you may want to keep 'flogging' your old Mac Pro tower.
Comments? Questions? Email me,
For notices on new articles, follow me on Twitter @barefeats
WHERE TO BUY AN UP-CLOCKED 12-CORE MAC PRO TOWER