First Posted September 1st, 2006, by rob-ART morgan, mad scientist
Updated and appended August 2010
On August 22nd, 2006, we purchased a "carrying case" for transporting our Mac test units to remote venues: a 2006 MINI Cooper S.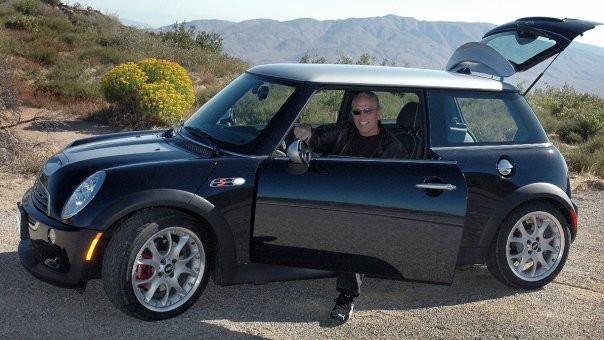 The MINI is not just a car. It's a driving experience that assaults all the senses -- especially if you opt for the John Cooper Works Tuning Kit that squeezes 207 horses out of the 1.6 liter engine to propel a 2500 lb "hot hatch."

It don't remember when I've had so much fun -- not even the time I was spent a weekend at the Jim Russell School of Racing at Laguna Seca --- not even the Saturday I spent at the Jim Hall Go Kart Racing School in Ventura. My MINI experience is further enhanced by the over 25 miles sweeping curves and tight hairpins between the nearest interstate and our mountain hideaway. I can drive my own version of the Nurburgring any day of the week -- and I often do it for the therapy.

As I was reflecting on the amazing performance of this "pocket rocket," on the subculture of "rabid" MINI owners, and on the tongue-in-cheek marketing approach of MINI USA, I saw a connection to Apple Computer.

APPLE SHOULD THINK SMALL AND FAST
I believe there exists consumers, like myself, who like small things that go fast. And I know how to reach that market. Offer "S" versions or "supercharged" versions of the "smallest Macs": Mac mini and MacBook.
These special editions could be "hopped up" with a faster CPU, a screaming mobile GPU with dedicated video memory, fast storage, and the choice of black, red, or silver aluminum enclosures. Of course Apple would need to charge extra for the "S" line but that's okay. We pro-sumers who like little things that go fast will gladly pay the price.

Look at what MINI Cooper buyers are willing to pay. The base MINI Cooper lists for $18K. The MINI Cooper S (as in "supercharger") starts at $22K. If you start adding options like the John Cooper Works Tuning Kit, Sports Suspension, Harman/Kardon sound system, leather seats, etc., the price quickly climbs to $33K and beyond. No problemo.

I first proposed the "S" concept for Apple products back in 2003 when the 12" G4 PowerBook was released. I wrote that it was a mistake to "hamstring" it with a slower CPU, slower GPU, and slow i/o ports. There should have been an "S" version for those who like small things that go fast.

I've spoken with professional photographers and videographers who feel the 13" MacBook (with a rugged industrial aluminum enclosure) would be perfect addition to their field kit -- especially if it had performance and features that matched the 17" MacBook Pro. (I realize since I originally wrote this, Apple offered a 13" MacBook Pro with aluminum enclosure and improved specs.)

If you are reading this article and work for Apple Computer, please pass this idea along to Jonathan Ives, the V.P. of Design. Maybe he and the folks at BMW MINI can conspire to design (and convince their respective companies to co-market) a matching "S" line of small things that go fast.

January 2008 UPDATE: Somebody at Apple either read this article or great minds think the same thoughts. They released the MacBook Air this month. It comes very close to our idea of an "S" version of the 13" MacBook. It has a thin, sleek aluminum enclosure, backlit keyboard, Core 2 Duo processor, 2GB of memory, and Solid State Disk Drive. Though we would like a faster than 1.8GHz CPU, more RAM, and GPU faster than GMA X3100, we have to admit that at 3 pounds it's the closest thing yet to the "MINI Cooper S" of Mac laptops.
December 2014 UPDATE: The current MacBook Air and iPad Air 2 exemplify the 'small and fast' spirit described above. We are looking forward to the rumored 12" MacBook Air with Retina display.
RELATED ARTICLES

SHOP APPLE STORE USA
Help support Bare Feats by clicking our Apple display ads or THIS Apple USA link when ordering any Apple product or Apple compatible product.

Live outside the USA? No problem. We are also an affiliate of these Apple Stores:
Has Bare Feats helped you? How about helping Bare Feats?