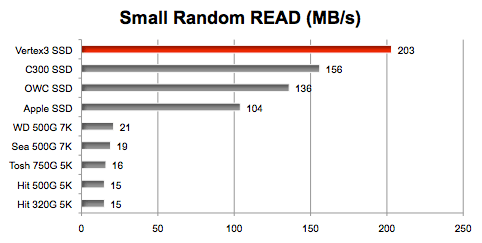 LEGEND
Vertex3 SSD = OCZ Vertex 3 6Gb/s 120GB SSD
C300 SSD = Crucial RealSSD C300 6Gb/s 256G SSD
OWC SSD = OWC Mercury Extreme Pro 240G SSD
Apple SSD = Apple factory installed 256G SSD (Toshiba?)
WD 500G 7K = Western Digital Scorpio Black 500G 7200rpm HDD (WD5000BEKT)
Sea 500G 7K = Seagate Momentus XT Hybrid 500G 7200rpm HDD
Tosh 750G 5K = Toshiba MK7559GSXF 750G 5400rpm HDD (Apple factory option)
Hit 500G 5K = Hitachi Travelstar 5K500.B 500G 5400rpm HDD (Apple factory option)
Hit 320G 5K = Hitachi Travelstar 5K500.B 320G 5400rpm HDD (Apple factory option)

INSIGHTS (updated April 7th, 2011)
1. The 2011 is the first MacBook Pro to have a 6Gb/s internal SATA interface. Notice how the OCZ Vertex 3 6Gbps SSD screams compared to the other SSDs including last year's lone 6Gb/s SSD (Crucial C300). Based on the SandForce SF-2200 chipset, the Vertex 3 has the excellent OS independent durability and performance enhancing features. Watch for other drive makers to offer a 6Gb/s SandForce SF-2200/2500 based SSD in the near future -- which we will also test and post.
2. The Apple SSD is slower than any other SSD we have tested with the exception of the Toshiba (on which Apple's SSD is based). Of course, relative to an HDD, it's very fast.
Of greater concern is the lack of multiple built-in durability and performance enhancing features like the SandForce based SSDs. Apple will support TRIM in OS X "Lion" but that only deals with block management.
3. Many users are put off by the expense of an SSD. Consider than a 480G SSD typically costs $1500 while a 512G 7K HDD typically costs $90. The HDD definitely offers more storage per dollar but you only have to look at the small random read/write graphs above to understand why I think SSDs are the preferred option for the main boot drive.
4. Of the hard disk drives (HDDs), the Toshiba 750G 5400rpm gives the most storage with respectable speed compared to the 7200rpm options -- though 750G 7200rpm drives are available from third parties. My advice for those with speed and size requirements is to buy the MacBook Pro with the 750G HDD. Remove it and replace it with an OWC Mercury Extreme SSD. Then install the 750G HDD in an external bus powered FireWire 800 enclosure.
A scenario for "speed freaks" like me is to order the 2011 MacBook Pro with a the cheapest factory HDD. Replace it with the fastest 6Gb/s SandForce based SSD like the OCZ Vertex 3 Pro. For fast external storage get the LaCie Little Big Disk Thunderbolt mini RAID enclosure with dual SSDs. Vroom, vroom.
5. Some readers are replacing the factory optical drive with an HDD or SSD using kits from MaxUpgrades or Other World Computing. This way you can have two internal HDDs or two internal SSDs or one of each. You can stripe (RAID 0) the dual SSDs. Or you can boot from the SSD and use the HDD for storing items that are are not speed critical. (NOTE: You will want to reinstall the optical drive if you take your MacBook Pro in for warranty repair.)
If you have comments or questions, email . You can also follow him on Twitter @barefeats.