Originally posted Thursday, March 3rd, 2011, by rob-ART morgan, mad scientist
WoW graph corrected on March 11th.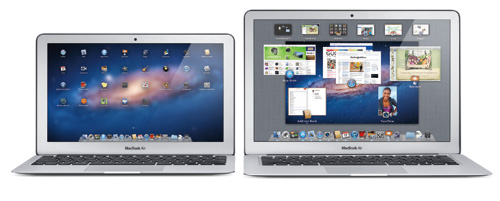 We have two 2011 MacBook Pros in our lab: The 2.7GHz MacBook Pro 13" dual-core i7 and 2.3GHz MacBook Pro quad-core i7 17". We are starting to received some 3D game results from our team of remote mad scientists but we decided to post this page right away. This article has two goals:
1. To show how the MacBook Pro with a dedicated GPU (Radeon HD 6750M) compares to a MacBook Pro with an integrated GPU (Intel HD 3000).
2. To show how both compare to a 2010 MacBook Pro 2.66GHz dual-core i7 with dedicated GeForce 330M graphics processor.
The settings are not extreme. We had to make the 13" MacBook Pro the lowest common denominator. So we started with 1280x800 resolution -- its native and maximum setting. Next we chose "quality" settings (shaders, texture, detail, multisampling, etc.) that produced "playable" frame rates on the 13" model. In a future article we will test the high end MacBook Pros at 1920x1200 "high quality" against the iMac and Mac Pro -- for a little perspective.
Blizzard Starcraft 2 was tested using a replay of a Roundabout War multiplayer session. We found by setting the viewport to the center square with the pools of water and statue, not only were our frame rates steady but the GPUs were pushed harder than when we observed game activity in the perimeters. For settings, we used the High texture and graphics quality presets.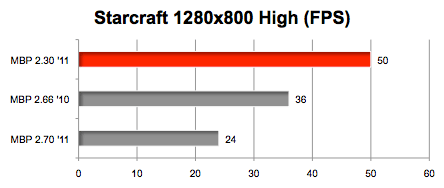 Steam Portal was tested with these settings: Model Detail = High, Texture Detail = High, Shader Detail = High Water Detail = Reflect All, Shadow Detail = High, Color Correction = Enabled, Antialiasing Mode = 4X, Filtering Mode = Anisotropy 4X Vertical Sync = Disabled, Motion Blur = Enabled. (Higher numbers are better. RED bar means fastest.)
Steam Left 4 Dead 2 is new to our test suite. It has a timedemo feature that can be invoked from the console mode the same way as Portal. We recorded a "survival mode" session and played it back with timedemo. Settings were Medium shader/effect/texture detail with trilinear filtering and no MSAA. (Higher numbers are better. RED bar means fastest.)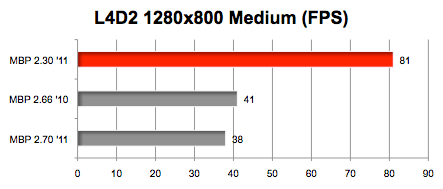 Blizzard World of Warcraft Cataclysm was tested Full Screen, 1x Multisampling, and "Fair" Quality (since the 13" MacBook Pro's integrated GPU is not allowed to go higher). Our "Narache Village Totem to Tree Sprint" emphasizes GPU over CPU. (Higher numbers are better. RED bar means fastest.)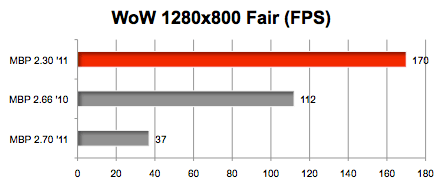 LEGEND
MBP 2.30 '11 = 'early 2011' MacBook Pro Quad-Core i7 2.30GHz w/Radeon HD 6750M graphics
MBP 2.66 '10 = 'mid 2010' MacBook Pro Dual-Core i7 2.66GHz w/GeForce 330M graphics
MBP 2.70 '11 = 'early 2011' MacBook Pro Dual-Core i7 2.70GHz w/Intel HD 3000 integrated graphics

INSIGHTS
1. If you are an avid gamer, you will want a MacBook Pro with a dedicated graphics processor. The Intel HD 3000 integrated GPU is going to get left in the dust. Also, be sure you disable "Automatic graphics switching" in Energy Saver on the top MacBook Pro model to get highest performance.
2. Even with a dedicated graphics processor, "last year's" MacBook Pro was beaten soundly by the 2011 Macbook Pro quad-core i7 with its Radeon HD 6850M.
3. We know you are anxious to see how other models of the 2011 MacBook Pro perform and how all 2011 models compare to the previous models. We have partnered with various remote mad scientists to produce that info in a future article once we have sufficient data. (We would love to buy one of everything to test it ourselves but our budget can't handle that.) If you own the 3D games featured above and any model of MacBook Pro different from those featured above, we would be glad to accept your help in testing. Email .
4. To see "extreme" 3D game results at 2560x1440, check out the page we posted after this one.
If you have comments or questions, email . You can also follow him on Twitter @barefeats.