Originally posted Friday, February 25th, 2011, by rob-ART morgan, mad scientist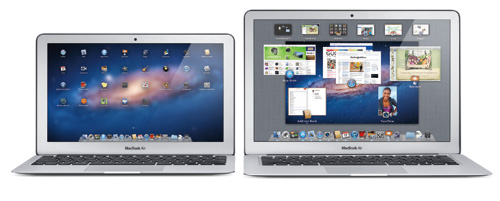 HOW GOOD ARE THE 2011 MACBOOK PROS COMPARED LAST YEAR'S MACBOOK PROS?
We're just getting started with testing but we wanted to give you a taste by running three CPU intensive benchmarks that use all available cores (real and virtual).
Geekbench provides a "comprehensive set of benchmarks engineered to quickly and accurately measure processor and memory performance." (Higher numbers are better. RED bar means fastest.)

Cinebench is based on MAXON's animation software Cinema 4D, which is used extensively by studios and production houses for 3D content creation. The CPU test renders a test scene with approximately 2,000 objects which in turn contain more than 300,000 polygons in total, and uses sharp and blurred reflections, area lights, shadows, procedural shaders, antialiasing, etc. (Higher numbers are better. RED bar means fastest.)

Using HandBrake, a multithreaded video transcoder, we convert a 2 min 20 sec HD test movie to iPad compatible format. (Lower numbers are better. RED bar means fastest.)

LEGEND
17" MBP 2.30 '11 = 'early 2011' MacBook Pro Quad-Core i7 2.30GHz w/Radeon HD 6750M graphics
17" MBP 2.66 '10 = 'mid 2010' MacBook Pro Dual-Core i7 2.66GHz w/GeForce 330M graphics
13" MBP 2.70 '11 = 'early 2011' MacBook Pro Dual-Core i7 2.70GHz w/Intel HD 3000 integrated graphics
13" MBP 2.40 '10 = 'mid 2010' MacBook Pro Core 2 Duo 2.40GHz w/GeForce 320M integrated graphics
INSIGHTS
1. When running MP aware apps, the new quad-core MacBook Pro smokes last year's and this year's dual-core -- even when the dual-core is running at a higher clock rate.
2. The fastest 2011 13" MacBook Pro runs faster than the fastest 2010 17" MacBook Pro. This should please consumers who like the 13" form factor but want strong CPU performance. However, before you get too excited, keep in mind that it has an integrated GPU. Keep reading.
3. Another way Apple has raised the bar is with the Radeon HD 6750 mobility dedicated GPU in the top models. I don't usually publish the Cinebench OpenGL results since I don't feel it truly stresses the GPU, but it does give a hint of the potential. Note the wimpyness of the integrated GPU in the two 13" MacBook Pros.

Next week we'll post a page showing how well the new MacBook Pros run 3D Games and graphics intensive Pro Apps.
4. Our humble lab can't afford to buy all models and configurations of the MacBook Pro. If you bought a 2011 MacBook Pro that differs from the two 2011 models we listed here, you can help us with testing. Email . Don't forget to follow him on Twitter @barefeats.
NEWS FLASH: It's been confirmed that the internal SATA port on the 2011 MacBook Pro is 6 gigabit. One reader installed a Crucial C300 and got 362MB/s average read speed for large sequential transfers. We're looking forward to testing the Intel 6Gb/s 510 SSD and OCZ 6Gb/s Vertex 3 which should be even faster.