The owners of the 2010 MacBook Air need a way to back up their internal storage or expand their internal storage. How do they interface with external storage? There are three ways: USB 2.0, SD slot (13" model), and WiFi.
Take a look at the performance overview. (RED bar means fastest)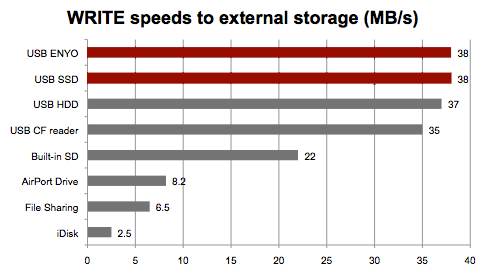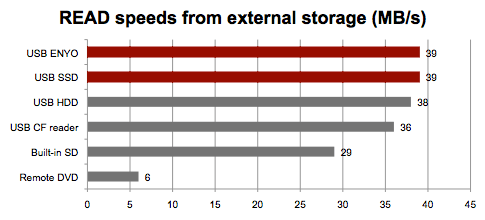 USB 3.0 FLASH DRIVES (Huh?)
The newest notebook storage option is the USB 3.0 portable solid state drive. The best example I've found is the OCZ ENYO. We obtained a 128GB version for testing. Though there are no USB 3.0 ports on the MacBook Air, the ENYO is downwards compatible with USB 2.0 and is as fast as any other USB 2.0 storage option for large sustained transfers.
So why bother to spend extra on solid state storage? Because the transactions per second are much higher than HDDs. We compared the fastest HDD (Seagate Hybrid) to the ENYO. The ENYO performed 45 times as many write transactions per second and 14 times as many read transactions per second. (see graph below) Furthermore, the ENYO does random reads for small files (4K to 64K) as much as 14 times faster than the fastest HDD. It does small random writes up to 4 times faster.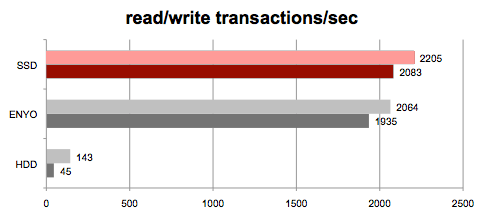 Finally unlike USB notebook enclosures with HDDs, the USB flash drives are bus powered. Though pricey, the OCZ ENYO is the lightest, fastest, thinnest external storage option for the MacBook Air. It even looks good next to the MacBook Air.
Think of it as a glimpse of the future. If and when Apple adds USB 3.0 support in the next generation MacBook Air (or MacBook Pro), you will experience large sustained transfer speed jump to over 200MB/s. Think future proofing.
USB NOTEBOOK DRIVE ENCLOSURES
Back to reality. There are many notebook enclosures for available in which you can install an HDD or SSD. Most of the newest ones have a USB 2.0 port as well as FireWire 800 and eSATA ports. One new offering is the ProStor725 from Trans International.
What about putting an SSD in the notebook enclosure? Though no faster on the USB 2.0 port than the HDD for doing large sustained transfers, like with the ENYO, it processes more transactions per second and does small random transfers faster. Check with OtherWorld Computing for pricing on their "do-it-yourself" notebook SSD enclosure upgrade kits.
SD SLOT and FLASH CARD READERS
The built-in SD slot is convenient not only for importing images from your digital camera's SD card, but some users have voiced their intention to use it as a backup medium. But SD cards currently go up to only 32GB and the fastest ones (30MB/s rated) cost $300.

Then there is the fact that not everyone with a digital still or video camera uses SD cards. We, for example use CF cards in our Nikon SLR and Memory Sticks in our Sony HandyCam. So how do we import those images or clips (other than direct connection to USB port)? We use the SanDisk ImageMate All-In-One USB 2.0 flash card reader/writer. It supports 21 different kinds of flash card. And it rivals the speed of USB HDDs and SSDs when it comes to transferring image files to the internal flash storage of the MacBook Air.

NETWORK STORAGE
There are four network options we tried: AirPort Extreme Base Station drive, File Sharing with another Mac, Remote Optical Disk, iDisk on MobileMe All of them are much slower than the USB 2.0 drive options, as you can see in the graphs above.
In the case of the AirPort Extreme, we connected the OCZ ENYO to its USB 2.0 port to provide the fastest possible transfer speed. We don't currently have an Apple Time Capsule in the lab but as you can see from the transfer speed, the network is the bottleneck, not the drive interface. So I doubt the Time Capsule will transfer files any faster.
In the case of the File Sharing example, we used a Mac Pro Westmere 6-core with a dual SSD RAID 0 set. So, again, the bottleneck is the network.
In the case of the Remote Optical Disc, we "shared" the 2010 iMac's slot load SuperDrive. Then on the MacBook Air chose it as the Remote Device. You can either install software from the remote optical drive or copy files from a CD or DVD. (BTW, when we installed iWork using the the iMac's SuperDrive remotely, it took 2.5 min. Surprisingly, it took 4.5 min to install the same software on the iMac ujsing its own SuperDrive.) One thing we could not do was burn a remote disc. For that you need the optional MacBook Air USB SuperDrive.
In the case of the iDisk on MobileMe, it's the slowest network storage option even with a fast internet connection.
NOTEBOOK RAID ENCLOSURES
So far we have limited the discussion to single drive enclosures -- the smaller and thinner the better. But a notebook RAID enclosure can be useful in some situations.
Notebook RAID enclosures are available with multiple port types. However, a fast RAID 0 (striped) enclosure connected to a USB 2.0 port is an oxymoron. It's not going to be faster than a single USB drive. However, there are other reasons for a RAID enclosure. With RAID 1, you are mirroring the transfer --- writing to two drives simultaneously. One example of dual drive enclosure with the RAID 1 option is the IStoragePro Pocket View.
DESKTOP ENCLOSURES
Of course, you can always go big with an enclosure designed for 3.5" drives. One that comes to mind is the slim new ProStor735 from Trans International. It features the "stick it in and go" feature. This video explains it better. Why go 3.5" HDD? It gives you the option of multi-terabyte storage a low cost.
INSIGHTS
Good news: The MacBook Air USB 2.0 port does sustained WRITES faster than the USB port on the other 2010 Macs. We connected the OCZ USB 3.0 Flash Drive to the USB 2.0 port on four Macs:

Now the bad news: With no eSATA, no USB 3.0, and no FireWire 800, you must you lower your expectations in terms of transfer speed. For example, we tested solid state drives on four interfaces:

Though USB 2.0 feels restrictive to those of us accustomed to faster interfaces, it does an acceptable job of transferring data to/from external storage. But I would be pleased if the next generation MacBook AIr or MacBook Pro had built-in USB 3.0 ports -- and backlit keyboard.
Feedback or comments? Contact me , mad scientist.
Also, you can follow him on Twitter @barefeats