REVIEW:
Verizon Wireless ExpressCard/34
3G Mobile Broadband Solution
Posted September 29th, 2006, by rob-ART morgan, mad scientist
Updated on March 16th, 2007 with info on a new 3G Rev A ExpressCard.
Since our MacBook Pro has an ExpressCard slot, we decided to give the Verizon Mobile Broadband ExpressCard/34 (Novatel V640) a try. As many of you know, we've been using Verizon PCMCIA (Cardbus) cards in our PowerBooks since early 2005 to access their mobile broadband data network. But when we bought the first MacBook Pro for the lab back in March 2006, it had an ExpressCard/34 slot. And no cellular company had an ExpressCard mobile broadband solution. That's changed. As of August 2006, the Novatel V640 ExpressCard/34 became available through Verizon Wireless. (Since we first posted this article, Sprint and Cingular/AT&T have released an ExpressCard mobile broadband product.)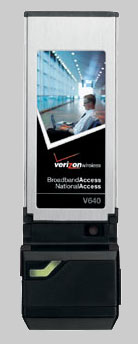 When I first activated the V640, the download speed was peaking at 144K. That was unacceptably slow -- but sounded strangely familiar. Sure enough, when I called to complain, they admitted that they had mistakenly configured us to "National Access" (max download 144K) instead of "Broadband Access" (up to 2Mbit/s bursts) when the account was set up.

After that was addressed, I did more speed testing. Now the download speed (according to DSLreports.com) was running between 850Kbps and 1000Kbps. That was more like what we expected.
FLASH! On March 15th, 2007, Verizon announced they would ship the V740 Rev A ExpressCard/34 beginning March 30th. Verizon Wireless has begun upgrading their broadband mobile network to EV-DO Rev A. The V740 takes advantage of this whereas the V640 ExpressCard featured in this article does not. (EVDOinfo.com gave us a heads up on the new V740 ExpressCard. Their 3GStore is offering it for $109.99 with a two year contract, or $70 less than Verizon Wireless direct.)
As of April 10th, our Verizon broadband data network has been upgraded to Rev A. We're seeing over 1600Kbps download and over 500Kbps upload speeds with the V740.
WHAT'S THE BIG DEAL WITH MOBILE BROADBAND INTERNET ACCESS?
Why aren't we using Cable or DSL via an AirPort base station instead? Why bother with Verizon Wireless's $59/month wireless "unlimited"** broadband service? For starters, our Bare Feats lab is in a remote mountain area with no Cable or DSL service. More to the point for most of you, if you want a "surf from anywhere" solution for your laptop, 3G mobile broadband is the best solution we've found. Whether on a local shopping trip, sitting in the doctor's waiting room (with no WiFi), or driving down the interstate highway, you're able to access the internet quickly and reliably. (This assumes you are in one of the metropolitan areas serviced by digital Verizon Wireless' broadband. Even if you aren't in the broadband zone, you can connect at the 144Kbps speed as long as you have a digital signal.)

Wireless broadband is a lot easier to use than "pecking" your query into a GPS system or VZ Navigator (a subscription service on my Verizon Wireless RAZR phone). My RAZR phone is able to serve as a GPS device using the VZ Navigator service. (It takes eleven clicks through menus just to get to the service -- no short cuts.) And "typing" in an address through the keypad can be very frustrating and time consuming. And though it produces visual directions, it has to use multiple pages on its tiny screen. And you can forget entering a search like "find the nearest Apple Retail Store in Honolulu."

An easier way is to wake up the MacBook Pro with the Verizon Wireless broadband wireless PC card installed. One click and you are connected to the broadband network. Safari is already running and the "maps.google.com" site is already loaded. Type in the city or address or business type using the "real" keyboard. Do a "get directions" or "find businesses" and "poof," a one screen overview of the route to the destination with directions in the sidebar.

I usually do a screen dump (SHIFT + COMMAND + 4; drag select) to save the directions on the desktop for quick review without having to look it up again.

There are other advantages to having a mobile broadband wireless solution. On a recent long road trip, I was able to keep up with my email and post updates on the Bare Feats site. At one point we checked into a hotel that boasted of free high-speed internet only to find out the system was down. No problemo. Whip out the wireless PC card and off we go.

Some of you heard the story of my wife, Bet-TAY, spending hours at the side of her mom in the hospital back in early 2005. Thanks to the broadband wireless service, she was able to send email updates to the rest of the family on her mom's condition. I often use it in church to access online Bibles and Bible commentaries -- or to check the progress of NFL games.

WHAT IF YOU DON'T HAVE AN EXPRESSCARD SLOT?
Now, the V640 ExpressCard is great for the MacBook Pro, but what if you want to use the Verizon's mobile broadband network on a Mac with no ExpressCard slot?

If you have a 13" MacBook (with no ExpressCard slot), Verizon has a USB modem (USB720) which is 3G Rev A rated. It also works on a MacBook Pro if you already have some other kind of ExpressCard using your slot. If you have a PowerBook with a PCMCIA (Cardbus) slot, the Verizon PC 5750 card is 3G Rev A rated.


WANT TO SHARE YOUR MOBILE BROADBAND CONNECTION?
The president of the San Diego Mac User Group (SDMUG.org) emailed me that he had been using a Kyocera KR1 Mobile Router to access Verizon Broadband. I found it on Amazon.com and ordered one. We plugged our KPC650 Verizon PCMCIA card into it and it works like a charm. It's easy to setup. We just look for the "KR1" on the AirPort network and "rock'n'roll."
The KR1 is a possible solution for those of you who bought a MacBook Pro and already have a CardBus Verizon Broadband card that won't fit the ExpressCard slot. However, for the price of the router ($199), you won't save any $$$ over buying the ExpressCard at full price. The big deal on the router is shared wireless access and freeing up use of your MacBook Pro's ExpressCard slot for other things -- like a SATA host adapter.
We use the KR1 router to share our Verizon 3G mobile broadband connection with any Power Mac or Mac Pro in our back country lab. (Since we added the booster antenna to the KPC650 PCMCIA card, we consistently see over 1500Kbps download speeds.)
The KR1 not a true mobile solution unless you plan to carry around the router along with the optional battery pack or have a DC-to-AC converter in your car.

YOU CAN ALWAYS USE A 3G RATED PHONE
I was thinking, "Aren't some of the Verizon Wireless phones 3G capable?" After checking, I learned my RAZR V3c phone is mobile broadband "aware." And I already had a USB cable with a Mini-B connector at one end. It fits the connector used by the RAZR's battery charger. So I decided to experiment with using the RAZR as an alternative to the ExpressCard. (If your broadband capable cell phone doesn't have a Mini-B USB port, you will need to purchase a connection kit from your cellular dealer for your broadband capable cell phone.)

The ExpressCards and PCMCIA cards from Verizon Wireless include a CD with both Mac and PC versions of VZAccess software. It takes the guesswork out of setting up the connection and provides a "pretty face" for using it. It even collects download/upload speed stats during your internet session. But we discovered this software is not required on a Mac for the ExpressCard or the RAZR phone. That's because the current version of Mac OS X "Tiger" comes standard with a WWAN support modem script.

ASSUMING YOU HAVE ACTIVATED BROADBAND SERVICE TO YOUR RAZR PHONE EVEN ON A TRIAL BASIS, if you simply plug the RAZR phone into a USB port, OS X recognizes it and creates an entry in the Network Preference Panel labeled "Motorola V3c." Click the "PPP" tab and enter "<yournumber>@vzw3g.com" in the Account Name, "vzw" for the password, and "#777" for the Telephone Number. I also added a descriptive phrase for "Service Provider" such as "broadband via cell phone."

Then click the "Modem" tab to set your modem script to "WWAN support" or use the older "Verizon Wireless (PC 5220)." Check the box next to "Show the modem status in menu bar." Click "Apply Now."

A telephone icon will appear in the Finder Menu bar in the upper right next to the AirPort icon, Sound icon and others. Click it and a menu drops down. Choose Connect. Once it connects, a numeric timer will appear next to the icon, indicating the connection is established. You're ready to rock'n'roll.

I must emphasize again that you will need Verizon Wireless's broadband service activated on your phone for the above to work. They will let you try it out for 14 days if you are not sure it's right for you. The cost for unlimited access is $59.95 a month currently, which is a little stiff compared to what you probably pay for DSL or Cable service. The whole point here is that, if your business needs or personal priorities demand that you access internet from anywhere in your city (or any other city that supports the wireless broadband system), then using your phone for broadband access can be a real enhancement to your digital lifestyle.

NOTE: Some of you reported back that Verizon Customer Service told you that the RAZR phone does NOT support Broadband. They are either misinformed or just don't want to be bothered providing tech support for RAZR broadband user. I had no trouble getting them to activate broadband on my RAZR. I guess it depends on who answers the phone at Verizon Support.
The broadband cell phone scenario works on any Mac, old or new, that runs OS X. It was the flexibility of the RAZR phone that convinced me to return the ExpressCard and transfer to the broadband account to the phone. I like the versatility of being able to use it on any Mac. And, by the way, there was no dowload/upload speed difference between using the RAZR phone versus the ExpressCard. Both achieved virtually identical download and upload speeds.

I'm not saying the ExpressCard is a bad idea or bad product. If your only goal is to have your MacBook Pro "surf the net from anywhere in my city" solution, it's a sweet setup. Ditto for the PCMCIA (Cardbus) mobile broadband card for the PowerBook.

ADVANTAGE OF CELLULAR BROADBAND WIRELESS OVER WIFI
You don't have to find a "hot spot" to use Verizon's broadband wireless network. In our case, it covers the whole county of San Diego. It works great even in a moving vehicle.
ADVANTAGE OF THE EXPRESSCARD OVER THE RAZR PHONE
The cell phone used as a broadband modem becomes a sometimes unwieldy dangling appendage to your laptop whereas the ExpressCard fits neatly in its slot.

ADVANTAGE OF THE RAZR PHONE OVER THE EXPRESSCARD
Any Mac with a USB port can access the Verizon Wireless broadband network if you use a broadband capable phone like the RAZR. It's more versatile than the ExpressCard which will only work in a MacBook Pro.

You can still receive voice calls on the RAZR phone while it's connected to broadband. You are just limited to the length of your USB cord when you pick it up to answer. If that's a problem, read about the Bluetooth scenario below or forward your calls to another cell phone or land line (*72<forwarding_number>). Or you can add another phone to your family plan (up to 5 phones allowed) and dedicate it as a broadband device.

BONUS: We observed the MacBook Pro, Mac Pro, and Quad-Core G5 charging the phone while it was connected (just like it was an iPod).

BLUETOOTH
If your phone is Bluetooth capable (like my RAZR), you can use Bluetooth instead of a USB cable to connect to the broadband network using the RAZER phone. However, the download speeds dropped. In our case, we saw the speed drop from 900 to 400 in one test session where we switched back and forth between USB and Bluetooth. This is due to the bandwidth limitation of Bluetooth. According to one source, the highest real world speed you'll ever see from Bluetooth is 723Kbps.

Also, if you use it as a USB device, the MacBook Pro charges the phone while it's connected (similar to your iPod). If used as a Bluetooth device, it not only drains the phone's battery, but it keeps disconnecting even though we were checking email every minute.

TIPS ON WIRELESS BROADBAND USAGE
#1 -- Whether using a CardBus, ExpressCard or cell phone, it disconnects from the Verizon Wireless broadband network after a period of inactivity. We were able to keep it connected by having Mac OS X Mail app check for new messages every 5 minutes. Or you can bring up a self refreshing webpage like the NFL.com scores page.

# 2 -- If you leave the ExpressCard plugged into your MacBook Pro, it might not fit in your carrying case. We suggest a soft case with dual zippers so the card can protrude between the two zippers. Or find a case big enough so there's clearance for the protruding card. If you have a 15" MacBook Pro, for example, you can use a hard case designed for a 17" MacBook Pro or 17" PowerBook. Of course, you can always remove the card and put it the side pocket of your case.
**"UNLIMITED USAGE" is NOT unlimited
One of our readers pointed out the small print at the bottom of Verizon's print ads for their unlimited broadband service. When they say "unlimited," they mean in terms of time you can speed reading your email or browsing the internet. They add this phrase: "If more than 5GB/line/month, we presume use is for non-permitted uses and will terminate services." (Eek!)
If they are assuming you are running a server on their connection, that's a crazy thought since the upload speed is about 100Kbit/s max. If they mean downloading of software updates, iTunes (songs and movies), and email attachments can't exceed 5GB a month, that could be a big bummer. Who keeps track of that total on the fly?
We noticed that our monthly Verizon bill reports the amount of data downloaded in a given billing period. My typical usage is 3.5GB/month. I asked a Verizon Tech Rep about this policy. They assured me that a letter is sent to the subscriber warning them before they terminate service. I hope that's true in my case.

WHERE TO BUY A WIRELESS BROADBAND EXPRESSCARD/34 for the MacBook Pro
Verizon Wireless offers the ExpressCard V640 for $179 with a two year contract. The unlimited broadband service is $59.95 per month if you have cell phone service with Verizon. Can you upgrade your CardBus broadband wireless card to an ExpressCard? Not at this time but Verizon assured us their management is discussing an upgrade plan.

The 3GStore has the ExpressCard V640 for only $99 and the V740 for only $109. Plus they do a much better job of supporting Mac users than Verizon. They also sell the Mobile WiFi Routers that let you share your EVDO connection with multiple Macs.
WHERE TO BUY A MACBOOK PRO
Apple Online Store -- New MacBook Pros; New and Refurbished PowerBooks

For noise suppression, nothing beats ear covering headphones like the Bose Quiet Comfort 2. For ear "fobs," we use the Bose In-Ear Headphones when listening to our iPod -- Help support Bare Feats by ordering your Bose headphones from Sharper Image.
Has Bare Feats helped you? How about helping Bare Feats?