Originally posted Friday, July 22nd, 2011, by rob-ART morgan, mad scientist
Same day about 10AM PST, added the 2011 Mac mini Core i5 to the mix.
Yesterday we got our hands on a 2011 MacBook Air Core i7 with 4G of RAM and a 256G SSD. We ran some preliminary benchmarks and, in the graphs below, compare it to last year's top MacBook Air and two 2011 MacBook Pros.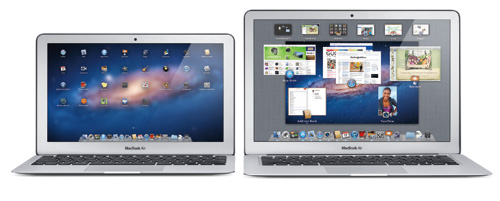 MAXON CINEBENCH 11.5
Though a benchmark, it uses code from a real world 3D modeling app, Cinema 4D. The numbers in the graph represent a rating that Cinebench gives. Higher is better. The RED bar represents the fastest.
PRIMATE LABS GEEKBENCH 2.1.13 (64-bit)
Measuring multi-core processor and memory performance, the overall score combines the integer, floating point, and two memory tests in to one overall score. (LONGER bar means faster rating.)

HANDBRAKE 0.9.5
We used this popular app to transcode an H.264, 960x540, 2 min 20 sec sample movie to iPad format (using a preset provide by the makers of Handbrake). SHORTER bar means faster time in seconds.

APPLE MOTION 5
When you are editing a project, it's nice to be able to play the animation without having to render it first. So we opened the Atmospheric sample project and hit the "play" button. Though the fastest GPUs would often spike to 60 fps during playback, we timed the playback of all 600 frames and calculated the average fps. You can see from the graph how close each Mac came to the target speed of 24 fps. (LONGER bar means faster frames per second.)

VALVE's STEAM POWERED PORTAL
We ran our timedemo (simulated game session) with these settings:
Model Detail = High, Texture Detail = High, Shader Detail = High, Water Detail = Reflect All, Shadow Detail = High, Color Correction = Enabled, Antialiasing Mode = 4X, Filtering Mode = Anisotropy 4X, Vertical Sync = Disabled, Motion Blur = Enabled (LONGER bar means faster frames per second)

GRAPH LEGEND
2011 MBP 2.3 Core i7 = 2011 MacBook Pro 2.3GHz quad-Core i7 with 8G of 1333MHz DDR3 SDRAM and AMD Radeon HD 6750M GPU with 1G DDR5 memory
2011 MBP 2.7 Core i7 = 2011 MacBook Pro 2.7GHz dual-Core i7 with 8G of 1333MHz DDR3 and Intel HD 3000 integrated GPU that "borrows" up to 512M of main memory
2011 mini 2.5 Core i5 = 2011 Mac mini 2.5GHz dual-Core i5 with 4G of 1333MHz DDR3 and AMD Radeon HD 6630M GPU with 256M DDR5 memory
2011 MBA 1.8 Core i7 = 2011 MacBook Air 1.8GHz dual-Core i7 with 4G of 1333MHz DDR3 and Intel HD 3000 integrated GPU that "borrows" up to 384M of main memory
2010 MBA 2.13 = 2010 MacBook Air 2.13GHz Core 2 Duo with 4G of 1066MHz DDR3 SDRAM and NVIDIA GeForce 320M GPU that "borrows" up to 256M of main memory

All four laptops had Apple's 256GB Solid State Drive. The 2.3GHz MacBook Pro, the 2.5GHz Mac mini, and the 1.8GHz MacBook Air were running OS X Lion. The other two Macs were running OS X Snow Leopard.
INSIGHTS
The 2011 MacBook Air Core i7 is twice as fast as the 2010 MacBook Air Core 2 Duo in four of the five tests we featured on this page.
In the case of Portal, it was only barely faster than last year's MacBook Air. Both use an integrated GPU. For serious laptop gamers and 3D animators, you'll want a MacBook Pro with a dedicated GPU.
Though more than adequate for mere mortal tasks (Safari, Mail, etc.), the 2011 MacBook Air remains at the bottom of the Mac "food chain" when running apps that stress the CPU, GPU, and memory. This will be further illustrated with soon-to-be posted tests using After Effects, Aperture, Final Cut Pro, etc.
ABOUT THE MAC mini
Notice I squeezed the 2011 Mac mini in the middle of the graphs for yet another perspective. As you can see from the graphs, it falls somewhere between the 2.7GHz MacBook Pro and the 1.8GHz MacBook Air in CPU crunching power. The dedicated AMD GPU, as expected, is stronger in 3D gaming and animation but the limited VRAM hampers it in the Motion playback.
MORE TO COME
We plan to include more permutations of MacBook Air in the mix. And as indicated above, we're just getting started as we work through our suite of real world tests. To be notified of additional test results, subscribe to our RSS feed or follow us on Twitter@barefeats. If you have a question, comment, or want to volunteer to do testing on your Mac, .