The MacBook Air 2011 is shipping as of today along with OS X Lion. Let's talk about the key changes compared to the 2010.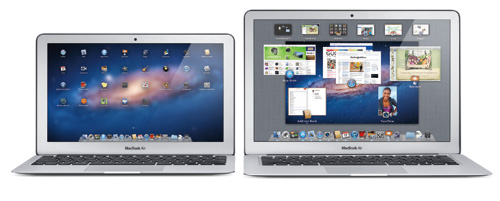 THUNDERBOLT
This is the biggest enhancement. My biggest complaint about past MacBook Airs was the lack of fast i/o ports. The USB 2.0 ports provided were painfully slow. Adding a Thunderbolt port is a very big deal. As we have pointed out in our test of the Promise Pegasus R4 Thunderbolt enclosure, you no longer need a Mac Pro to have fast external storage.
BACKLIT KEYBOARD
It made me crazy when they dropped backlighting in the 2010 MacBook Air. I drew cartoons mockingly showing how to compensate for the lack of backlighting. I'm so glad it's back.
PROCESSOR
Instead of Core 2 Duo, you now have the choice of a Core i5 or Core i7, though they are not quad-core for obvious (heat & power) reasons. In other words, it will run long and cool on battery power but won't match the rendering power of the quad-core MacBook Pro.
GRAPHICS
The screen resolution of the 13" model remains at 1440x900. The integrated GeForce 320M has been replaced with an integrated Intel HD Graphics 3000. Video memory has been raised from 256MB to 384MB, though it's still shared with main memory. (Apple tech note says that if you have 8G of main memory, it will allocate up to 512MB to the HD 3000.) This GPU is fine for certain tasks but if you are a "laptop gamer," you'll want a MacBook Pro with a dedicated GPU with dedicated VRAM. The same is true if you are using apps like Final Cut Pro and Motion which "lean" on the GPU to help render effects.
MEMORY
The main memory of the top model remains at an acceptable 4GB. Memory clock speed has been increased from 1066MHz to 1333MHz. The 2GB equipped low-end model can be ordered with 4GB online. It can't be upgraded by the user (like you can with the MacBook Pro). I use the word "acceptable" because, as I've demonstrated in past testing with apps like After Effects and Motion, less than 8GB of memory can handicap you.
STORAGE
Flash storage remains the standard (and only) option. By being careful, I can live with 256GB. For me (and most users), 128GB will be restrictive without the existence of external storage expansion. And who wants to carry around another device? (I fully expect companies like OWC to offer internal flash storage upgrades similar to what was offered for the 2010 MacBook Air.)
PRICING
Did you know that both the 11" and 13" models are available with the 1.8GHz Core i7 CPU, 4G of DDR3 memory, and 256GB Flash Storage? The 13" in that configuration is only $50 more than the 11" plus it sports an SD slot and has a two hour longer battery life. Unless you want or need the smaller form factor, I think the 13" is a better buy.
QUESTIONS REMAIN
We've ordered the 13" Core i7 model. Once it arrives, we will test it with a Thunderboolt enclosure to verify the same transfer speeds we saw with the 2011 MacBook Pro and iMac.
We're also curious to see if the SD card slot performs well with the new, faster SDHC UHS-1 cards. (We saw 59MB/s read speeds when testing the Kingston Ultimate XX on our 2011 MacBook Pro.)
What are the benefits of the upgrade from Bluetooth 2.1 + EDR to Bluetooth 4.0? Has the speed jumped from 2.1Mb/s to 24Mb/s (with the addition of Alternate MAC/PHY or "AMP")? Or is it implemented because it has low energy protocols lacking in 2.1? And will I be able to use my Bluetooth 2.1 headphones?
Of course, we will be testing it with our suite of CPU and GPU benchmarks to compare it to last year's MacBook Air as well as other Macs.
To be notified of additional test results, subscribe to our RSS feed or follow us on Twitter@barefeats. If you have a question, comment, or want to volunteer to do testing on your Mac, .