July 13th, 2018, by rob-ART morgan, mad scientist
July 14th - UPDATE: actual results for 2018 MacBook Pro 6-core with Pro 560X GPU
Let's analyze the subsystems of the 2018 MacBook Pro 15 inch that are supposed to raise the performance above the 2017 version.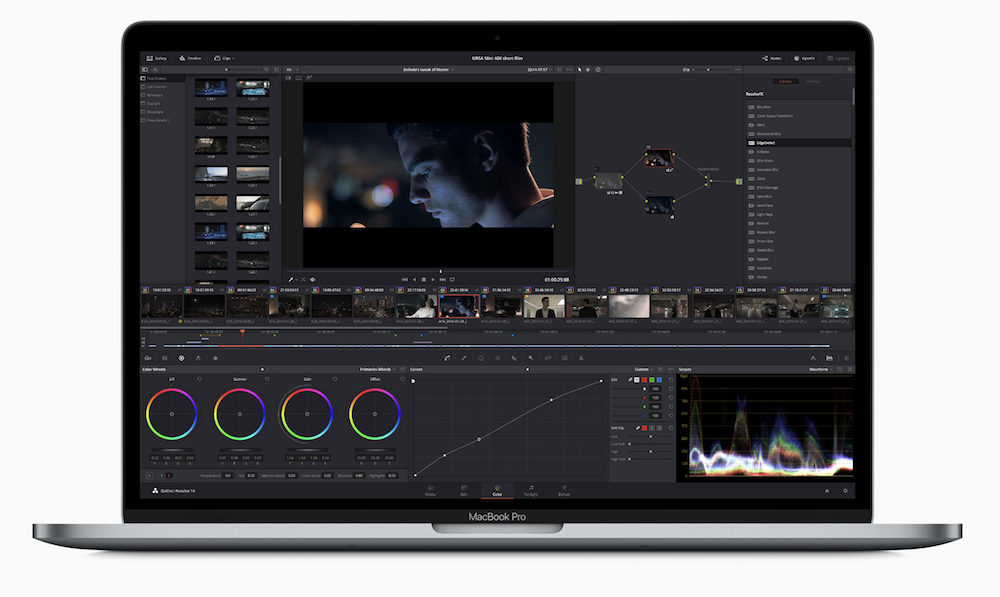 MEMORY
The option to go up to 32GB of RAM is important to professional users. For example, if you launch Motion, open a 600 frame project, and do a RAM Preview, you just consumed 13G of RAM. The total system use is at 19G. Open a second 600 frame project and do a RAM preview, now the total consumption of Motion is up to 24G of RAM. Total System consumption is 31G.
Another example is After Effects CC. We opened a sample project and rendered it. AE consumed 22G of RAM. Total system usage was 30G. And in both examples, no other pro apps were running.
One more thing: According to Apple, the 2018 MacBook Pro's 32GB of DDR4 2400MHz DDR4 memory is up to 2.8 times faster than the 2017 MacBook Pro's 16GB of 2133MHz LPDDR3 memory.
CPU
UPDATE: Six cores are better than four. Geekbench Multi-Core Score for the 2018 MacBook Pro (Intel Core i9-8950HK 2.9GHz 6-core) is now available: 24957. The fastest CPU in the 2017 MacBook Pro (Intel Core i7-7920HQ 3.1GHz 4-core) scored 16999. So if you are running a pro app that uses all cores, the 2018 top model has a 47% advantage.
And note to those trying to decide between the fastest 2018 MacBook Pro 6-core and slowest 2017 iMac Pro 8-core: The iMac Pro with a Geekbench Multi-Core Score of 33688 is 29% faster.
GPU
UPDATE: We now have Geekbench OpenCL Compute Score for the 2018 MacBook Pro with Radeon Pro 560X GPU: 63107. Thats 7% faster than the 2017 MacBook Pro's Radeon Pro 560 GPU's Score of 58891. We speed freaks are greedy. What we really wanted was a Mobile Vega GPU.
And for the curious, if compared to the Radeon Pro Vega 56 in the entry level iMac Pro, it loses big. Why? Because the Pro Vega 56 OpenCL Compute Score of 170738 is over TWICE as fast.
FLASH STORAGE
The flash storage speed will be essentially the same for both 2017 and 2018 MacBook Pro: 3200MB/s READ speeds.
Comments? Suggestions? Feel free to email me,
Follow me on Twitter @barefeats
WHERE TO BUY 2018 MacBook Pro and OTHER APPLE products:
USA readers can help us earn a commission by using this Apple Store USA link or by clicking on any Apple display ad.
Live outside the USA? No problem. We are affiliated with these Apple Stores: