November 30th, 2018, by rob-ART morgan, mad scientist
The previous article used GPU intensive benchmarks and games to highlight the benefits of adding an eGPU to the 2018 Mac mini. Today we show how it may or may not improve the performance of pro apps.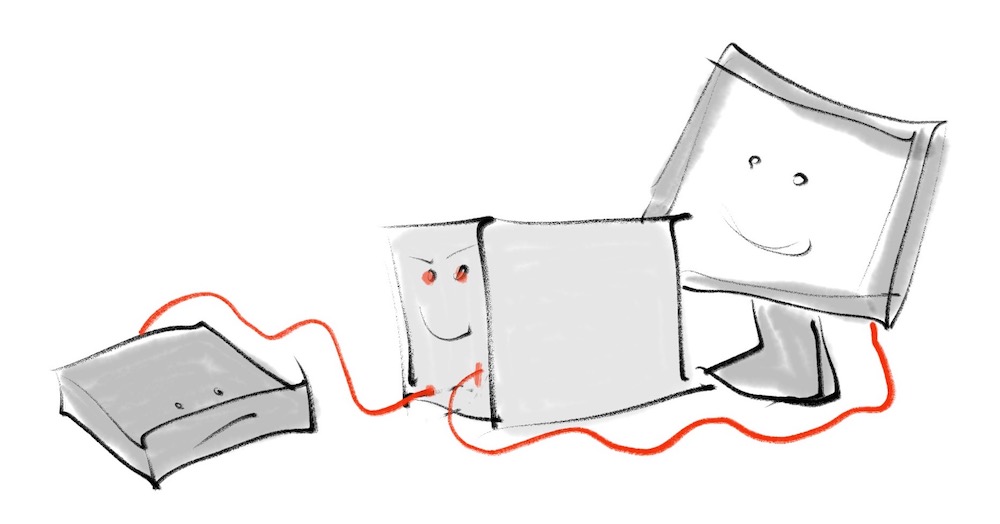 GRAPH LEGEND
Mac mini i5 = 2018 Mac mini 3.0 GHz 6-Core i5, 8G RAM
Mac mini i7 = 2018 Mac mini 3.2 GHz 6-Core i7, 16G RAM
Node Pro Vega56 = AKiTiO Node Pro + Radeon RX Vega 56 GPU
Puck 570 = Sonnet eGFX Breakaway Puck + Radeon RX 570 GPU
UHD 630 = Mac mini's integrated Intel UHD Graphics 630 GPU
LG indirect = In most cases we connected our Dell 5K display directly to the DisplayPort on the eGPU's GPU and it was the main and only display. But with each setup, we also tested using an LG UltraFine 5K display plugged directly to the mini's TB3 port. And the eGPU was connected to a separate TB3 port (and not connected to a display).
DaVinci Resolve
This is a looping playback of a 1080p clip (Candle project) with noise reduction added and rendering on the fly. The graph displays the results using OpenCL which was faster than Metal, in this case. (HIGHER frames per second = FASTER)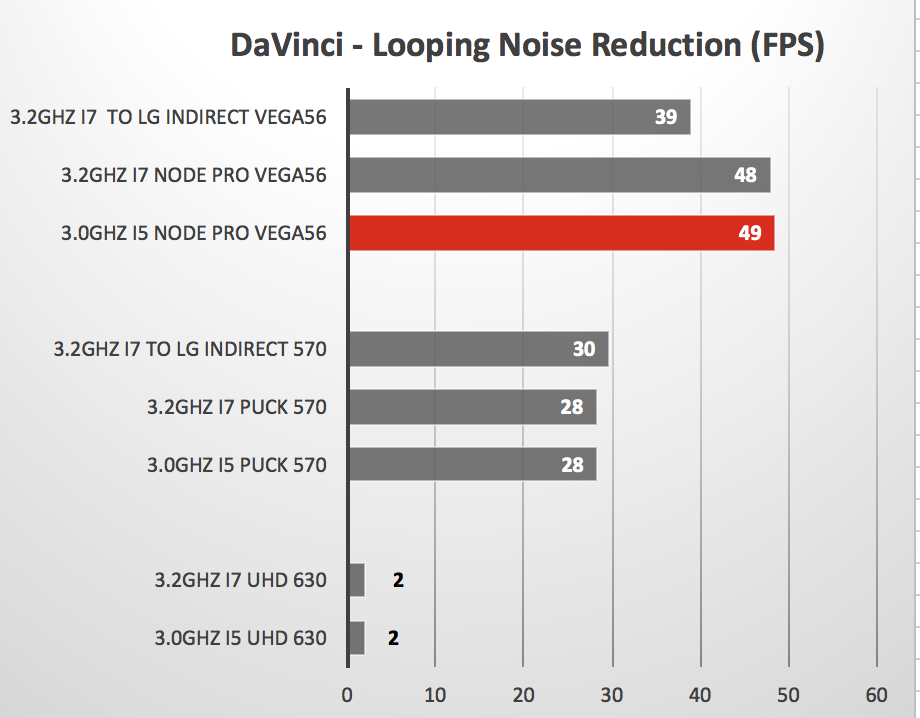 This is a looping playback of a 3840x2160 RED (R3D) clip. (HIGHER frames per second = FASTER)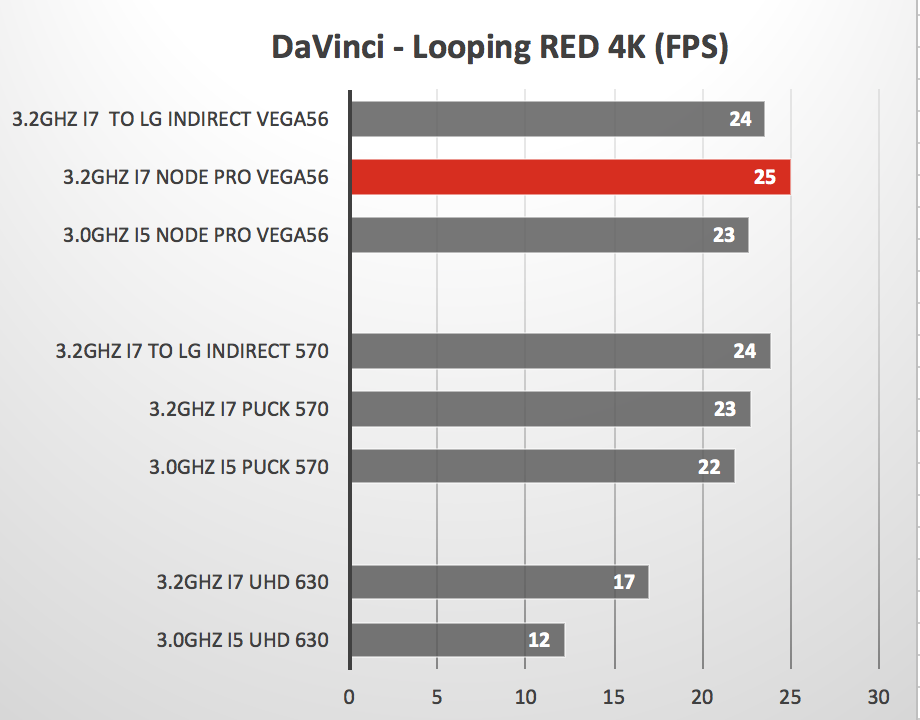 Motion
We performed a Render RAM Preview of the Atmospheric sample project. We calculated frames per second. (HIGHER Frames per Second = FASTER)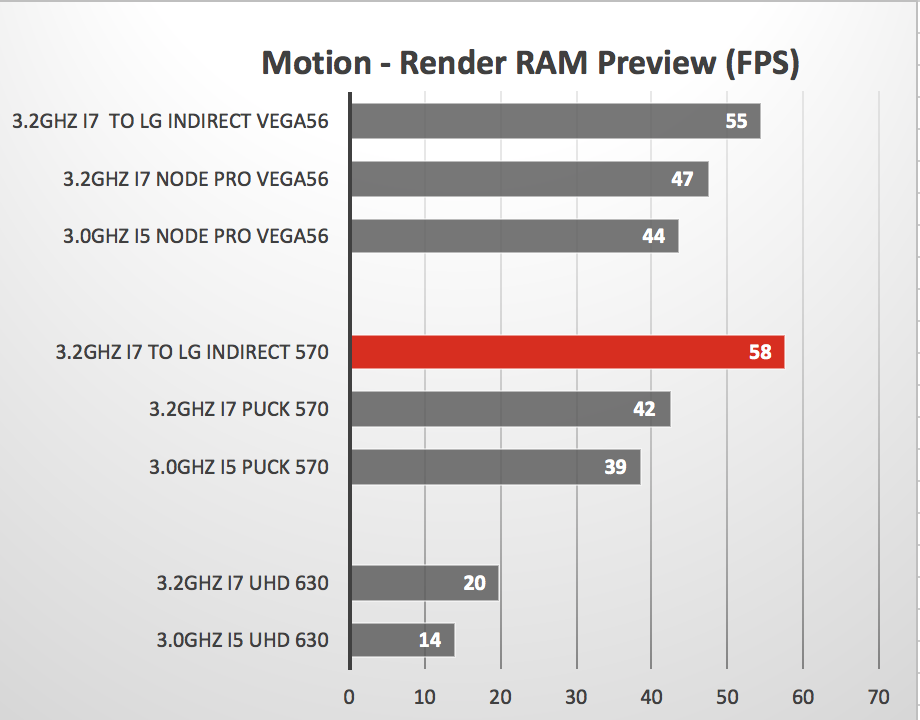 Final Cut Pro
We used the BruceX sample project to create a ProRes 4444 XQ 5120x2700 Master File. (LOWER Time in Seconds = FASTER)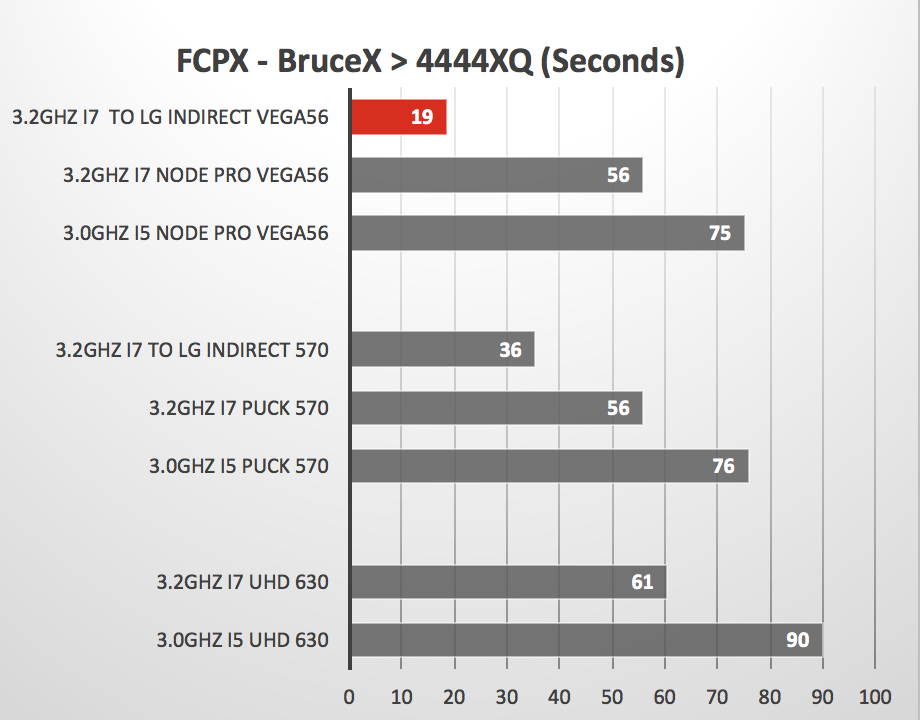 Compressor
We had FCPX send the BruceX project to Compressor to create a Apple Device HEVC 10-bit version. (LOWER Time in Seconds = FASTER)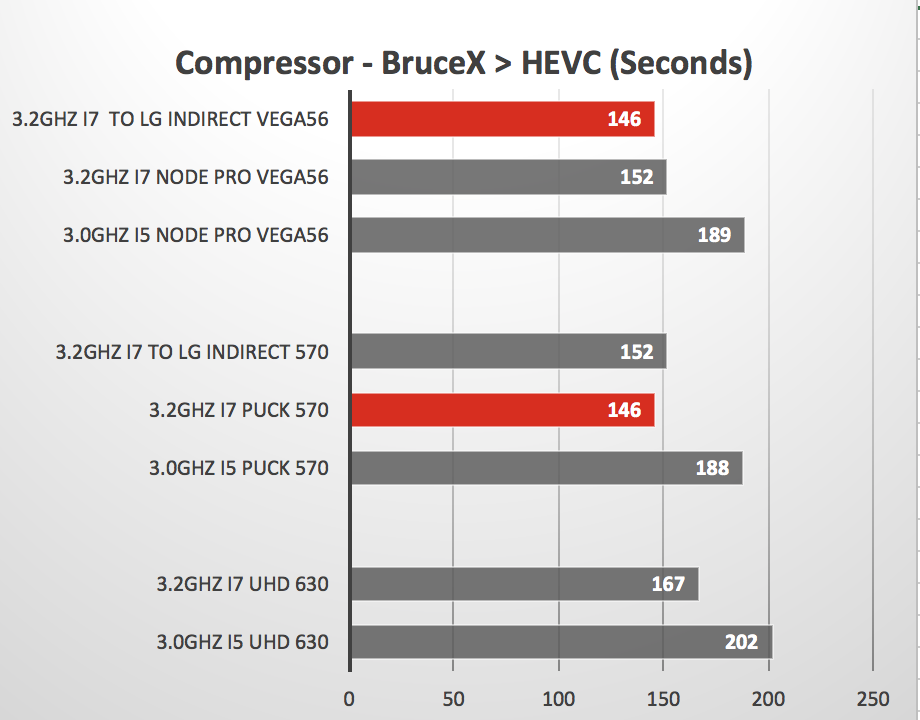 PhotoZoom
We took a 66.67 x 50 inch image and upscaled it by 400%. (LOWER Time in Seconds = FASTER)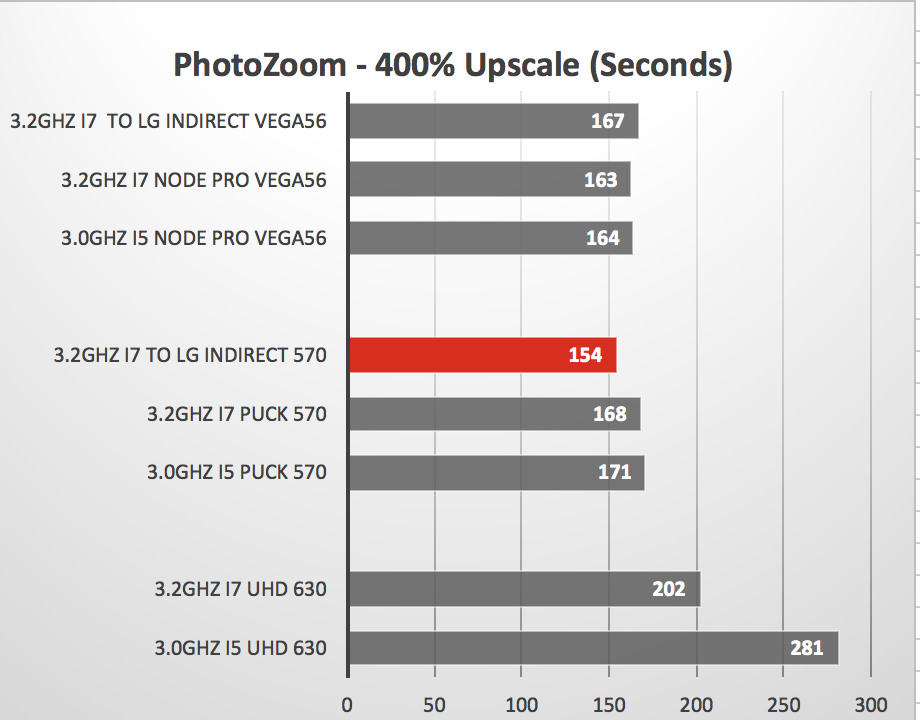 DaVinci Resolve (again)
Using the DELIVER function, we transcoded our R3D 4K clip to ProRes 4444 XQ 4K. (LOWER Time in Seconds = FASTER)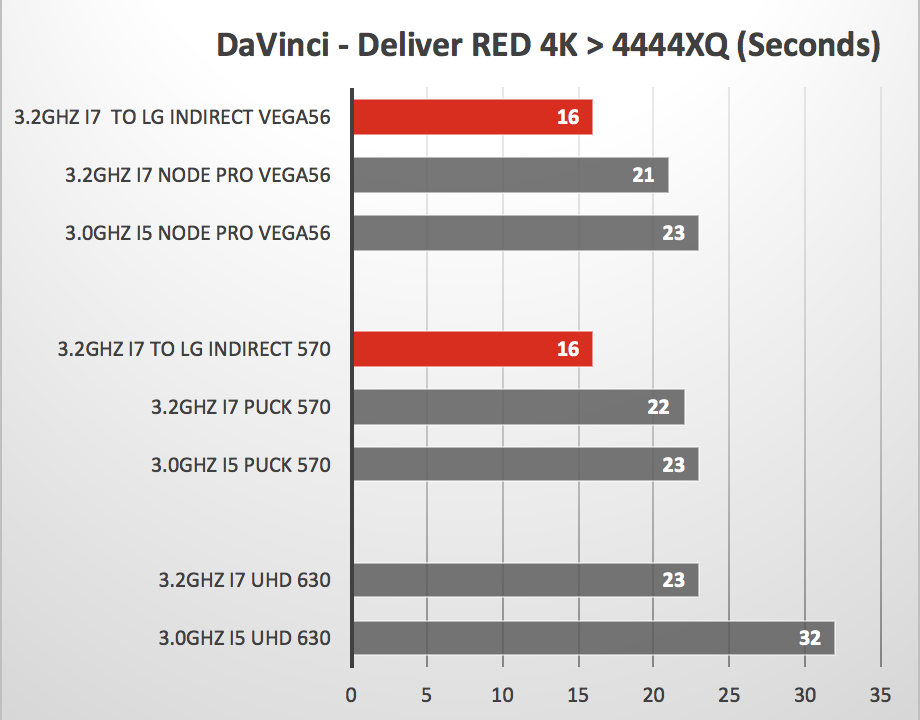 HandBrake
We transcoded a ProRes 422 1080p clip to Apple Device 1080p30 Surround H.264. (LOWER Time in Seconds = FASTER)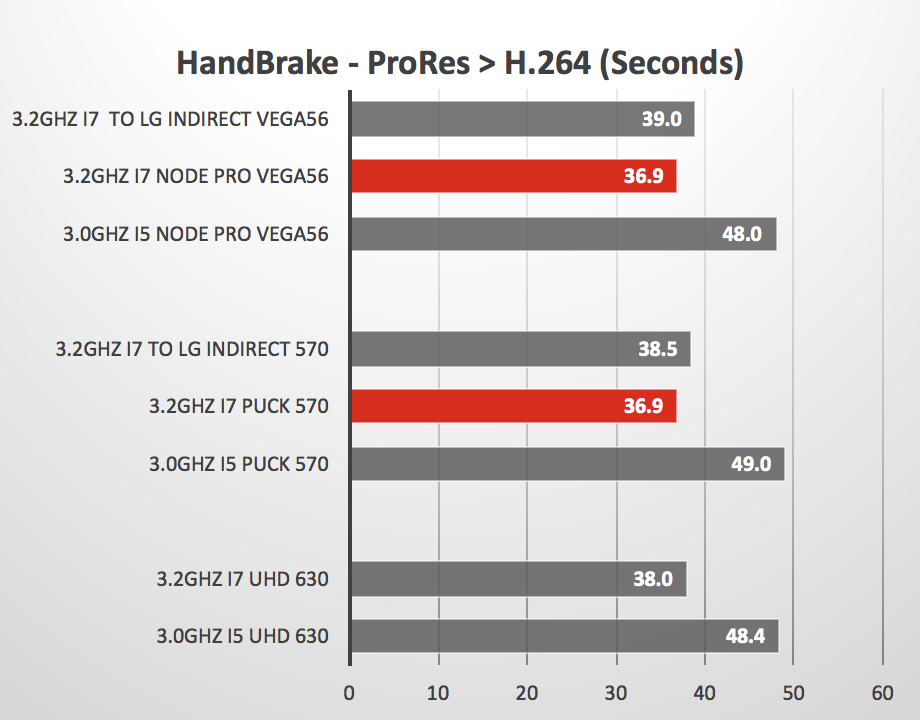 WHAT WE LEARNED
DaVinci Resolve, Motion, and PhotoZoom appeared to benefit most from the presence of a eGPU with either the AMD RX 570 or RX Vega 56 GPU.
Notice that the 'indirect' setup (using the LG UltraFine 5K display directly connected to the mini's TB3 port and the eGPU connected to a second TB3 port) produced the best performance for Motion, FCPX, and DaVinci's Deliver. (You should select "Prefer External GPU" in the Get Info panel for each app or the app is likely to ignore the eGPU. Some apps like DaVinci 'see' all GPUs and even let you choose the one you wish to use. You can even specify Metal or OpenCL as the rendering method.)
Handbrake is an example of an app that IGNORES the GPU. So adding an eGPU will NOT speed up its transcoding time.
Though the Mac mini Core i5 had only 8G of memory, the only test app that starved was Motion (which requires 10G to itself to load our 600 frame sample). We compensated by calculating FPS to preview the 311 frames the mini was able to load with 8G of memory. For pro apps, it would be wise configure your Mac with at least 16G of memory. More would be advised if you are multi-tasking with pro apps.
Comments? Suggestions? Feel free to email me,
Follow me on Twitter @barefeats
WHERE TO BUY the 2018 Mac mini and other APPLE products:
USA readers can help us earn a commission by clicking on any Apple display ad on this page and search for the product.
You can also order the Mac mini and other Apple products from B&H Photo Video
OUTSIDE USA?
Readers in Australia can support us by clicking our link to the Apple Store AU.

.
WHERE TO BUY THUNDERBOLT 3 EGPU BOXES
The Sonnet eGFX Breakaway Boxes are available at B&H Photo Video.
The AKiTiO Node and Node Pro are available from B&H Photo Video.