GRAPH LEGEND
13" MacBook Pro 2.0GHz - 'late 2016' Retina MacBook Pro 13 inch, 2.0GHz Core i5, 8G of 1867MHz LPDDR3 memory, Intel Iris 540 GPU, 256G PCIe flash storage
Razer Blade Stealth 2.5GHz - 'early 2016' UHD Razer Blade Stealth 12.5 inch, 2.5GHz Core i7, 8G of 1867MHz LPDDR3 memory, Intel HD Graphics 520 GPU, 512G PCIe M.2 flash storage
12" MacBook 1.3GHz - 'early 2016' Retina MacBook 12 inch, 1.3GHz Core M7, 8G of 1867MHz LPDDR3 memory, Intel HD Graphics 515 GPU, 500G PCIe flash storage
iPad Pro 12.9 inch - 'late 2015' iPad Pro 12.9 inch, Apple A9X 2.20GHz, 4G of memory, 128G of flash storage
NOTE: The iPad Pro results are missing from some graphs because that test is unavailable under iOS. In all graphs, the larger number indicates better performance.
GEEKBENCH 4 - INTEGER, FLOATING POINT, and MEMORY TEST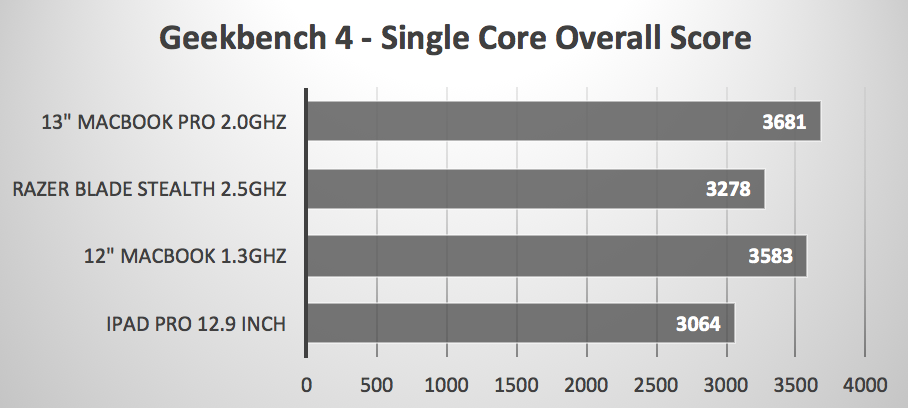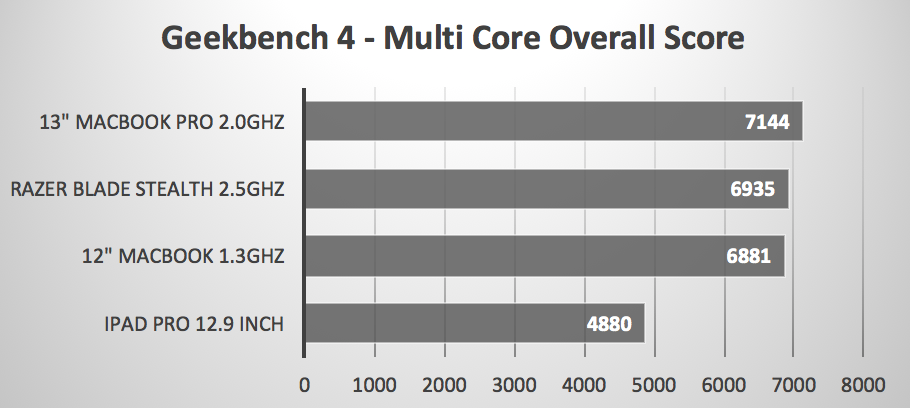 CINEBENCH R15 - CPU RENDER TEST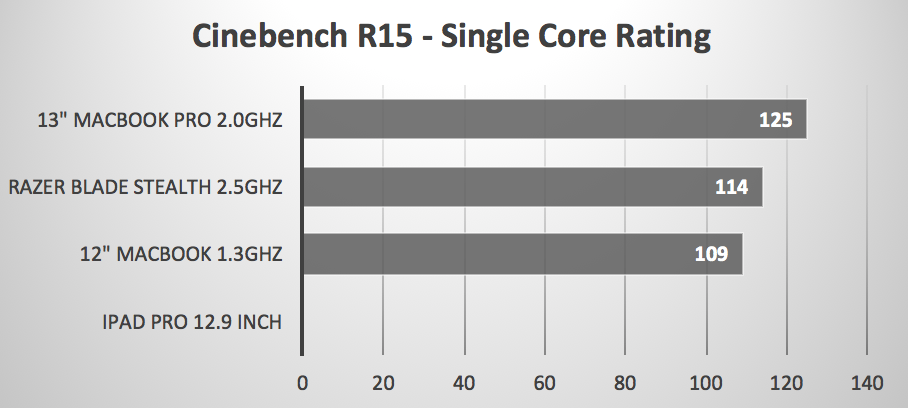 JETSTREAM JAVASCRIPT BENCHMARK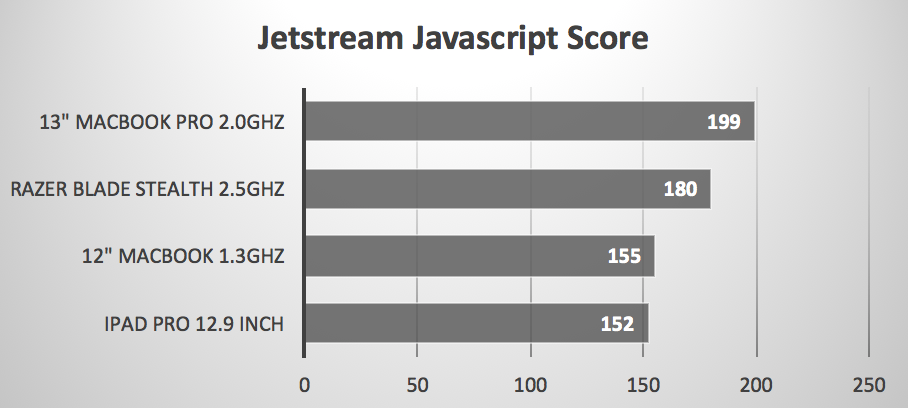 MOTIONMARK BROWSER ANIMATION BENCHMARK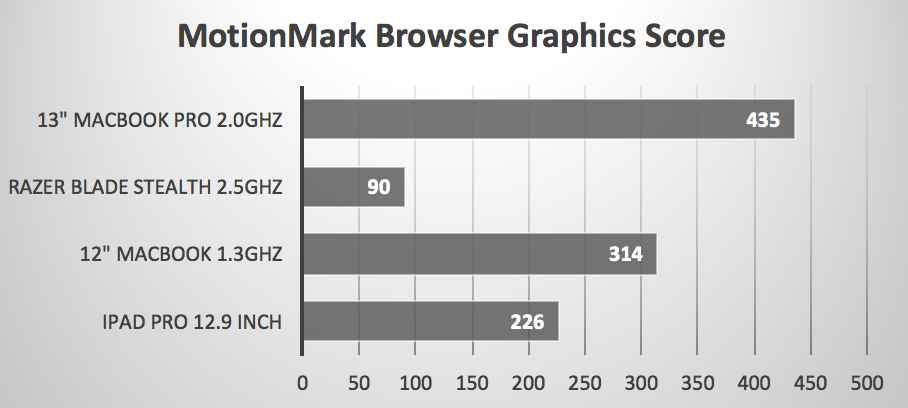 GEEKBENCH 4 - OPENCL GPU COMPUTE TEST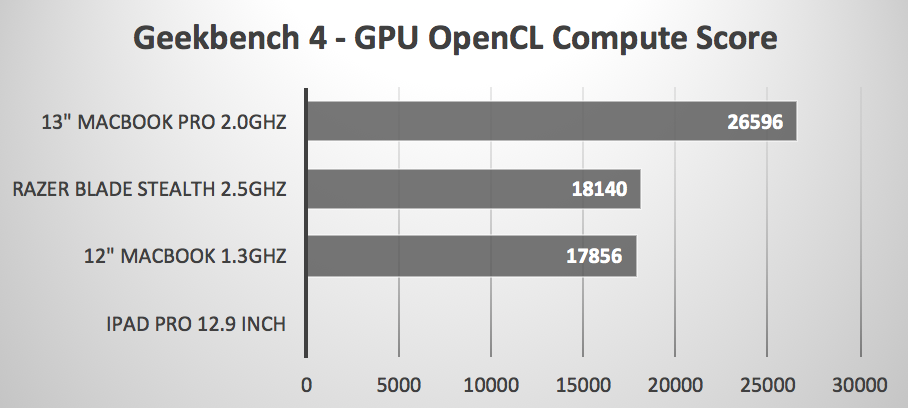 LUXMARK 3 OPENCL BENCHMARK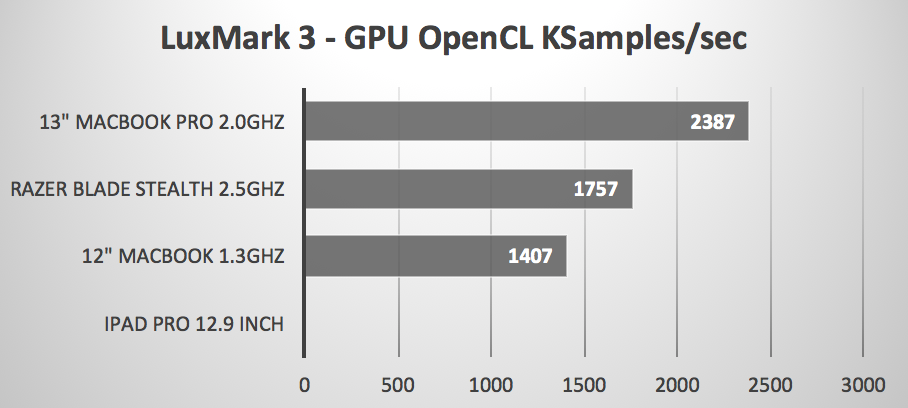 FURMARK OPENGL GPU 'BURNER' TEST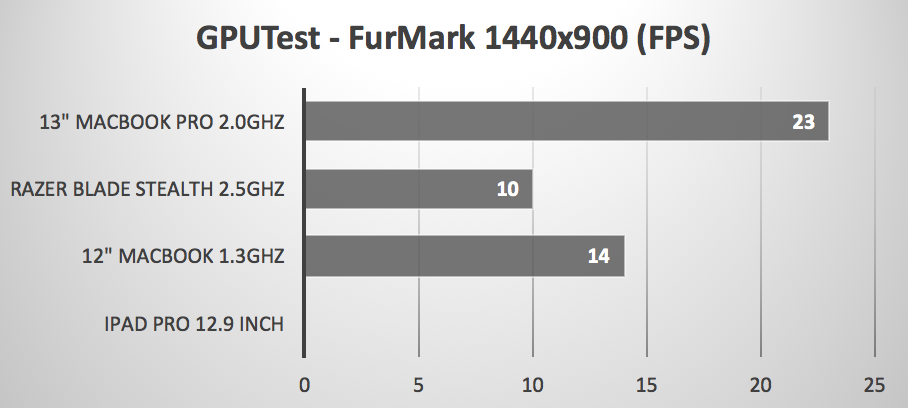 GFXBENCH 3.1 METAL - T-REX OFFSCREEN 1080P BENCHMARK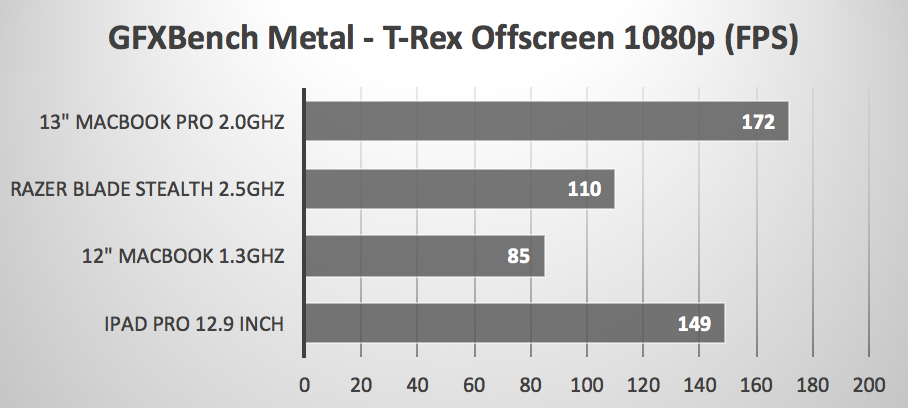 FLASH STORAGE SEQUENTIAL TRANSFER TEST
(AJA System Test was used for laptops. The iPad Pro's storage speed was captured by PerformanceTest Mobile iOS app.)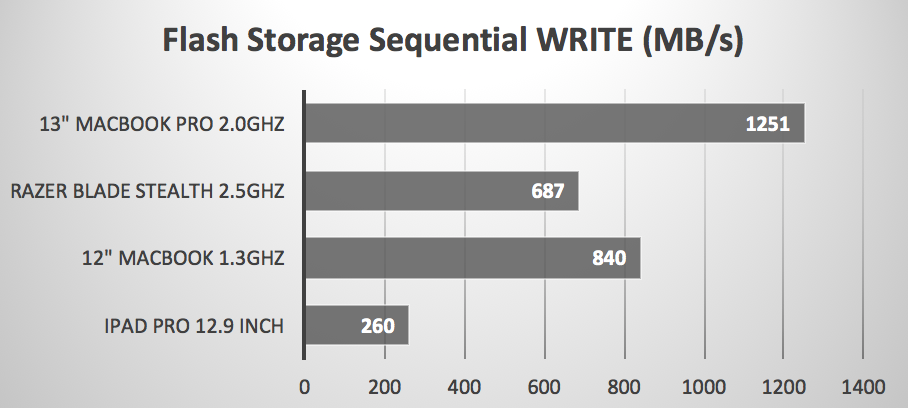 NOTE: In all graphs, the larger number indicates better performance.
WHAT DID WE LEARN?
None of the Laptops had an overwhelming CPU advantage.
All three laptops have dual core CPUs and hyper-threading to emulate quad core. As you can see from the Geekbench and Cinebench graphs, the 2016 MacBook Pro has the edge but not by much.
Fastest Integrated GPU to date
All three laptops have Intel integrated GPUs. The 2016 MacBook Pro's Iris 540 is the fastest integrated GPU Apple has put in a laptop until now. The iPad Pro's GPU is no slouch, either, as you can see from the GFXBench Metal test.
FYI, the Apple 27-inch Thunderbolt display works with the 2016 MacBook Pro if you use the TB3-to-TB2 adapter.
The MacBook Pro's Flash Storage Smokes The Competition
The 2016 MacBook Pro's internal flash storage is dramatically faster this year. Capacities larger than 256G will have an ever faster write speed. MacVidCards reported 1760MB/s sequential WRITE speed for the 512G. CORRECTION: The iFixit teardown reveals that Apple is using Sandisk NAND and their own controller. (See Step 11 in article.)
UPDATE: Thunderbolt 3 Storage Working!!
When we first we connected the AKiTiO Thunderbolt 3 PCIe Box to the 2016 MacBook Pro, we got NOTHING. NADA. ZIP. System Profiler reported 'unsupported device.' But after applying a Thunderbolt 3 driver mod, it now works and transfers our dual SM951 striped set at 2587MB/s. (READ all about it.)
And if you already have Thunderbolt 2 storage devices, they work fine using the Thunderbolt 3 (USB-C) to Thunderbolt 2 Adapter, but, as expected, hit the wall at 1350MB/s. However, two separate fast Thunderbolt 2 storage devices striped (RAID 0) and plugged into separate USB-C (TB3) ports reaches 2573MB/s!
USB 3.1 Gen2
On November 11th measured 896MB/s READ and 835MB/s WRITE on Sandisk Extreme 900 USB 3.1 Gen2 Portable SSD connected to the 'low-end' 2016 MacBook Pro's USB-C port.
RAZER WINDOWS ULTRABOOK DISTINCTIVES
We had access to the Razer Blade Stealth Windows 10 UltraBook with a SkyLake processor so we included it in this shootout. Though its Intel HD Graphics 520 is far from impressive, for an extra $500, you can buy the Razer Core GPU expander, install a Desktop Class GPU (like the NVIDIA GeForce GTX 1080), and connect it to the Thunderbolt 3 port. (Read our test report on how the Core supercharged the graphics performance.)
In case you are envious of the Core, Bizon-Tech just announced the BizonBOX Thunderbolt 3 GPU Expander for the 2016 MacBook Pro!
The Razer Blade Stealth's 12.5 inch screen is capacitive multi-touch. The MacBook Pro and MacBook in this test had neither a touch screen nor a Touch Bar. If you crave an Apple device with a multi-touch screen, the iPad Pro, iPad, and iPhone are currently your only options.
The Razer Chroma software enables you to customize your keyboard, mouse and Core LED lighting. We used the 'campfire' effect on the keyboard. The Razer Core and Razer mouse were both pulsating a red glow. Their keyboards and mice also work on Macs running macOS or Mac OS X.
COST COMPARISON (corrected Nov 22, 2016)
The Razer Blade Stealth we tested was priced at $1599 earlier this year. The price has dropped to $1499 since they introduced the NEW Katy Lake version for $1599 with 2.7GHz Core i7, 512G flash, and 4K display. The MacBook Pro 13-inch we tested is priced at $1499. If you custom order it with the Core i7 and 512G flash storage, the price jumps to $2299. You could argue that the MacBook Pro's 2x faster internal flash storage, 2x faster Thunderbolt 3 ports, 2x faster 10Gbps USB 3.1 Gen2 ports, and 66% brighter, wide-color gamut screen are worth the extra $$$$.
Comments? Suggestions? Feel free to email me,
Follow me on Twitter @barefeats