November 2nd, 2017, by rob-ART morgan, mad scientist
UPDATE: macOS 10.13.2 beta supports OpenGL fully on Vega GPU
The MacBook Pro 13-inch screams for a faster GPU. If we connect it to an eGPU box with a high-end GPU, will that turn it into a 'muscular' Mac?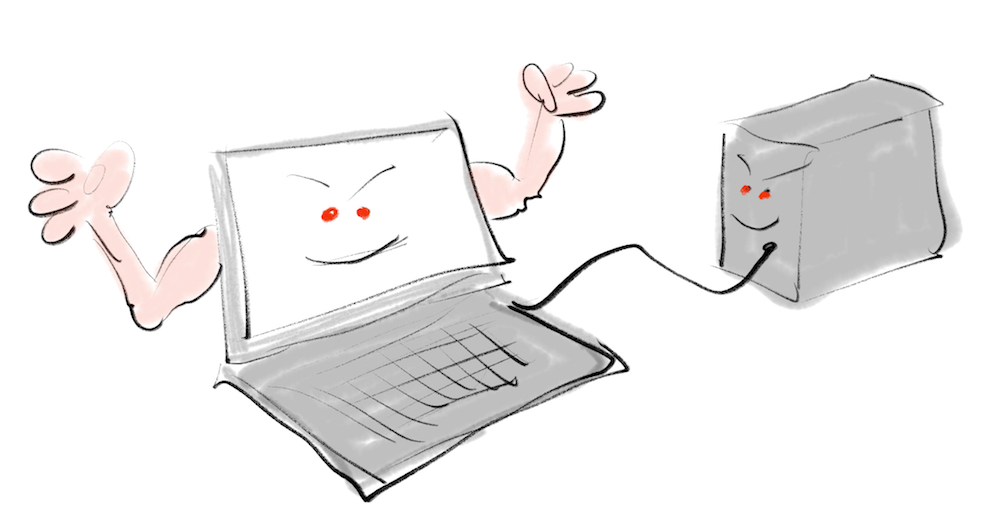 GRAPH LEGEND
rMBP TITAN Xp - NVIDIA GeForce TITAN Xp in Sonnet eGFX Breakaway Box connected Thunderbolt 3 port of 2016 MacBook Pro 13-inch; main display was a Dell 5K U2715K connected via Display Port of the TITAN Xp
rMBP Vega 64 - AMD Radeon RX Vega 64 in AKiTiO Node eGFX Box connected to Thunderbolt 3 port of 2016 MacBook Pro 13-inch; main display was a Dell 5K U2715K connected via Display Port of the TITAN Xp
rMBP Intel Iris 550 - 2016 MacBook Pro 13-inch 3.3GHz Dual-Core i7 with integrated Intel Iris Graphics 550 GPU running on built-in display
iMac 5K Pro 580 - 2017 iMac 5K 4.2GHz Quad-Core i7 with AMD Radeon Pro 580 discrete GPU running on built-in 5K display
NOTE: All scenarios were running macOS High Sierra
FIRST SOME PRO APPS
DaVinci Resolve 14 (CUDA vs OpenCL) - Using popular Candle Standard Project, we measured the speed of playback while rendering Noise Reduction Node (1NR) on-the-fly. GPU Processing mode can be manually set to OpenCL, CUDA, or Metal. (HIGHER frames per second = FASTER)


Octane Render 3 DEMO (CUDA)
This is a "GPU only" standalone renderer that can process scenes created in and exported from Maya, ArchiCAD, Cinema 4D, etc. -- and does so in a fraction of the time it takes with a CPU based renderer. However, it only works with CUDA capable NVIDIA graphics cards. Our test scene is octane_benchmark.ocs (see "Additional Downloads - Get some simple test scenes here). For our test we selected RenderTarget PT (Path Tracing). The render time is tracked and displayed in total seconds. (LOWEST time in seconds = FASTEST)

Final Cut Pro X
Open project with 1080p 2 minute video clip. Apply Gaussian Blur; Render. (LOWEST time in seconds = FASTEST)

Motion
Open 600 frame Atmospheric-Open HD Template; Time the "Play RAM Preview." Calculate frames per second. (HIGHEST frames per second = FASTEST)

NEXT SOME BENCHMARKS
Geekbench 4.2.0
Run the Metal Compute test on each GPU. (HIGHEST rating = FASTEST)

LuxMark 3.x
Render the default LuxBall scene using only one GPU. (HIGHEST samples per second = FASTEST)

FINALLY SOME GAMES
Tomb Raider
Using the built-in benchmark, we ran at 2560x1440 Fullscreen using High preset.

X-Plane 11
Using Terminal commands, we 'relived' a 2 minute flight of the SR-71 taking off low over pine trees and making a slow turn though broken clouds before doing a barrel roll. Settings were 2560x1440 Fullscreen, high quality with anti-aliasing (fps_test=3003), and switching to CIRCLE view (SHIFT+4) before takeoff. (HIGHER frames per second = FASTER)

SO DOES AN EGPU TURN A LAPTOP INTO 'MUSCULAR' MAC?
NOT QUITE. After all, though some apps utilize the graphics processing unit, they also use the CPU. A dual-core laptop is no match for a quad-core desktop.
However, adding a high-end desktop GPU to the 13-inch MacBook Pro does speed up some GPU centric Pro Apps and enables it to run Pro Apps that would otherwise refuse to run (e.g. DaVinci Resolve).
Choosing the right GPU for your eGPU can be tricky. First you must inventory the apps you want to accelerate. Then you must decide which brand (NVIDIA or AMD) will do the job. If you plan, for example, to run Octane Render, it requires a CUDA capable GPU like the GeForce TITAN Xp we featured here.
All games that use GPU acceleration will run faster with desktop quality GPU compared to the Intel Integrated GPU in the 13-inch MacBook Pro. Though we featured the fastest AMD GPU (RX Vega 64), it kept crashing when we tried OpenGL based games. That will hopefully change if the Vega is the GPU of choice for the upcoming iMac Pro. Meanwhile, if you prefer AMD, we suggest the Radeon RX 580 running under High Sierra.
UPDATE: macOS 10.13.2 beta 1 fixes the OpenGL crashing issue of the AMD RX Vega 64. Tomb Raider and X-Plane and other OpenGL based games now work fine. Great to see Apple fully supporting the Vega. Good news for users who prefer AMD GPUs.
Unlike with the 2013 Mac Pro, when we connected the TITAN Xp in the eGPU box to the MacBook Pro, we were able to use both the built-in display and the external Dell 5K display.
A big 'Mahalo' to MacVidCards and Netkas for developing the eGPU ROM that enables the eGPU to work with NVIDIA GPUs under High Sierra.
Comments? Suggestions? Feel free to email me,
Follow me on Twitter @barefeats