Originally posted October 29th, 2018 by rob-ART morgan, mad scientist
Updated November 7th, 2018, with full iPad Pro Gen3 results.
We finally got our hands on the 'late 2018' iPad Pro 12.9-inch 3rd Generation. Here is how it compares to the iPad Pro 2nd Generation, the iPhone XS, and iPhone X.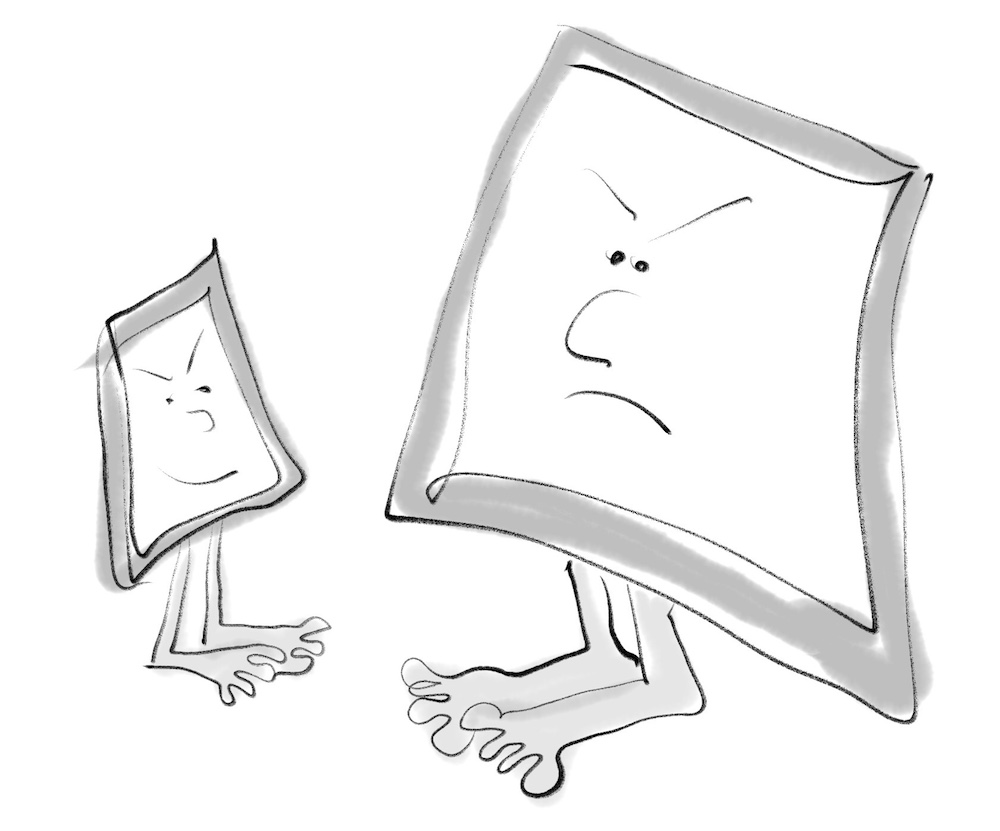 GRAPH LEGEND
iPad Pro Gen3 = 2018 iPad Pro 12.9in, A12X Bionic processor, Apple 7-core GPU
iPad Pro Gen2 = 2017 iPad Pro 12.9in, A10X Fusion processor, PowerVR GPU
iPhone XS = 2018 iPhone XS Max, A12 Bionic processor, Apple GPU
iPhone X = 2017 iPhone X, A11 Bionic processor, Apple GPU
GFXBench Metal
All three of the tests are run OFFscreen -- the first at 1440p. The second and third at 1080p. (HIGHEST frames per second = FASTEST)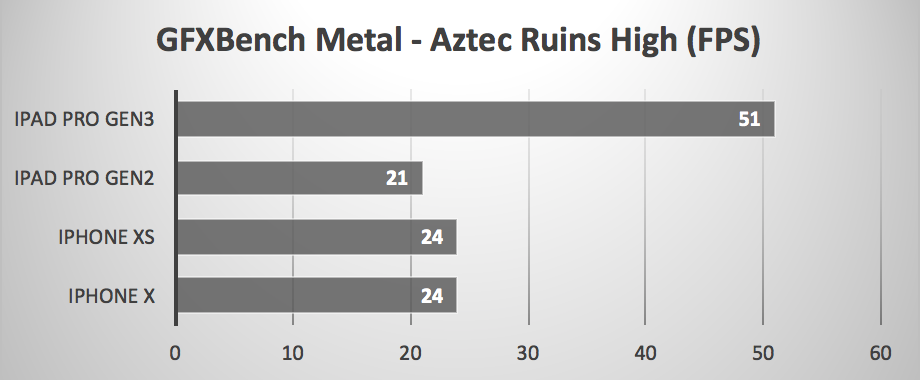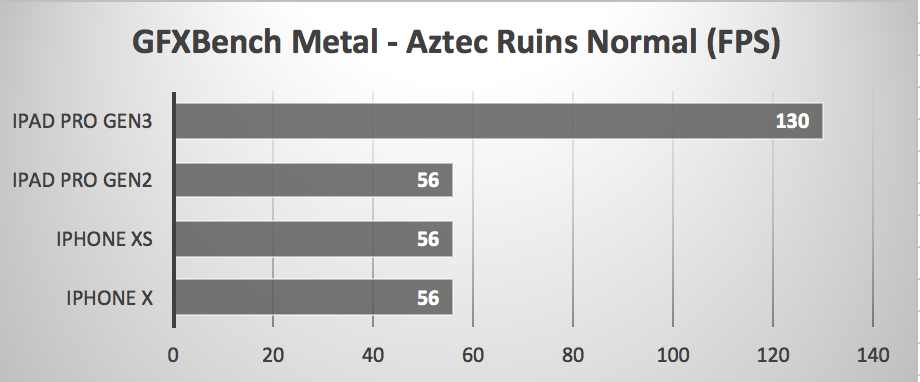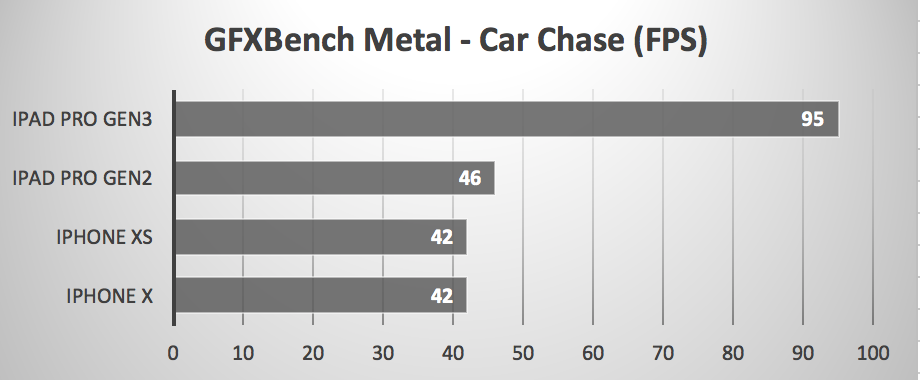 AnTuTu Benchmark
This (new to us) benchmark tests the CPU, GPU, Memory and User Interface. We posted the CPU and GPU scores. (HIGHEST Score = FASTEST)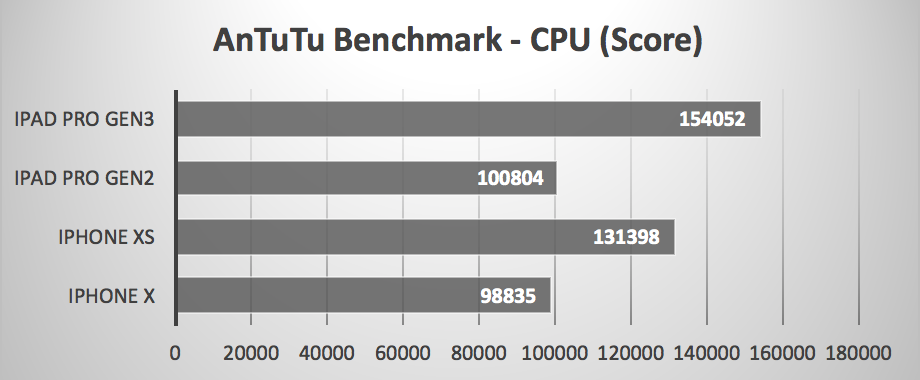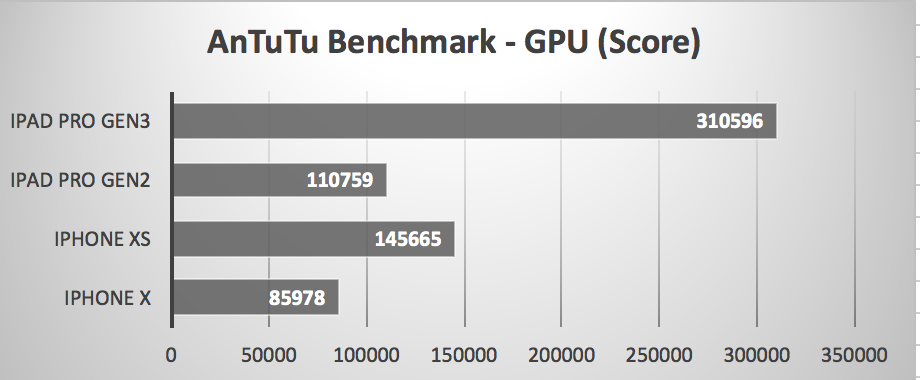 BaseMark Metal
Runs three animations containing extremely heavy graphics content rendered with detail and complexity using Apple Metal, thus pushing the tested device to the limit. (HIGHEST Score = FASTEST)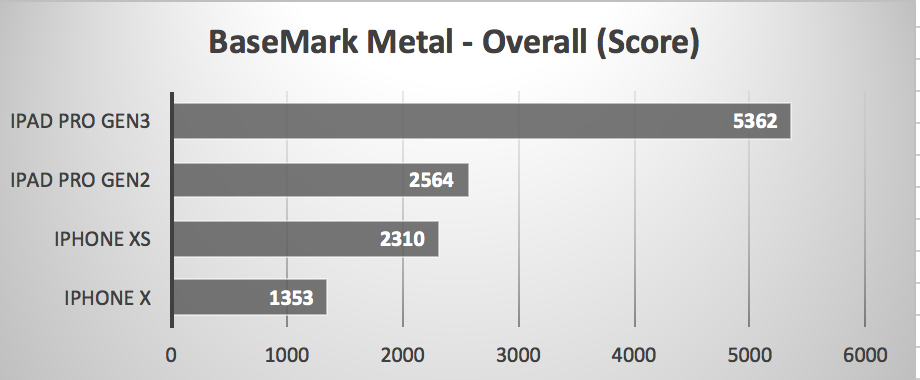 ANALYSIS
The iPad Pro Generation 3 is really fast!
NOTE: The iPad Pro Generation 3 hung and then quit when we ran 3DMark Sling Shot Extreme. After three tries, we gave up. If and when we get it to run, we will post a graph with those scores.
BONUS BENCHMARKS
We decided to add the fastest 2018 MacBook Pro 13-inch (2.7GHz Core i7 4-core) as a reference point.
Geekbench CPU Multi-Core
The OVERALL score is a combination of integer, floating-point, and memory performance. (HIGHEST Score = FASTEST)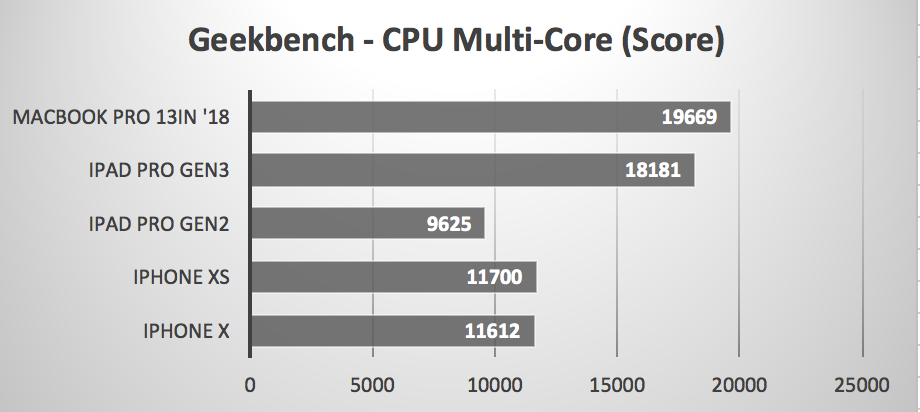 Geekbench GPU Metal Compute
The GPU various tests range from image processing to computer vision to number crunching. (HIGHEST Score = FASTEST)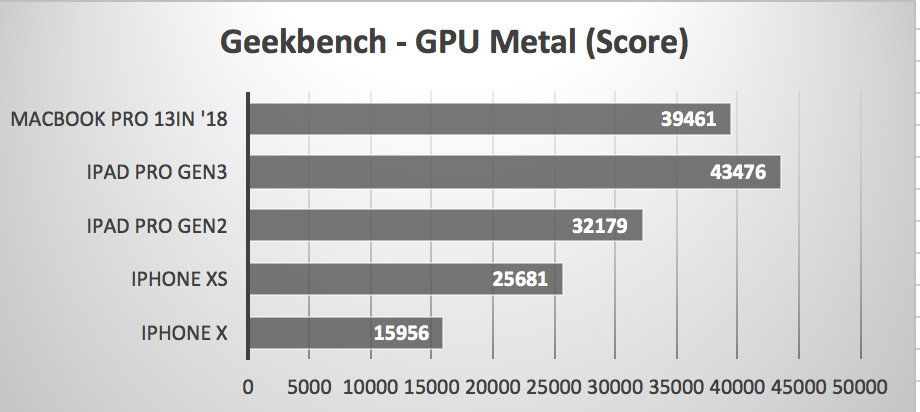 Comments? Suggestions? Feel free to email me,
Follow me on Twitter @barefeats

WHERE TO BUY iPHONES, iPADS, and OTHER APPLE products:
USA readers can help us earn a commission by using this Apple Store USA link or by clicking on any Apple display ad.
B&H PHoto Video is also taking orders on the 'late 2018' iPad Pro.